Basic Chargeback Prevention Techniques for eCommerce Stores
Chargeback management is a complex task. If you don't put enough effort into preventing profit losses, you'll never be able to stay afloat.
Chargeback prevention serves two purposes. First, it obviously helps you retain more revenue. Also, by laying a firm foundation of chargeback prevention, you won't have to forfeit as many resources down the road for chargeback disputes.
The Complexity of Chargeback Management
No two businesses are alike. All merchants have different business plans, sales structures and product offerings. Therefore, chargeback prevention can't be a one-size-fits-all method.
The most effective chargeback prevention involves a customized approach. You'll want a detailed plan to combat the most common chargebacks, those caused by merchant error, criminal fraud, and friendly fraud.
While few DIY chargeback prevention strategies are as successful as what the pros offer, there are a few basic chargeback prevention techniques you can implement immediately.
For the most detailed listing of chargeback prevention tips, download our free eBook.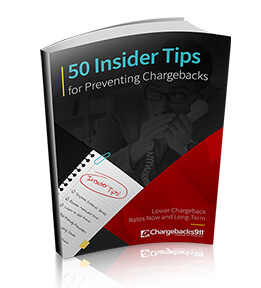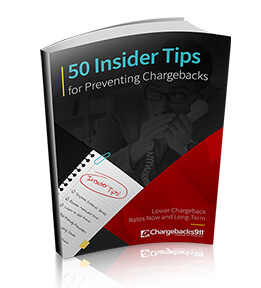 50 Insider Tips to Preventing More Chargebacks
Download our FREE guide that outlines 50 step-by-step effective chargeback prevention techniques. Learn insider secrets that will reduce your risk of chargebacks, increase your profits and ensure your business's longevity.
Free Download
Basic Chargeback Prevention Techniques to Implement Immediately
Here are some basic chargeback prevention strategies to get your DIY efforts underway:
Always use tools like Address Verification Service, Verified by Visa and MasterCard SecureCode.
Personally validate orders that aren't shipped to the billing address.
Consider using delivery confirmation, especially for high-dollar transactions.
Ask for the card security code.
Share your return policy on your website, in confirmation emails and on the delivery receipt.
If a customer asks for a refund or exchange, fulfill the customer's request as soon as possible.
Use a billing descriptor the customer will recognize on the credit card statement.
Be aware of the common indicators of fraud. Validate orders before completing questionable transactions.
Understand the authorization process, including the authorization codes and responses provided by the issuer.
Write detailed and accurate product descriptions. Include plenty of product images.
Make sure customers can easily access your policies and contact information. Reply to communications promptly.
These are general tips that just scratch the surface of chargeback prevention. Contact Chargebacks911® today and we'll tell you exactly how much ROI a customized prevention plan could generate for your business.
Revenue Retention in Combination with Revenue Recovery
Chargeback prevention will help retain revenue that would otherwise be lost to these bank issued refunds. However, it is equally important to fight for revenue recovery.
Even the most basic chargeback prevention efforts can enhance representment effectiveness. When chargebacks do slip through the protective barrier, it is important to fight back. Use the information you've gathered through efforts such as delivery confirmation, AVS, card security codes and more to successfully fight chargebacks.
Be sure to check our other blog articles with tips for a successful chargeback reversal and how to craft a winning chargeback rebuttal letter.
Now is the perfect time to put these basic chargeback prevention ideas into effect. If you have questions or would like to create a customized plan, let us know!