Can Rapid Dispute Resolution From Verifi Help You Avoid Chargebacks?
No merchant likes product returns. That said, a return is better than a chargeback, any day. With help from the new Rapid Dispute Resolution (RDR) service from Verifi, a Visa company, merchants now have the opportunity to issue refunds to customers and thereby avoiding many of those costly chargebacks.
RDR will be active for all issuers and acquirers as of April 2021, with the service effective alongside the April 2021 Visa Resolve Online launch. Despite the fact that issuers will be automatically opted in to the program (unless they submit a form to VROL), there are several changes and updates that still need to be made for institutions to be able to support the service.
In this post, we'll take a look at the details behind Visa Rapid Dispute Resolution. We'll also see what still needs to be done to ensure a smooth, consistent transition.
What is Rapid Dispute Resolution?
Rapid Dispute Resolution

[noun]

Rapid Dispute Resolution is a new product from Verifi, a Visa company, that is meant as an upgrade to an existing chargeback resolution platform, the Chargeback Dispute Resolution Network (CDRN). RDR allows merchants to set rules and pre-select which disputes they'd like to automatically refund, thereby preventing a chargeback for these transactions.
It's important to note that Rapid Dispute Resolution is sometimes mistakenly referred to as "Visa Rapid Dispute Resolution." In reality, the tool is actually a Verifi product that is intended to help better serve issuers and acquirers with transactions conducted on the Visa network.
Financial institutions can now use the existing Dispute Financial message to shift financial liability from issuers to sellers immediately upon a seller's acceptance of an RDR request. There is a benefit for merchants, though, as any transaction resolved this way will be identified as an RDR-resolved transaction, not as an actual dispute.
The goal is to make it easier for banks to serve their clients in a quick, effective manner. According to a release published by Visa, the move to this new system should be a smooth, simple process for issuers. "There are no required VROL system changes," the company asserts, "but issuers should review their internal processes to determine if any impact to processing exists."
For acquirers, there are a number of changes that will need to be made. They will need to reclassify some data and develop systems to distinguish the newly-created RDR classification from disputes. These transactions can't be identified as disputes in any billing system, invoice, or statement.
How Can RDR Help Merchants?
So, if Visa Rapid Dispute Resolution is primarily a bank-facing mechanism, what will implementation mean for you as a merchant?
On one hand, RDR can help reduce chargeback issuances. To illustrate, let's assume a customer disputes a transaction. Rather than going directly to the chargeback process, RDR will consult a preassembled rule set (determined by you) to determine how to handle the transaction.
The rules you use to determine which disputes to refund are highly customizable. You can base them on a variety of factors, including:
Transaction value
Original transaction date
Product
Currency/region
Authorization date
Using these rules, RDR can automatically refund the transaction on your behalf, letting you avoid a chargeback. This will make it easier to avoid breaching Visa chargeback thresholds (0.9% chargeback ratio and 100 chargebacks per month).
In this way, RDR is a great innovation, particularly if you're concerned about potentially exceeding Visa's allowable chargeback limit. Even if you're already in violation of Visa's chargeback thresholds, RDR will let you get your chargeback situation under control in a very short period of time.
Benefits of RDR:
+ Automate processes
+ Customize your fraud rules
+ Prevent chargebacks
+ Reduce false positives
+ Reduce friction
+ More sales and higher conversion
Important Points to Know About RDR
Rapid Dispute Resolution can be a great asset for you as a merchant. There are some circumstances to consider, though.
First, the rules associated with RDR effectively exist to help you determine which disputes you want to automatically refund, and which you want to progress to the chargeback stage. You might be thinking: why would I want any chargebacks to happen? Well, you need to remember that if an illegitimate dispute progresses to the chargeback phase, you have the opportunity to fight back and recover your revenue through the representment process.
Also, you'll receive daily updates on refund information from Visa. This information can't help you recover money from transactions that have already been overturned; however, it will be useful to help adjust your rules for the future. Pay close attention to this information, and remember to make periodic changes as needed.
You may need to invest in other solutions to help reconcile this new refund data if you're using a CRM or legacy system to manage customer data. If data isn't handled properly, it could result in double refunds or other mistakes. This could necessitate further investment on your part.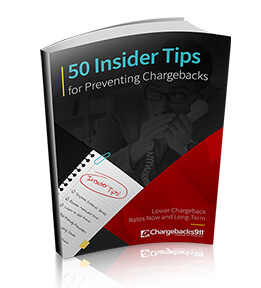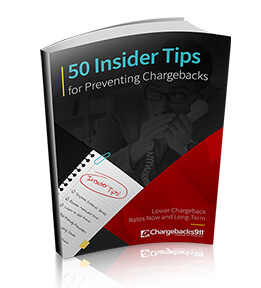 50 Insider Tips to Preventing More Chargebacks
Download our FREE guide that outlines 50 step-by-step effective chargeback prevention techniques. Learn insider secrets that will reduce your risk of chargebacks, increase your profits and ensure your business's longevity.
Free Download
Making RDR Work for You
Rapid Dispute Resolution can be a great asset in the fight against chargebacks. This is especially true if you fall into any of the following categories:
You're close to breaching—or have already breached—the Visa chargeback threshold
You're currently enrolled in the Visa Chargeback Monitoring Program
You operate in a high-risk vertical or sales model
A significant share of your transactions are for low-ticket items
You need to carefully consider which rules you want to apply for those automatic refunds if you decide to take advantage of RDR. You can't fight a dispute that has a legitimate basis in a criminal fraud or merchant error, so it's best to refund these. This requires customized rule sets that are tailored to your unique needs as determined by your own transaction data.
Even after entering the program, it would be wise to keep tabs on your refund rate. If you see refunds start to spike and exceed your comfort level, and you're not in immediate risk of exceeding chargeback thresholds, then you should either refine your rules immediately.
You could also consider working with a third-party to help make RDR work for you. The chargeback management experts at Chargebacks911® have decades of experience navigating complex industry regulations and practices. We can help you optimize your Visa Rapid Dispute Resolution rule sets to prevent chargebacks while avoiding unnecessary refunds. Want to learn how much you could save? Click below and get started today.