The Perks and Pitfalls of Recurring Transactions
The subscription billing model (recurring billing) has become increasingly popular among online merchants wanting new ways to increase revenue. But what is recurring billing and how can merchants weigh the benifits against the risks?
Recurring Billing

[noun] / ri-ˈkər-iŋ ˈbi-liŋ /

Recurring billing refers to the process of automatically billing customers each month for the same amount of money. It has proven to be one of the most consistently profitable business models in the digital economy.
With recurring billing, the customer is electronically notified at a certain point during each billing cycle, after which a payment is automatically made via bank transfer or credit card charge. For consumers, these recurring transactions make products more affordable and easily purchasable, while you enjoy a predictable cash flow and timely payments.
Recurring billing may not be the most effective choice for every business. However, the more thoroughly we embrace digital payments, the more merchants discover how convenient and efficient the system can be.
The Benefits of Recurring Billing
While convenience and consistency are two huge pluses, there are other benefits to recurring transactions:

Improved Customer Relationships
Increased Cost and Time Effectiveness
Increased Security of Customer Data
Reduced Waste; Better for the Environment
One other major benefit to a recurring payment business model: scalability. Most systems are designed to be adaptable to changes in the business, and can be adjusted with simple rule changes. When managed correctly, that reliable, regular revenue stream can help you prosper even as you scale your business.
Having said that, there are a few pitfalls to avoid with recurring transaction schemes. These missteps could lead to anything from lost revenue to complete failure of the business failure. Luckily, these issues can be avoided with information and a little forethought.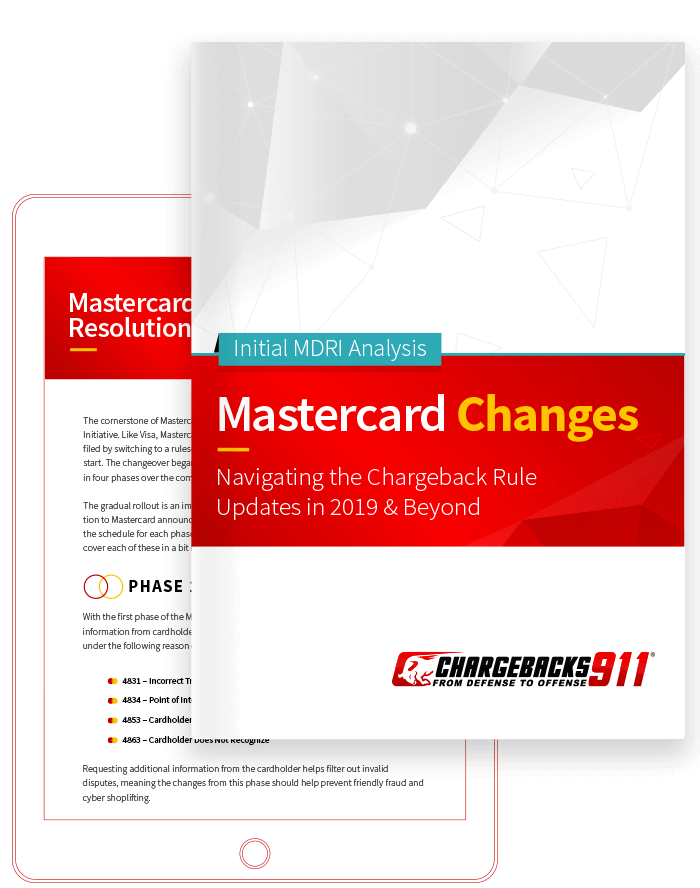 Mastercard Changes: Navigating the Chargeback Rule Changes in 2019 and Beyond
Like Visa with 2018's VCR, Mastercard is implementing sweeping changes to its chargeback and dispute systems. Download our whitepaper to learn what changes are coming, and how to prepare.
Free Download
Start with the First Transaction
When it comes to avoiding the missteps of a recurring billing plan, it's best to start at the very beginning. Implementing the plan isn't especially difficult, but it does require careful attention to details. This is more important than ever, as Visa and MasterCard rolled out new guidelines last year for how to handle stored cardholder credentials.
Once the customer has signed on for recurring payments, you need to take specific steps in order to comply with the new regulations. For example, before processing the first recurring transaction, you must request permission from the cardholder to store their payment credentials for future transactions.
According to Visa, you'll also need to:

Disclose to cardholders how the stored credentials will be used.
Notify cardholders whenever changes are made to the terms of use.
Inform the issuer (by conducting a transaction) that payment credentials are on file.
Identify transactions with appropriate indicators when using stored credentials.
The initial transaction is very important, as you must process it like any other card-not-present sale. This means submitting AVS and card security codes with the authorization request. Also, be sure to use 3-D Secure (Verified by Visa and
MasterCard SecureCode
) technology at checkout.
If there is no actual transaction that takes place when the card information is first gathered. Instead, you'll simply need to submit an account verification request (basically, a transaction for $0.00). If either the initial charge or the account verification request is declined, the payment information should not be stored.
Finally, the initial sales receipt must include the following:

The phrase "recurring transaction"
A clear payment schedule depicting when and how frequently the charges will be made
The duration of the payment plan, stating how long the customer agrees to pay
In addition to traditional card-not-present processing techniques (mail, telephone, and online orders), there are other ways the cardholder may authorize recurring transactions, such as email. These non-conventional forms of authorization should be kept on file for the duration of the recurring payment plan.
Additional Steps to Minimize Risk
To minimize the risk associated with recurring transactions, consider the following business best practices.

Clearly state the terms of service before processing the initial transaction. Make sure the customer understands what is involved in the recurring payment process.
Disclose any additional fees or restrictions.
Offer a simple and customer-friendly cancelation policy; grant cancelation or termination requests promptly.
Use Visa Account Updater. VAU is an information clearinghouse, providing merchant access to updated cardholder account information. This helps prevent the risk of processing a recurring transaction with outdated information.
Submit expiration dates with each authorization request.
Do not store card security codes with the other account information.
Ensure all recurring transactions are clearly identified as such.
Notify customers of upcoming changes in the transaction amount. Cardholders must be notified in writing at least 10 days in advance. Allow the cardholder the option to cancel if the change to the predetermined amount isn't acceptable.
Adhere to data security standards and PCI-DSS compliance to ensure data is managed properly.
Engage in regular communication with all cardholders; this helps keep your brand fresh in customers' memory and therefore less likely to cancel.
Blatantly display policy and contact information in multiple locations: website, emails, marketing materials, shipping receipts, and so on. Don't make it easier for the consumer to contact the bank instead of your customer service department!
Recurring Billing Service Providers
Another way to ensure the success of your recurring billing program is to seek out the recurring billing service provider that best fits with your business. Of course, not all solutions will be the right fit for your business. Luckily, there are many qualified providers to choose from, with more vendors jumping on the bandwagon all the time.
Here's an impartial list of some reputable processors and other service providers who offer recurring payments and subscription billing services:
| | |
| --- | --- |
| | |
| | 2Checkout focuses on providing international online payment options to small and mid-size businesses, including recurring billing. The company also offers additional services, such as a payment gateway, a merchant account, and fraud detection technology. |
| | Braintree is a PayPal subsidiary that offers a simplified, plug-and-play solution with processing service, a merchant account, payment gateway, and more. The company offers secure payment data storage to enable easy rebills, and can help prevent dropped sales with automatic updates. |
| | Chargebee is not a payments processor, but rather a SaaS provider designed to help merchants easily send and manage invoices and recurring payments. Chargebee allows merchants to accept recurring transactions using their current processor. |
| | Chargify is a billing and revenue management platform built specifically for modern SaaS. While the company has expanded its offerings over the years, the platform was originally (and still) focused on the core needs of recurring billing. |
| | Fusebill provides cloud-based financial and accounting processes, including billing, invoicing, reporting, and more. Their software is suitable for small- to mid-sized companies seeking a scalable recurring billing and invoicing solution. |
| | Inovio is a fully-integrated, technology-driven payment gateway offering seamless integration and global scalability. Available products include a gateway, hosted checkout, virtual POS, and APIs that are adaptable to virtually any programming language or billing model. |
| | Konnektive CRM helps automate and streamline complex sales procedures while offering extras like email auto-responders, shopping cart technology, and more. The platform integrates with most gateways and supports all global currencies for easy management of rebills. |
| | Sticky.io is an eCommerce engine built for online marketers, offering everything merchants need in a recurring billing environment. Personalized billing options means merchants can customize the platform to fit their existing payment processing structure |
| | MoonClerk is designed to facilitate recurring and one-time transactions quickly and easily. The platform offers a variety of solutions designed to address the payment management needs of almost all business sizes and industries. |
| | NMI provides an eCommerce payment gateway for one-time and recurring payments. Features include a virtual terminal, built-in fraud filters, and more. NMI processes over 150 currencies, all major international card brands, Apple Pay, and even checks. |
| | PayoLee's straightforward platform is catered to the "non-tech savvy," allowing merchants to easily set up online recurring payment forms, with no coding required. PayoLee can also be used to accept donations, making it ideal for fundraising events. |
| | PayPal is designed to help individuals and companies accept and make recurring payments without having to provide financial information. It offers secure transactions, a scalable platform, limited fraud protection, and a simplified customer checkout process. |
| | PaySimple is designed to be extremely user-friendly. The company's suite of cloud-based software helps merchants accept payments, bill customers, monitor customer details, and set up recurring payment systems—all without any specialized knowledge. |
| | Boasting of premium functionality with a touch of simplicity, Recurly is an enterprise-level platform specifically for recurring billing management designed specifically for global, subscription-based businesses. It boasts best-in-class support and security. |
| | Shopify allows merchants to set up their own simple webstore and conduct recurring transactions. Designed for users with little to no technical or design skills, this SaaS is ideal for merchants who are new to the eCommerce environment. |
| | Billing itself as a global all-in-one solution, Stripe streamlines revenue flow. It works with applications that help manage revenue, prevent fraud, and drive growth. The company advertises easy integrations and cost-effective scalability for one-time and recurring payments. |
| | Upodi is an enterprise-grade recurring billing platform enabling SaaS and subscription-based companies to accept payments, measure customer engagements and scale business across the world. They offer an easy-to-use interface and developer-friendly APIs. |
| | Vindicia's comprehensive subscription management solution offers big data analysis, strategic consulting, and proprietary customer-retention technology. The company also provides support for subscriber lifecycle management. |
| | Zuora is subscription billing and payment software designed to help businesses manage finance operations. Highly adaptable and easily integrated, their platform provides a cohesive, end-to-end solution for managing the subscription lifecycle. |
The Subscription Billing Economy is Growing
There are multiple reasons to embrace subscriptions, including consistent cash flow and higher customer retention. Recurring transaction chargebacks, however, can negate all the benefits of this ideal payment plan.
Whether a result of friendly fraud (customers exploiting the chargeback system for a no-hassle return) or genuine merchant error, these transaction disputes decrease revenue and increase headaches.
If you're experiencing chargebacks as a result of recurring transactions, let us know. Chargebacks911® offers services specifically designed to address your business's needs. We can help ensure your recurring transactions boost profits and position you for the future.
---