Free Shipping & Order Fulfillment: How to Maximize Your Efforts
Major shopping events like Thanksgiving weekend will draw a great number of online consumers. However, deep discounts and doorbuster deals aren't the only incentives that attract customers. Free shipping can be a compelling incentive too.
What the People Want: Free Shipping
Studies have found free shipping is a powerful enticement for consumers to buy goods. According to data from Business Apps, 93% of online shoppers say that when they're unsure of whether or not to complete a purchase, free shipping can be the final deciding factor.
Many businesses find that adding a free shipping option to their site gives them the opportunity to:
Attract new customers and build brand loyalty.
Generate increased revenue through new sales.
Discourage shopping card abandonment.
Entice customers to add items to their purchase.
Unfortunately, though, just because the customer isn't charged for shipping doesn't mean there are no shipping costs.
Businesses are often reluctant to absorb the cost of shipping because they don't believe it will pay-off in the long run, and for some, that is entirely true. However, offering free shipping is more achievable than most merchants realize.
How Can Merchants Ensure Free Shipping is Cost-Effective?
There are a few different methods which, when deployed in a coordinated manner, will make free shipping worthwhile.
Account for Shipping Costs in Pricing
Products need to be priced appropriately to offset the increased expense of shipping. This doesn't mean merchants should simply raise the prices to cover the full amount, as the sticker shock will send customers directly to the competition. Rather, merchants should make a projection of average shipping costs, then price items appropriately, just like any other operational cost.
Focus on Raising Average Transaction Totals
Free shipping has a psychological effect on customers. When people see the word "free," they counterintuitively tend to value that item more highly.
Free shipping is more cost-effective the higher the transaction total, and it is easier to convince customers to buy more when they're saving money on shipping. When free shipping is an option, merchants have a great opportunity to encourage up-sells and cross-sells.
Store Inventory in Multiple Locations
When it comes to fulfilling orders, the merchandise's location will greatly impact the cost of shipping.
Ruben Pierre-Antoine, co-founder of educational website Savage Sellers shares, "Storing inventory in multiple locations is critical to cost-effective shipping. Distributing inventory to different third-party logistics locations, taking advantage of Fulfillment by Amazon, and shipping out your items concurrently is the best way to minimize cost. By having your products in different locations with different shipping options, you can choose the best possible rate and speed appropriate for your customer."
Noah Bleich, head tea sipper and shipper at The TeaBook concurred, "Fulfilled by Amazon cut our shipping costs in half. If the order is local, we ship it ourselves. If it's more than four states away, FBA is cheaper."
Pair with Multiple Brand Loyalty Strategies
While the business may sacrifice a small amount of short-term profitability, paying for customers' shipping costs is a long-term move. The policy creates brand affinity, transforming first-time buyers into recurring customers when paired with other brand loyalty techniques such as connecting with customers, personalization, and telling a brand story.
Market Your Offer
Free shipping has a two-part purpose—to retain current customers, as well as to attract new interest. Free shipping offers little value if customers aren't aware that it's available; therefore, merchants should remember to make free shipping a key component of their marketing strategy. It should be mentioned on the key pages of the website, all product pages, social media, and any other messages or interactions between the business and customers.
Compare Carrier Costs
Some merchants find switching carriers can reduce costs. In fact Mark Aselstine, of Uncorked Ventures, said he was able to cut shipping rates by 50%, just by changing carriers.
Try Negotiating
If all else fails, try asking for lower shipping rates. As the old cliché stipulates, the worst that can happen is they say no.
Aselstine remarked, "You might be surprised at the level of discount you'll be offered, especially if your current carrier knows you're shopping around." He also advised, "If your business is seasonal, negotiate better rates only during your busiest time."
---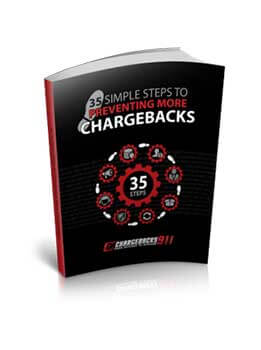 35 Simple Steps to Preventing More Chargebacks
Download our FREE guide that outlines 35 step-by-step effective chargeback prevention techniques. Learn insider secrets that will reduce your risk of chargebacks, increase your profits and ensure your business's longevity.
---
After the Transaction, Don't Overlook Fulfillment
Enticing the customer to make a purchase is just the first half of the battle. Now comes the second part: getting the merchandise to the customer.
Free is Important, but So is Fast
Just because shipping is free doesn't mean that merchants can write it off as a "bargain" option.
The average shopper is willing to wait 7 days for a product's delivery. Beyond that point, merchants risk angering their customers, regardless of whether they paid for shipping or not. Those customers may even attempt to dispute the transaction, asserting that the terms of service were violated or that the merchandise didn't arrive.
Audit Shipping Materials
Diligent auditing may reveal inefficiencies in the fulfillment process. For example, Ellen Riley, fulfillment expert and COO of 71lbs. advises, "Audit the shipping materials used and make sure there is a standardization of box sizes to order sizes." She continued, "Sometimes it makes more sense to send four separate boxes than one large box."
Use Insurance with Correct Shipment Valuation
Accidents happen on occasion—when they do, it's nice to have shipping insurance to fall back on.
Merchants have the option to use the standard shipping insurance provided by the carrier, or they can supplement with a third-party service provider to insulate against possible loss.
If merchants do opt for insurance, they must give the correct value of the shipment. Otherwise, as Riley points out, "the merchant won't be able to get a refund for lost or damaged packages."
If refunds are needed because of lost packages, damaged merchandise, or unfulfilled expectations, shipping experts at 71lbs. can help.
Keep Lines of Communication Open
If customers have issues with their orders, the last thing they will want to do is jump over hurdles to have their issues addressed. This means fast and attentive customer service is essential.
Merchants should consider providing 24/7 customer service across all channels including phone, email, and social media. If merchants need assistance managing their volume of returns, there are third-party services, such as eConsumer Services®, that can help.
Free Shipping: Specialty Today, but Standard Practice Tomorrow
Consumer expectations are the driving force behind eCommerce standards. With more and more merchants embracing free shipping, it's only a matter of time until the practice becomes less of an appreciated special offer and more of a common demand.
It would be wise to start experimenting with free shipping in anticipation of future trends, as merchants who meet consumer expectations before they're standardized are best positioned to capitalize on them.
If you'd like additional information about free shipping or want help auditing your current fulfillment policies, contact one of our eCommerce experts today. Chargebacks911® specializes in helping online merchants optimize profitability without increasing risk.