Make Chargeback Prevention Your New Year's Resolution
2017 was a happy holiday for most online retailers.
According to data published by Mastercard, online sales saw an 18.1% rise compared to last year—a huge increase that showcases the booming consumer interest in eCommerce. Plus, the total number of consumers shopping via the Amazon mobile app increased 70% compared to 2016. That sends positive signals for other retailers too, as it suggests a faster rate of eCommerce and mobile device adoption.
Add to that a 7.5% increase in electronics and appliance sales—the strongest year-over-year growth in a decade. More electronic sales mean there are plenty of new devices circulating for our increasingly omnichannel-focused consumer base.
The Post-Holiday Hangover
Of course, increased sales during the holidays also mean increased returns in the new year. Consumers will return an average of 15% of all goods purchased online, translating to more than one million units each day. This figure can run higher in certain industries like apparel, which sees an average 30% overall return rate.
While returns aren't ideal, they're still better than the alternative: chargebacks.
It happens every year. The surge in online sales around the holidays leads to a surge in chargebacks during the first few months of the following year.
Tis the Season…for Chargebacks.
January & February are two of the most dangerous months for merchants. Click below to find out why.
You need to be ready for this incoming wave of chargebacks, and then carry that same preparedness throughout the year. Make long-term chargeback reduction your new year's resolution with the following tips:
Take advantage of customer verification tools like AVS and 3-D Secure.
Request the card security code at checkout.
Include delivery confirmation, especially for high-value transactions.
Clearly list your return policy and make it easily accessible from every page on your site.
Train both long-term and seasonal employees to develop consistent customer service skills.
Respond to customer emails and social messages within one hour.
Answer all customer service phone calls within three rings.
Contract an on-demand answering service to handle overflow customer service calls.
Provide detailed, accurate product descriptions, with photos from multiple angles.
List your business name, URL, and phone number in your billing descriptor.
Stay up-to-date on policy changes, like the PSD2 and EU Digital Single Market.
Identify and start preventing alternate risk sources like click fraud and affiliate fraud.
Embrace tools that rely on 2-factor authentication like Alipay and Mastercard Identity Check.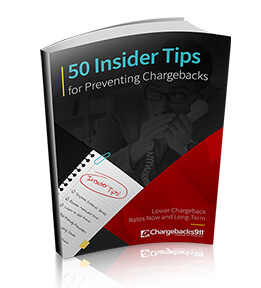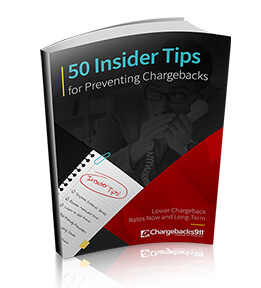 50 Insider Tips to Preventing More Chargebacks
Download our FREE guide that outlines 50 step-by-step effective chargeback prevention techniques. Learn insider secrets that will reduce your risk of chargebacks, increase your profits and ensure your business's longevity.
Free Download
Chargebacks are a Complex Issue
The above practices can help you prevent chargebacks resulting from basic merchant oversights and criminal fraud attacks. However, even the most effective conventional fraud tools are helpless against friendly fraud.
Friendly fraud represents more than 80% of all chargebacks, and the financial impact of the practice will reach $25 billion by 2020. That's where Chargebacks911® comes in.
Chargebacks911 offers the only proven solution for friendly fraud:
Prevent
Save revenue through long-term friendly fraud reduction
We don't rely on faulty chargeback reason codes. At Chargebacks911, we deploy our own award-winning proprietary tool—Intelligent Source Detection—to reveal the true cause of each chargeback dispute. ISD technology makes it possible to target and eliminate chargebacks at the source. You recover revenue and merchandise…and so much more:
Deploy tools and strategies more effectively.
Identify hidden revenue sources.
Reduce long-term operational costs.
Increase sales through reduced false positives.
Only Chargebacks911's services are backed by a 100% ROI guarantee; if you don't save money…you don't pay money.
Turn-Over a New Leaf
Ring-in the new year the right way by leaving chargebacks in the past. Contact Chargebacks911 to demand your free demo and start reducing chargebacks today. Click below and learn how much you could be saving.