Did You Know? Simplifying Your eCommerce Return Policy Can Help Prevent Chargebacks.
Believe it or not, your return requirements can play a crucial role in a customer's decision to buy from you.
Eight in ten consumers say that your eCommerce return policy is an important factor when making a purchasing decision. Two-thirds of buyers will review your policies before clicking "buy."
A clear, simple, and easy-to-understand refund policy communicates more to your customers than just basic rules. It says that you stand behind your products, and that you want your customers to be satisfied.
If your policy seems vague or too complex, consumers may have doubts about your store. They might click away to another site as a result. But, how do you ensure that your policies are optimized? Let's dig into it.
Why Does Your eCommerce Return Policy Matter?
Your products are great, and your customer service is outstanding. That said, all businesses — no matter the quality of their goods or support — are subject to the occasional return request.
In the eCommerce space, shoppers don't have the benefit of a tactile, first-hand experience with items. The buyer doesn't have the option of touching a product, analyzing the color, or checking the size. They have to rely solely on the product descriptions that you provide.
Customers tend to feel much more confident about a purchase if they know they have the option to return it easily. For instance, a recent report on product returns revealed the following insights:
Essentially, a good eCommerce return policy builds consumer confidence in your brand. In contrast, a bad policy can deter customers from shopping with you. It may even cause chargebacks and additional fraud incidents, as we'll see later on.
Is an eCommerce Return Policy Legally Required?
The short answer is "no." You're not legally required to have a written policy in place to accept returns. However, it's a bad idea not to do so.
Even though there aren't any state or federal laws mandating return policies, many states in the US have very strict guidelines regarding returns. Similar guidelines exist in the EU as well, regarding how and when your return policy must be displayed.
In addition, your customers want — and expect — a good return policy. A better customer experience can help you see better customer satisfaction and improve overall retention rates.
Unhappy customers won't jump through hoops to return items through your store. If you make it hard for them, they'll take the matter up with their bank instead.
Forced bank refunds, more commonly known as chargebacks, are a worst-case scenario that you should avoid whenever possible. The chargeback process is lengthy, time-consuming, and will always end up costing you more money than the original transaction was worth. In other words: if you want to prevent forking over more revenue in the end due to chargeback fees, a simple, easy refund policy is the right way to go.
What to Include in Your eCommerce Return Policy
For all intents and purposes, you need a detailed, concise return policy. Where do you start, though?
Our first piece of advice is to keep it simple. No one wants to feel like they need a law degree to read a return policy. Shoppers simply want to read what is relevant to them, when it's relevant, and learn what they need to do to get their money back. Don't make it more complicated than that.
You should write as you would speak to your ideal customer. Don't invent words or attempt to complicate the language, and remember that a "short and sweet" approach is usually best.
Here are a few points to remember as you start to draft your return policy:
Better policies prevent chargebacks. Speak with one of our experts and learn the secret to a winning strategy.
Sample Return Policy
Now that we have a general idea of what to include in a customer-forward return policy, it's time to take a look at how these concepts work together in practice.
We've taken the opportunity to mock up a sample return policy template for you. While this will need to be adapted to the specifics of your business, this basic template should work for most businesses: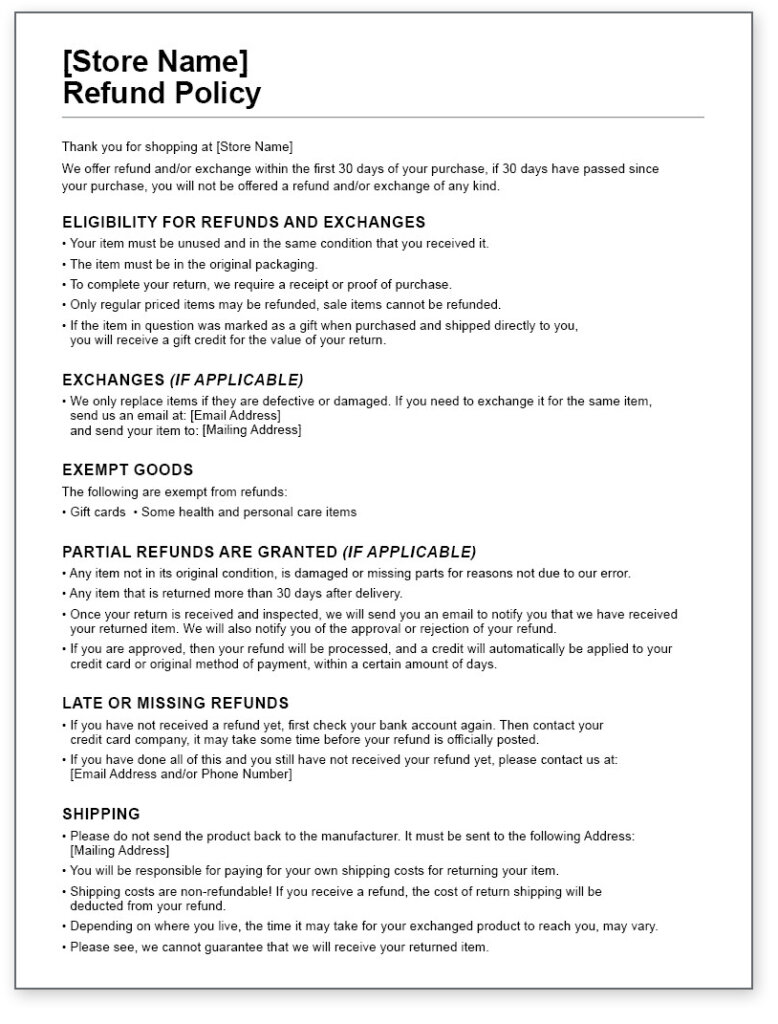 Download the Sample Return Policy Template
Don't forget: every business is unique!
You may need to adjust your return policy to accommodate your customers' specific needs. So, although this template can surely help you visualize the general layout of your return policy, the finer points will be entirely up to you and your customers.
Displaying Your Return Policy
Your next crucial step after crafting your well-written return policy is knowing when and where to display it. One excellent rule of thumb to follow for returns is to ensure your customers agree to your return policy before checkout.
To do this, you can enable text input fields or pop-ups right before checkout is initiated or just before payment is approved. Ensuring customers have a chance to read it before they buy is a wise move for every business.
It's a good idea to ensure that a summary of return policy is visible on every page of your site. You should also include a link to read the full policy on of the following, at least:
FAQ Pages
Product Pages
Order Notifications
Website Header & Footer
Via Chat
Top 10 Return Policy Best Practices
So, how can your return and cancellation policy help reduce the risk of chargebacks and return fraud? Here are 10 suggestions to consider:
Good Return Policies Help Fight Chargebacks
It's not practical to accept any and all returned merchandise. However, the more flexible your return policy, the lower the risk of chargebacks. If your restrictive policies mean someone doesn't qualify for a traditional refund, that customer is more prone to commit friendly fraud.
Developing a solid eCommerce return policy can seem pretty straightforward. There are certain "tricks of the trade" that may not occur to you, though. Tracking all return requests, for example, and checking for patterns that may indicate an internal issue (or a questionable supplier), can have a huge impact.
One of the many services provided by Chargebacks911® is a 106-point inspection of merchants' policies and business practices. We can help you identify chargeback triggers — including potential issues with your eCommerce return policy — and show you innovative new ways to reduce risk and prevent revenue loss.
FAQs
What is a standard return policy?
Most eCommerce companies offer returns between a 30 and 60-day window, but some limit returns to 15 days while others extend that period up to 90 days.
Do I need to have a return policy?
Yes. While it's not legally required, customers tend to feel much more confident about a purchase if they know they have the option to return it easily. A good return policy builds consumer confidence, while a bad one can make customers not want to shop with you and can cause chargebacks.
How do I make a return policy?
There are many facets to consider before you sit down and write your return policy. Once you decide on your options, you should write a simple, easy-to-read, easy-to-spot, and completely transparent return policy for your customers. You should consider the cost of creating and listing items for sale, overhead, and staffing. If products are returned, can they be restocked even if used?
What information should I include in my return policy?
The rules to follow when writing your return policy are: keep it simple, make your conditions clear, detail return requirements, disclose any and all fees, and specify your timelines.
Where do I display my return policy?
It won't hurt to ensure your return policy is visible on every page of your site. Some of the best options include: FAQ pages, product pages, order notifications, website headers, website footers, and in-chat windows.