The Mobile Wallet Could Be a Major Payments Disruptor…if Consumers Use Them
As recently as 2016, mobile wallets were positioned to revolutionize eCommerce. The technology was touted as the next big thing, with experts predicting it would drastically change purchasing behaviors and fraud management by the end of the year.
…but so far, it hasn't happened.
Remote mobile payments totaled some $75 billion in 2016, but that's only about 1% of total retail sales. Statistics show that the acceptance and adoption of mobile wallets has largely leveled off. Even so, professionals are expecting a compound annual growth rate of 80% between 2015 and 2020. That would put the volume of payments near $500 billion.
Who should we believe? The expert forecasts, or the actual studies showing less than 5% of customers are using mobile wallets?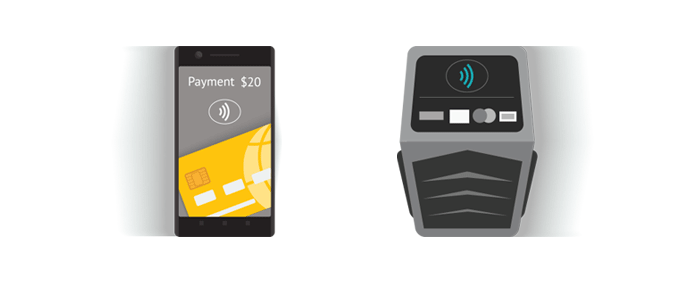 What Is a Mobile Wallet, Anyway?
A mobile wallet is pretty much exactly what it sounds like: a virtual "wallet" that stores cardholder information on a mobile device. It may exist in the form of a downloadable app that can be installed on a smartphone or tablet, but newer devices often come with this software pre-installed.
The app is an alternative payment method that can take the place of a physical wallet by digitally storing credit card, debit card, discount, or reward cards information. All data is linked to a personal identification format such as a number or key, a QR code, or an image of the owner.
When a user makes a card-present payment, the app works through near-field communication (NFC), which uses radio frequencies to communicate between devices. Walmart Pay uses a QR code, but the process is similar.
In terms of installs, the largest provider of mobile wallet capabilities is Samsung, with its Samsung Pay boasting 30 million users. Apple Pay and Google Pay (formerly Android Pay) are the closest challengers, with 4 million and 1.5 million users, respectively. However, this only indicates how many consumers have the app installed, not the number of people actually using the service.
For acceptance and usage, Apple Pay is in the lead, while relative newcomer Walmart Pay already has an adoption rate higher than Samsung Pay and Google Pay combined. Of course, Walmart Pay is limited to purchasing from Walmart, and Apple Pay is limited to Apple phone users, and so on. Locking down a comparative metric is nearly impossible, because there are too many variables.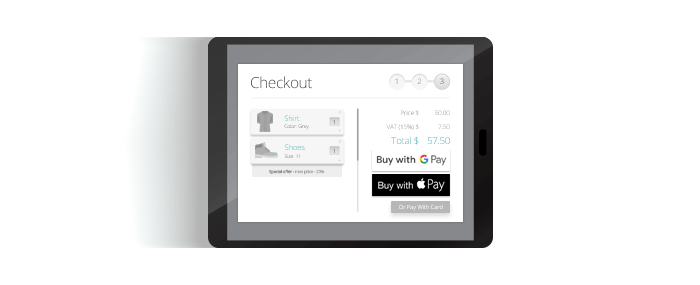 How Do Mobile Wallets Impact eCommerce?
Both Apple Pay and Google Pay can be used through a web browser to conduct card-not-present transactions. The consensus has been that this change would mark a tipping point in customer acceptance of mobile wallet technology, and that would impact the eCommerce environment in a big way.
These OS-Pay platforms take advantage of tokenization and encryption technology like the EMV chip cards in card-present transactions. In other words, no actual credit card information is exchanged between the cardholder and the merchant during the transaction. Moreover, sensitive information isn't stored on the device or shared with the service provider.
Plus, Apple Pay and Samsung Pay employ biometric technology as a means of validating the cardholder's identity. Both platforms provide the option for cardholders to authorize purchases using fingerprint technology, thereby potentially reducing merchants' risk from fraud tactics and EMV chargebacks.
While contactless payment fraud is still possible, they face significantly reduced risk. This is especially true if other new technologies can be implemented into these platforms. Dynamic CVV codes, for example, are an evolution of conventional CVV2 codes printed on the back of a credit or debit card.
Easier, more secure transactions with reduced chargeback risk? What's not to love about it?
The Road to Greater Acceptance
This is a development that could really shake-up the industry, offering new security tools and further blurring the distinction between online and in-store purchases…if customers get on-board.
Consumers had already demonstrated that simplifying the online checkout process was mandatory for wide adoption. The belief was that if Android and Apple could replicate the frictionless experience without increased processing fees, then both merchants and consumers would flock to embrace the technology. As of mid-2018, though, there hasn't been much momentum around mobile wallets.
The mere concept of a mobile wallet for in-store purchases may not be enough incentive for consumers to make the switch. While people have heard of the technology, many are still not on-board. The obvious conclusion is that they're either not seeing enough benefits to the platform, or they're seeing too many drawbacks.
Studies indicate that security is still a major concern, especially considering data breaches by giants like Equifax and concerns about data usage by companies like Facebook. Customers are hesitant to turn-over sensitive financial information to tech companies. On the other hand, some cardholders are simply waiting for more features, such as integrated functionality for loyalty programs.
Even though consumers may have heard of mobile wallet technology, many still feel they aren't informed enough to decide about using it. Expanding the capabilities of the service could boost the perceived value of the service and lead to greater adoption.
However, the real key to increased mobile wallet adoption may be as simple as educating consumers about its revolutionary security benefits: mobile wallets make true, 2factor biometric authentication possible for the eCommerce environment, and it's hard to overstate the benefits of this technology.
The Future Still Looks Bright
While the acceptance of mobile wallets is happening more slowly than predicted, the technology is far from dead. According to a report published by Urban Airship, mobile wallets are now among the top four ways consumers prefer to stay updated on sales, offers, and coupons.
Surveys indicate that the slowdown in mobile wallet acceptance is less about mobile wallet itself, and more about lack of consumer interest. This could change with the addition of integrated loyalty programs and other potential add-ons, such as in-app, in-browser, and P2P payments. Customer education on the benefits of the platform—including built-in data security—could also help break down barriers to acceptance.
Merchant adoption could be a factor as well. For example, office supply retailer Staples announced in early 2015 that Apple Pay accounted for 30% of all purchases made through the company's iOS app. Moreover, 65% of Apple Pay purchases were from first-time Staples customers. These findings came just two months after the retailer began accepting the platform, evidence that some consumers had already accepted mobile wallets and were simply waiting for merchants to catch up.
Merchants can use these tools to offer their customers by reducing transaction friction, offering a wider array of payment options, and reducing fraud exposure. In return, the merchant enjoys improved sales conversions and decreased shopping cart abandonment.
If you're ready to take a more comprehensive approach to payment processing and would like input on how to balance the risks against the rewards, contact Chargebacks911®. We'd be happy to advise your business as you optimize profitability and sustainability.