The Pros & Cons of Apple Pay, Plus Tips for Use
While we're still a long way from having a cashless society, contactless payment methods are growing more popular all the time. That includes platforms that allow customers to pay directly from their smartphone, without the need to carry credit cards.
Apple Pay is one such service. Users seem to agree it's a great experience, offering convenience and other great perks. Is there more to the story, though? Let's take a look behind the scenes and see what Apple Pay really is, how it works, and what you should know before embracing the platform.
What is Apple Pay?
Apple Pay

[noun]/a • pəl • pā/

Apple Pay is a contactless payment platform that enables users to make payments without having to carry cards or cash. It uses a digital "wallet" that can store representations of multiple debit and credit cards, as well as coupons, tickets, loyalty cards, and more.
Apple Pay is one of the easier, faster ways to pay in stores, in apps, or on the web. It also offers more secure transactions than some other forms of payment.
Apple Pay leverages standard NFC technology to connect with existing in-store card readers. Instead of presenting a physical payment card at the point of purchase, a consumer taps their iPhone or Apple Watch at an NFC-enabled credit card terminal to complete the transaction.
The tool enables purchases at any brick-and-mortar location that accepts contactless payments. Consumers can also use Apple Pay for faster, safer transactions through the Safari web browser, as well as through supported third-party apps.
Which Banks, Cards & Merchants Support Apple Pay?
Thousands of banks globally support Apple Pay, and the number continues to rise. Some of the major participating issuers include:
American Express
Bank of America
BBVA Compass
Capital One
Chase
Chime
Citi
Discover
HSBC
M&T Bank
PNC
Synchrony
TD Bank
USAA
US Bank
Apple Pay is supported by most major credit, debit, and prepaid card networks, including Visa, Mastercard, American Express and Discover. Apple Pay obviously also works with Apple's own Apple Card.
As for merchants, Apple Pay may work with any seller that accepts contactless payments. Apple reports that, as of 2022, over 90% of retailers already accept contactless payment methods. According to Visa, nearly one in ten Visa card point-of-sale transactions are now made with a tap, rather than a "swipe" or "dip."
Here's where you can find a partial list of major retailers that accept Apple Pay, but that list is growing all the time.
How to Set Up Apple Pay for iPhone, iPad, & Apple Wallet
Setting up Apple Pay for use is fairly straightforward, involving just a few simple
steps. First, though, you'll need to make sure your device is compatible.
As of this writing, Apple Pay works with the Apple iPhone 6 or iPhone 6 Plus (and
newer models). It also works with Apple iPad Pro, iPad Air 2, and iPad Mini 3 (and
newer models), plus Apple Watch Series 1 and (newer models).
Because they're still tied to payment cards, Apple Pay transactions are not "chargeback-proof." Let us help you protect your business with a truly comprehensive prevention strategy.
The beginning of the process depends on the device you're using: iPhone, iPad, or
Apple Watch.
To set up Apple Pay on your iPhone, start by opening the Apple Wallet app. For the
iPad, you'll navigate to Settings > Wallet & Apple Pay. After this, click the (+) button
in the right corner of the screen to add a new device, then tap "Continue."
For an Apple Watch, open the Watch app on your iPhone. Next, scroll down to
"Wallet & Apple Pay." Select "Add Card," then tap "Continue."
Once you've taken the steps outlined above, proceed through the following steps:
Step 1:
Choose whether you're loading a debit card, Apple card, or credit card to the wallet. If using an iPhone or iPad, you can then use the device's camera to scan information straight from your card. You may also opt to enter card details manually.
Step 2:
Scan the card front using the device camera, or enter the 16-digit card number manually. Tap "Next" when finished. You'll also be asked to enter your card's security code and expiration date. Enter the information requested, then tap "Next."
Step 3:
Read through the terms and conditions of using Apple Pay. Once finished, tap "Next.
Step 4:
Choose a verification method, then follow the instructions on screen. Tap "Next" when you confirm the verification.
Step 5:
Hooray! Your card is now registered and ready to use!
Once you've gone through the Apple Pay set up process, you'll also be able to make transactions through Apple Mac Mini, provided it's paired with an iPhone 5 or newer.
How to Use Apple Pay
So, that covers the process of setting up Apple Pay on your device. How do you actually use it, though?
Using Apple Pay requires an iPhone 6 or later. The device must be equipped with either Touch ID or Face ID. Exactly how the process of using Apple Pay works will again depend on the device (iPhone/iPad versus Apple Watch or browser).
Using Apple Pay With iPhone
To make Apple Pay purchases with Touch ID iPhones, rest your finger on the Touch ID button until the screen says "Hold Near Reader," then move the device close to the card reader screen. Be careful not to press too hard; otherwise, Siri will activate.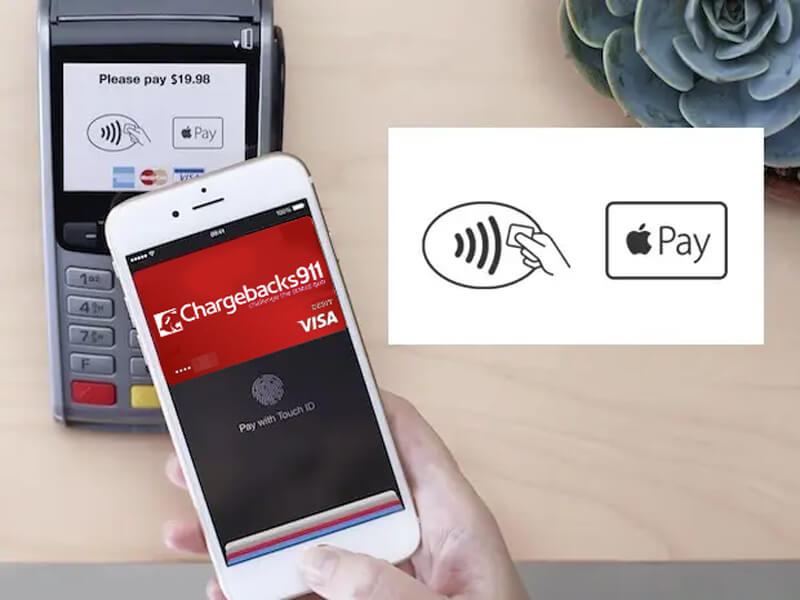 You can also double-press the right side button on your iPhone. Apple Pay will open showing your default card. When you authenticate with Face ID, it will display a smiling face that morphs into an iPhone icon with the words "Hold near reader." Simply move the device closer to the card reader screen.
In either of these situations, keep in mind that you're not totally dependent on your phone recognizing you via biometric reading. You can always choose the "Pay with Passcode" option. Once the reader verifies your device, you'll get a subtle beep/pulse to confirm the payment.
Using Apple Pay With Apple Watch
To launch Apple Pay on your Apple Watch, double-click the button next to the Digital Crown. The rest of the process works exactly like the iPhone: double-press the side button and hold the Watch, screen down, next to the card reader.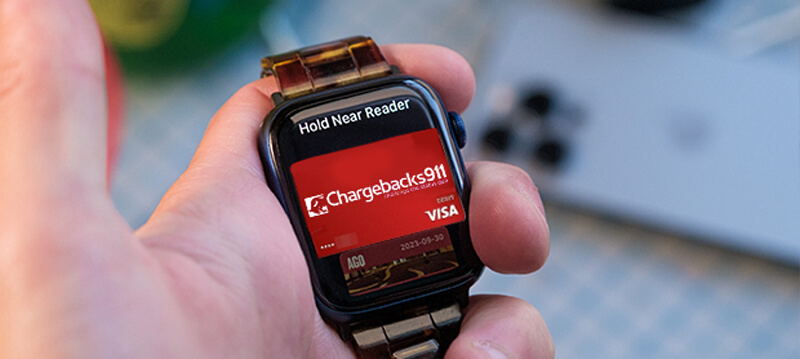 Note that you don't need to look at the Watch; it's authorized simply by the fact that you're wearing it. When you see the "Hold Near Reader to Pay" message, move your watch up to the payment terminal and wait for the beep/pulse to confirm the payment was accepted.
Using Apple Pay Online
Finally, you can also use Apple Pay through the Safari browser.
If your MacBook model supports Touch ID, you can make payments that way. If Touch ID isn't an option, you can confirm the purchase with your iPhone by going to Settings > Wallet & Apple Pay and moving the toggle to "Allow Payments on Mac."
Common Question
How do I change my default card in Apple Pay?
You can change the default card in Apple Pay by going to Settings > Wallet & Apple Pay>Transaction Defaults. Click on "Default Card" to change your default Apple Pay card. You can also choose a different card when you launch Apple Pay. On the Apple Watch, swiping left on the display will reveal other registered cards.
Is Apple Pay Secure?
Yes. In fact, Apple Pay is one of the safest ways to pay using a credit or debit card.
Apple Pay doesn't share your card number with merchants. The system secures data by creating a unique, single use "token" that replaces your card details during transactions. Sellers only receive what's necessary to process the order.
Learn more about tokenization
Apple doesn't save your transaction information or card numbers on its servers, either. In fact, not even other apps on your device can access the Secure Element where card data is stored. That helps protect your information, even if your phone is lost or stolen.
Certain actions can negatively impact Apple Pay security, however. Public Wi-Fi networks, for example, are often unsecured; registering Apple Pay while using an unsecured network may allow a hacker to intercept data.
That said, using Apple Pay still requires Touch ID/Face ID or the device password. Even with hacked data, transactions can't be completed unless the user gave one of these verification methods.
Security can also be compromised by jailbreaking your iPhone. Overriding built-in operating restrictions may accidentally create a loophole through which crooks could duplicate your previous contactless payments.
Pros & Cons of Using Apple Pay
Apple Pay offers a wide range of user benefits. However, it's also good to keep in mind that each benefit doesn't always tell the full story.
Important!
Apple Pay also offers an Express Transit feature, which allows users to select a card to be automatically used for supported public transportation readers. Riders can pay for transit without even needing to open their phone. However, Express Transit has been shown to create a security loophole that fraudsters may leverage. It should be used carefully.
Is Apple Pay Good to Use?
While no payment platform is going to be perfect, Apple Pay is generally a very secure, well-implemented service.
The tool offers convenience and security for credit payments, as well as seamless integration with other parts of the Apple payment ecosphere. Of course, that can also be a double-edged sword. As we mentioned above, it limits users to that one major device platform.
Of course, many potential drawbacks to Apple Pay apply to other payment platforms as well. Google Pay, for instance, has the same lack of universal acceptance and dependence on the device integrity as Apple Pay. And, as safe as these systems are, they're still subject to fraud, in some cases.
Bottom line: Apple Pay is a great option for those looking for a safe, convenient, and easy way to pay. It's safer than conventional payment cards in many ways… but that's still no reason to take your security for granted.
FAQs
What is the difference between Apple Pay and Apple Wallet?
In simple terms, Apple Pay is a feature for making purchases using stored information from any payment card. Apple Cash is a peer-to-peer cash transfer system that functions like a reloadable gift card. The payment information necessary for both methods is stored in the Apple Wallet.
Where is Apple Pay on my phone?
Wallet and Apple Pay can be found in the fourth group of settings below iCloud and iTunes & App Store. If you can't locate it, open the settings app, hold your finger on the screen and slide it down to reveal a search bar (it'll be a white bar with a magnifying glass and the word Settings). The Wallet app is also a preloaded app on iPhone, Watch and iPad.
How do I use Apple Pay?
To initiate an Apple Pay payment on your phone, wait until the light on the payments reader comes on, then hold your device up to the reader. There's no need to open a new app or even wake up your display to use Apple Pay. You can select your default card or choose another one. Within seconds, the transaction is complete.
How safe is Apple Pay?
Security is one of the main benefits of Apple Pay. The extra security layer protects against theft and data disclosure. Apple Pay doesn't transmit the actual credit card number, bank account number, or other bank card details at the time of purchase. It uses a number directly linked to the device and a unique transaction code. As a result, personal card numbers are protected from potential data breaches. Also, Apple does not store transaction details, so online retailers cannot trace online purchases to specific individuals.

The use of fingerprint access and facial recognition makes Apple Pay more secure than PINs or passwords. There are certain circumstances that could undermine security, but these are not common, and are largely user-caused.
Is there a downside to Apple Pay?
Of course, no system is perfect. Apple Pay is limited in some ways, including whether or not a merchant supports contactless payments or if they have added Apple Pay to their iOS app or website. Also, you'll need to use your physical payment card if your iPhone battery is dead.