How Wells Fargo Disputes & Chargebacks Work for Merchants & Cardholders
The explosive growth of eCommerce has been a great thing for retail. It also means that more and more consumers are purchasing merchandise sight-unseen, though. This has set the stage for a dramatic rise in merchandise returns and disputes.
According to one report, roughly 30% of online purchases are returned, compared to 8-12% of in-store buys. Online sales have also opened up loopholes in the return process. An increasing number of "returns" are actually examples of post-transaction, first-party fraud. In other words, cardholders using the credit card chargeback system in lieu of a standard merchandise return.
Chargebacks can work differently depending on the bank brand. The rules, processes, and platforms can vary from one institution to the next. That's why, in this post, we'll be looking specifically at what is involved with a Wells Fargo chargeback. How do they handle disputes between consumers and merchants? What can each party expect from the process?
What is a Wells Fargo Dispute?
As the term implies, it's a dispute that occurs involving a merchant and a Wells Fargo credit or debit card. Let's dig a little deeper than that, though.
Disputes typically start when a bank customer sees what they believe is an inaccurate transaction on their Wells Fargo bank statement. At that point, they should contact the merchant to resolve the issue. If that doesn't work, however, the cardholder can call Wells Fargo and dispute the sale.
The customer will be issued a conditional refund for the original transaction amount. They will not have to pay the amount while the case is pending, and will not be charged interest or late fees on the transaction amount. When cardholders call to dispute a charge, Wells Fargo will investigate, then rule on the validity of the customer's case, either rejecting the claim or initiating a Wells Fargo chargeback.
If the bank escalates the dispute to a chargeback, the merchant will lose the purchase price and associated costs. They'll also be assessed a chargeback fee of $25. The seller has the option of contesting the cardholder's claim, but the chargeback fee is nonrefundable.
Learn more about chargebacks
How to Dispute a Charge With Wells Fargo
There are two steps involved with challenging a charge on a Wells Fargo-issued credit card: as we mentioned earlier, the cardholder's first course of action should always be to contact the business associated with the transaction and explain why they feel the charge is invalid.
Most merchants are willing to work with customers, correcting legitimate mistakes or clarifying misunderstandings. In the majority of cases, this will solve the problem, and no second step will be necessary.
Important!
There are situations in which the customer actually tries, but can't resolve things with the merchant. For instance, they may have tried to contact the merchant multiple times with no response. In these cases, calling their bank may be the only option.
If the merchant can't (or won't) resolve the issue, the cardholder should contact Wells Fargo directly. There are two ways to go about this.
Call the Wells Fargo Customer Support Number
Bank agents will help the customer through the dispute process to see if the transaction in question is actually a mistake. The cardholder may be asked to provide documentation and other evidence to support their case and give bank employees more information. It's better to collect this prior to calling. Call 1(800) 390-0533 to pursue this option.
Dispute the Charge Online
The Wells Fargo Online platform allows users to file a dispute electronically. After logging in to their Wells Fargo Online account, cardholders can navigate to the Account Services option from the More menu, then select Dispute a Transaction. Bank customers may then submit a claim by simply identifying the disputed transaction and following the prompts.
Wells Fargo will notify the customer of their ruling once the investigation is complete. If they feel the claim is valid, the funds will be returned to the customer's account permanently. If the dispute is not valid, however, the cardholder will have to pay the transaction amount, including any interest charges or other fees that accrued during the chargeback process.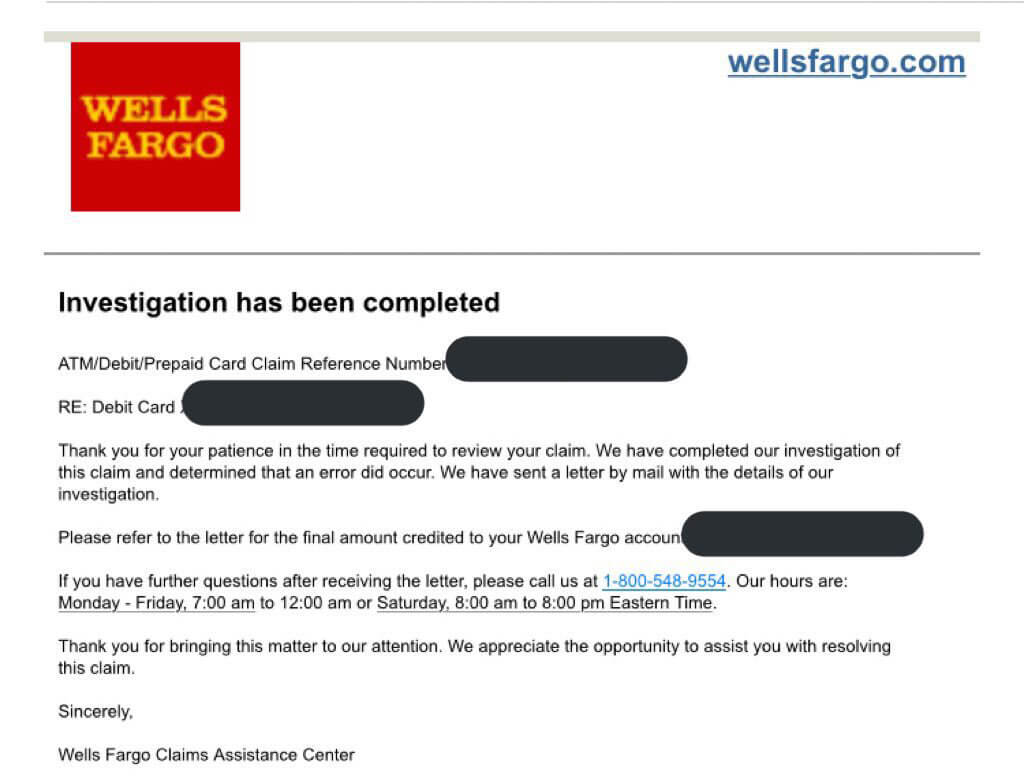 Valid Reasons to Dispute a Wells Fargo Charge
When a Wells Fargo customer disputes a charge, they're essentially saying one of two things: either that the transaction was fraudulent (not authorized by the cardholder), or that the merchant failed to deliver what was promised. That's why cardholders looking to initiate a Wells Fargo dispute should be sure they have a valid reason before calling.
More often than not, disputes start with a claim of criminal fraud. This is when a cardholder doesn't recognize or didn't approve a transaction. In other words, the charge is the result of an unauthorized third party using stolen information to complete a purchase. Examples include account takeover fraud, identity theft, or triangulation fraud.
Disputes based on merchant actions happen when the cardholder feels the seller failed to live up to their obligation as part of a transaction. For instance, charging the wrong amount, failing to provide credit for a return, or failing to provide goods or services as promised.
Learn about valid reasons for a chargeback
Just having one of these events happen would not necessarily be grounds for a formal dispute. The problem arises when the merchant becomes aware of the issue, yet refuses to make it right.
Invalid Reasons for a Wells Fargo Dispute
Federal mandates only guarantee consumers' have a right to dispute charges in cases of fraud or merchant error. That said, cardholders' often dispute charges for items they don't like, want, or need; in those situations, the cardholder does not have a right to file a dispute.
Examples of invalid chargeback reasons include:
Not recognizing the merchant's billing descriptor
Forgetting about a purchase or recurring payment
Confusing disputes and refunds
Filing a dispute because it seems more convenient than a refund
Waiting too long and missing the merchant's time frame for returns
Letting another household member make a purchase on the user's account
If a cardholder requests a chargeback, but has no valid reason to do so, they're technically engaging in first-party fraud. This could carry consequences for the cardholder, even if the dispute was an honest mistake.
Chargebacks cost merchants revenue, even if they get the claim reversed. Prevention is the best option, but it's usually not that simple.Talk to us about a truly comprehensive risk-mitigation strategy.
Wells Fargo Chargebacks: Fees & Time Limits for Cardholders
There is no Wells Fargo dispute charge for cardholders with a legitimate reason to file a dispute. Chargeback rights are guaranteed by law.
In fact, the only real limitation the bank imposes on cardholders is time. In most cases, Wells Fargo requires that the dispute be filed within 60 days. That time frame starts from the date on the statement that shows the transaction, not the date of the transaction itself.
A 60-day window is the minimum time mandated by law. It's worth noting, however, that many bank brands give customers much more time to file disputes. These time limits can also be flexible, in special circumstances.
Important!
The chargeback process allows sellers to fight chargebacks filed against them as a way to protect themselves against first-party fraud. If they can prove the customer's claim was invalid, Wells Fargo could reverse the chargeback. However, the cardholder may provide further evidence for their case, leading to pre-arbitration (a second chargeback). The claim may eventually have to be settled through arbitration.
Wells Fargo Chargebacks: Fees & Time Limits for Merchants
Things work differently on the seller's side.
Holders of merchant accounts at Wells Fargo will be charged $25 for each chargeback filed. If they contest the claim, they may be able to have the chargeback reversed (although the chargeback fee will not be refunded). If the case has to be settled by arbitration, the losing party will also be charged up to $500 in arbitration fees. The high cost is why so few claims make it to the arbitration stage.
There are also long-term impacts, such as an increased chargeback ratio, which can drive up processing costs. If those numbers get high enough, Wells Fargo might even close your merchant account. This is why ignoring chargebacks is not an option.
Like cardholders, merchants have specific time limits for each stage of the chargeback process. After receiving notice of the claim, they'll have a set number of days to respond. These limits aren't set by Wells Fargo, though.
The card networks are the ones who set the response time frames for their cardholders, which merchants must adhere to:
| | | |
| --- | --- | --- |
| Brand | Time Window for Dispute Response | Time Window for Arbitration Response |
| Visa | 30 days | 10 days |
| Mastercard | 45 days | 45 days |
| Discover | 30 days | 10 days |
| Amex | 20 days | N/A* |
*American Express does not have an arbitration process.
Merchants can fight back against illegitimate Wells Fargo chargebacks through the representment process mentioned above. This requires them to "re-present" the charge and provide the bank with compelling evidence to prove the original charge was legitimate. It's up to Wells Fargo to decide who has the most compelling case.
What is the Wells Fargo Dispute Manager?
The company's Dispute Manager platform is designed to help merchants and streamline the dispute process.
Dispute Manager is a SaaS (Software as a Service) package that offers businesses a way to manage chargeback and retrieval requests. Enrollment in the program is necessary, after which the merchant will receive notifications for every chargeback.
The service streamlines the chargeback representment process by enabling users to respond to chargebacks quickly and effectively. It reduces dispute management costs by making the process more efficient, and lets sellers avoids the inevitable delays caused by working with paper documents.
Wells Fargo Dispute Manager is a good tool. But, whether working through Dispute Manager or more traditional methods, there are a few basic things to keep in mind when preparing a dispute response:
How to Prevent Wells Fargo Chargebacks
Can Wells Fargo chargebacks be prevented? Probably not entirely. But, there are steps merchants can take to minimize risk. We recommend that sellers:
Create a Comprehensive Fraud-Mitigation Strategy
Practicing the preventative measures mentioned above should help merchants lower the number of chargebacks they receive… not just Wells Fargo disputes.
Still, it's important to understand that true fraud prevention and risk mitigation requires a comprehensive approach. Merchants need a professional partner to help identify and manage the chargebacks that are costing them revenue.
Chargebacks911® are the industry's leading experts in chargeback management and mitigation. We offer innovative technologies and highly-customizable strategies designed to help you detect and resolve issues before they turn to chargebacks. Contact us today to learn more.
FAQs
How do I dispute a charge on Wells Fargo?
First, contact the merchant. This is often the fastest and easiest way to resolve a dispute. If the case cannot be resolved this way, contact Wells Fargo directly. The most efficient way to do this is electronically through your Wells Fargo online account.
Does Wells Fargo do chargebacks?
Yes. Disputing payments and charging back transactions is a protected right for Wells Fargo customers.
How long do you have to chargeback with Wells Fargo?
Typically within 60 days of the statement date on which the charge appeared. It's always a good idea to initiate the dispute as soon as you notice the discrepancy.
Does it cost to file a Wells Fargo chargeback?
There is no fee for customers to file a dispute on purchases made through Wells Fargo. The merchant associated with the transaction will be assessed a $25 fee, and potentially additional charges, though.
Will disputing a charge affect my credit score?
Not directly. Just remember that only the disputed charge is pending. You'll still need to make regular payments toward the rest of your card debt balance.