The Value — and the Necessity — of eCommerce Personalization in Contemporary Commerce
The global eCommerce market topped $5.7 trillion in 2022. That figure is estimated to keep growing over the next few years as eCommerce outpaces most other retail subsets.
The rapid growth of eCommerce is, in no small part, a product of the kind of personalized experience that retailers like you can offer consumers online. Looking for new ways to optimize and deepen eCommerce personalization is going to be the edge that puts you ahead of the competition.
In this article, we'll take a closer look at personalization to explore how it drives performance, decreases churn, and exceeds user expectations. We'll also explore some real-world examples to draw from, and outline a few pitfalls you need to avoid.
What is Personalized Marketing?
A personalized, or "one-to-one" marketing strategy differs from traditional marketing efforts. You're not casting a wide net, and trying to target multiple users simultaneously with general content. Instead, the goal is to tailor marketing messages based strictly on the specific recipient's interests and needs at that moment.
How is this accomplished?
In simple terms, personalized marketing is a business strategy that curates content with the purpose of directly targeting an individual user. The specific content chosen is based on data the company collects from that user over time, including purchasing history, browsing history, demographics, and geolocation.
Unlike traditional marketing, you're seeking to get to know each customer when you prioritize eCommerce personalization. You want to supply them with customized ads and promos that are relevant to them personally, and direct them quickly to products and experiences based on their preferences.
Key Components of Personalized Online Shopping
There are a variety of ways that the principle of personalization can be adopted by retailers. For example:
Again, the point of personalized marketing is to provide customers with content they are already interested in. You can avoid overloading their browsers with irrelevant information that does nothing but incentivize buyers to click away.
This approach is really becoming less and less of an option and more a necessity. Companies that have thus far failed to consider the importance of this approach could be in big trouble later on.
The Necessity of an eCommerce Personalization Platform
So, what do you stand to gain from taking this approach? eCommerce personalization offers a number of benefits, including:
These are just a few benefits. eCommerce personalization can help with anything from streamlining your data insights to reducing your chargeback issuances.
Personalization isn't just a customer service curio anymore: it's an expectation. You need to provide customers with the ability to browse products according to personal preferences, and actively customize those preferences to some degree. Otherwise, they will shop somewhere that does.
eCommerce Personalization: By the Numbers
According to data from McKinsey and Company, about three-quarters of consumers have experimented with alternative shopping methods in the last two years. More than 80% have no intention of returning to traditional methods.
Here's another point to consider: companies that prioritize personalization tend to generate more revenue.
Additional data shows that companies which have invested in personalization often earn 40% more revenue than their counterparts. Personalization pioneers like Target and Amazon, for example, aim to reach the right person at the right moment. This approach is expected to have generated around $1 trillion in revenue through 2022.
As the graph above indicates, 71% of consumers expect personalized content when they log-in to a commercial browser or application. Even more become frustrated when they are greeted with generic content.
This data isn't meant to imply that you must reinvent the wheel to increase personalization on your site. Rather, the point is that it's important to consider these factors when designing and showcasing content. One recent study from Versapay found that customer experience (CX) is among the top priorities for business leaders. However, many of those same leaders are failing to act accordingly.
You need to ask yourself:
Is your content reaching customers where they are?
Does your content make suggestions based on individual preferences?
Does your content offer promotions based on browser preferences?

Is your system able to check in with frequent site visitors and regular customers?
If you can't answer each of these questions in the affirmative, personalization should become your new priority — stat.
5 Real-World Examples of eCommerce Personalization
So, now that we understand why personalization is so important, let's take a look at several companies that are leading the way in showing how to deploy this strategy.
Amazon
Description: The personalization experts at Amazon continue to meet and exceed customer expectations with each passing year. Innovations Amazon has pioneered, such as 2-day shipping and simplified returns, have completely upset the retail apple cart in the last decade. In fact, many stores and retailers have had to rethink every aspect of their business due to Amazon's daring approach to eCommerce.
When a consumer lands on the Amazon homepage (through a browser), they are presented with the following navigation options:
Recommended for you
Recently viewed
Buy it again
this is a checklist
All of these sections are tailored to each user based on their interactions with the site, according to browsing history and preferences. This also includes the lists themselves. Each category will be moved around a user's dashboard according to the most-visited or most-clicked categories. This user interface is seamless in both desktop and mobile formats.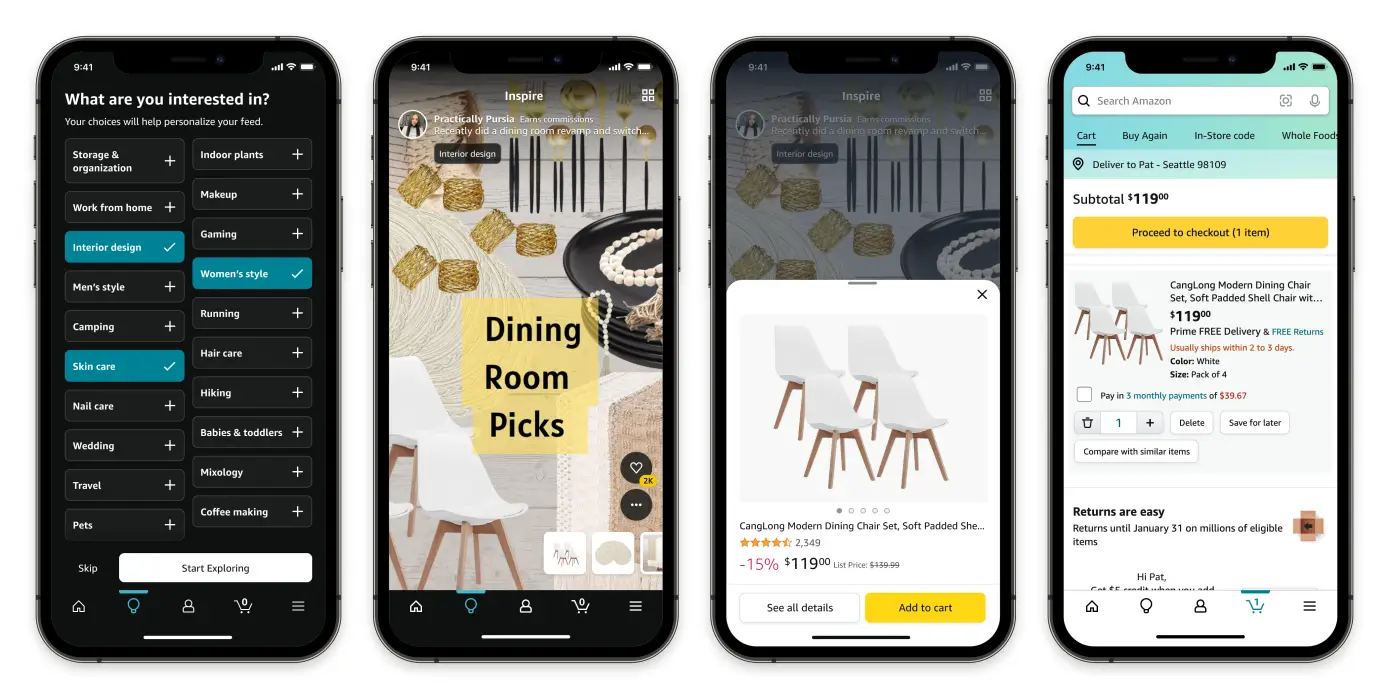 ---
Netflix
Description: Netflix built its entire platform based on personalized user experience. Because of this, every user's dashboard is tailored specifically to their interests. So, no two Netflix accounts have the exact same appearance.
To accomplish this, Netflix utilizes a combination of AI and machine learning algorithms to curate and promote content. These systems are capable of distinguishing an individual user from another and providing them with content that most aligns with their interests and browsing history.
The dashboard usually features categories like "Because You Watched" or "More Content Like," which are populated based on the user's activity. These categories will change and move according to your browsing patterns, watch history, or bookmarked shows.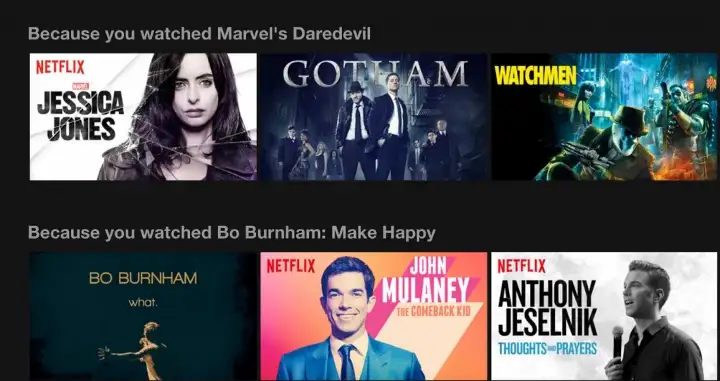 ---
Sephora
Description: Sephora is another company with personalized content that really shines. Over the past five years, the company has consistently ranked near the top of Sailthru's Retail Personalization Index. The driving force behind this is its mobile app, which deploys augmented reality technology to let shoppers 'try on" various looks and styles. This is powered by facial recognition and machine learning technology.
The app gleans information about the user through various quizzes and analysis, then allows the user to try their products on their own face via several filters. This essentially lets shoppers browse and test several "looks" on their own face, in one session, and all without ever leaving their home.
Innovative styling tech aside, the app also offers seamless omnichannel shopping with just a few taps. Every purchase a shopper makes, what they browse, the styles they most often gravitate toward — all this information is made available via mobile or in-store. It also allows them to book in-store and online consultations, and provides customers with top notch promotions and loyalty rewards.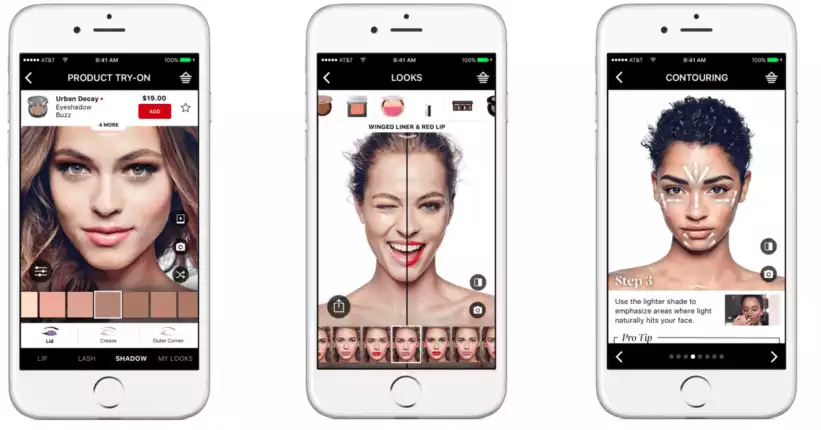 ---
Starbucks
Starbucks is one of the most visited retail locations on the planet, selling an estimated four million cups of coffee every day. Naturally, the company would want a way to connect better with their customers, and encourage more personalized experiences.
To deliver this, the company crafted a highly intuitive app that remembers customers' names, orders, birthdays, favorites, and past activity. The app also features personalized maps and directions to convenient locations through geolocation, and offers seamless online ordering and pickup notifications. The app also tailors promos and loyalty reward offers to each customer based on their preferences.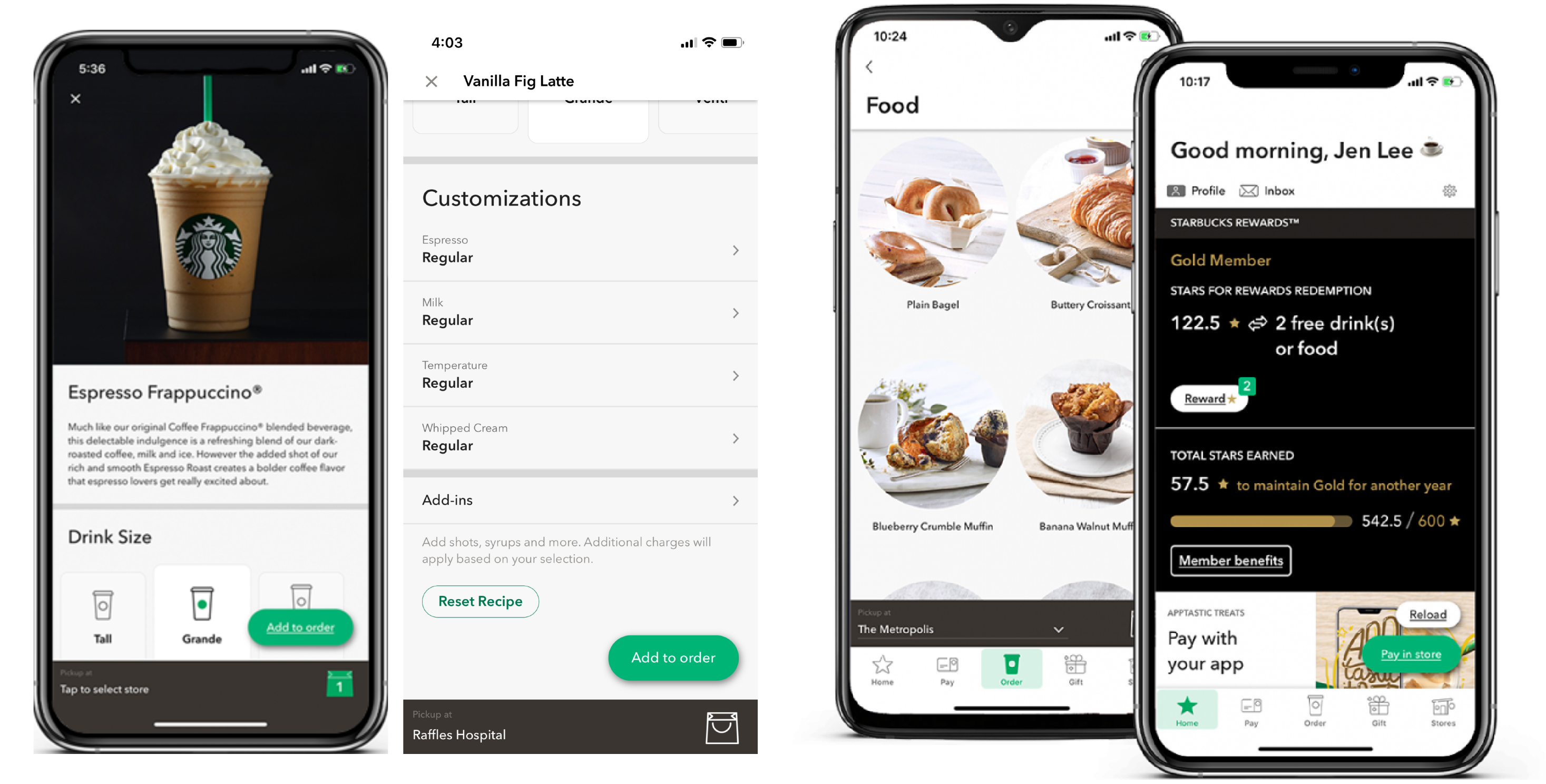 ---
Target
With a $100 billion market evaluation, retail giant Target was one of the first to reap the benefits of increased personalized content. The company has deployed the method so successfully, in fact, that they are currently expanding their efforts to challenge Amazon for the top spot on this list.
The company is soon to release several new omnichannel features, including better location-based products and marketing and improved showrooming and price matching. This is in addition to their groundbreaking shop-in-shop concepts like in-store Starbucks, Ulta beauty counters, and Levi's denim shops. These investments promote each brand, both online and in-store, through increasingly personalized mobile content intended to promote each brand through a uniform Target branded framework.
The company boasts 2,000 physical locations, BOPUS options, and various elite partnerships. Enhanced personalization has helped them achieve this potential,.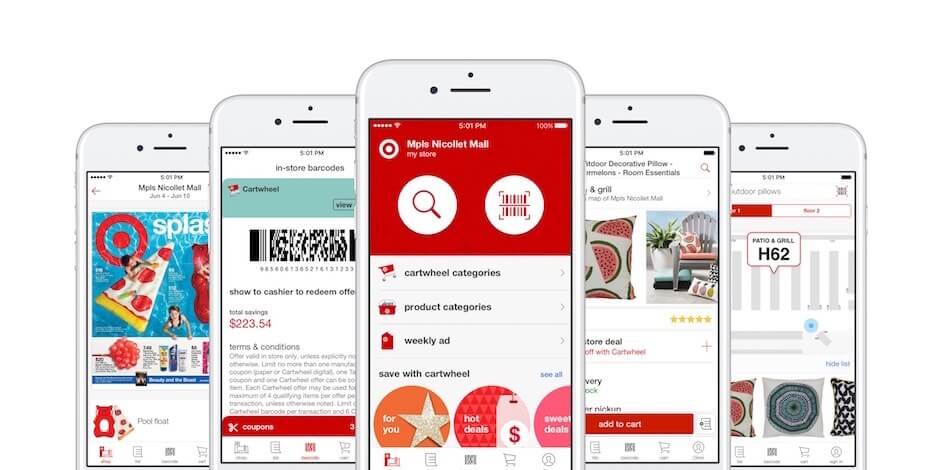 ---
Are There Any Drawbacks of Personalization?
We've been singing the praises of personalization for a while now. However, there are a few points of concern that you need to consider once you decide to invest in more personalized content. These include:
All that said, the only serious "con" you're likely to run into regarding increased personalization is the lack of it.
Most major retailers now offer personalized product recommendations, personalized emails with individualized promotional content, and advanced profiling systems. These let customers define their means of interacting with the business.
When these elements aren't present, customers may buy things that weren't exactly what they hoped for, weren't specifically targeted toward them, or generally weren't what they were looking for in the first place. Buyer's remorse is one of the leading causes of chargebacks and friendly fraud, for instance. You can drastically reduce this problem by increasing personalization at the consumer level.
Have additional questions about optimizing your site to attract customers and prevent loss? Click below and speak with one of our eCommerce experts today.
FAQs
What is eCommerce personalization?
Personalized marketing is a business strategy that curates content to directly target an individual user based on data the company collects from that user over time, such as purchasing history, browsing history, demographics, and geolocation.
Why is personalized online shopping important?
Personalization isn't just a customer interest, it's a hard demand. If you don't provide customers with the ability to browse products according to personal preferences and/or customize those products to some degree, they will shop somewhere that does.
Do I need an eCommerce personalization platform?
If you're an eCommerce retailer, then yes. Companies that prioritize personalization tend to generate more revenue. According to a study by McKinsey and Company, companies that have invested in personalization often earn 40% more revenue than their counterparts. Personalization pioneers like Target and Amazon, for example, aim to reach the right person at the right moment. This approach is expected to have generated around $1 trillion in revenue through 2022.
What are the benefits of personalization for merchants?
eCommerce personalization is an ingenious way to bridge the gap between retailers and the audiences that are specifically looking for their goods and services. Better yet, personalization also helps merchants retain those customers, too.

Some of the key benefits of personalization include increases in conversion, learning, feedback, engagement, leads, retention, revenue, and sharing. Also, personalization is effective at decreasing overhead costs, and can lead to fewer chargebacks.