Even With a Shorter Season, Consumers Spend More Than Ever Online
In a typical year, there's nearly five weeks between Thanksgiving—the unofficial kickoff of the holiday shopping season—and Christmas. This year, though, Thanksgiving didn't roll around until the very end of November, making the holiday shopping season nearly a week shorter than usual. But, even with less time available, consumers are still expected to break records this holiday season.
The National Retail Federation anticipates holiday retail sales during November and December will increase between 3.8% and 4.2% over last year's total. In all, consumers are expected to spend nearly $731 billion this season, with the average shopper shelling out $1,048 per person.
That's great news for retailers in general. It's even better for eCommerce merchants, though, as a larger-than-ever margin of that spending than will be online.
The NRF expects online sales to grow between 11% and 14% over last year, reaching as high as $146.5 billion. Nearly one-fifth of total consumer spending this holiday will be done online. All totaled, 56% of shoppers prefer to shop online; a larger margin than any other shopping channel.
So, let's celebrate the beginning of the year-end shopping bonanza with a quick look at the initial figures from the Thanksgiving weekend kickoff. We'll delve into the detail and see what lessons we should take to make this a jolly—and profitable—season.
Thanksgiving, Black Friday & Cyber Monday: Key Stats
According to data published by Adobe, consumers spent $31.2 billion over the six-day period between Wednesday (Thanksgiving Eve) and Cyber Monday. This represents a 17.3% increase over last year's total during the same period.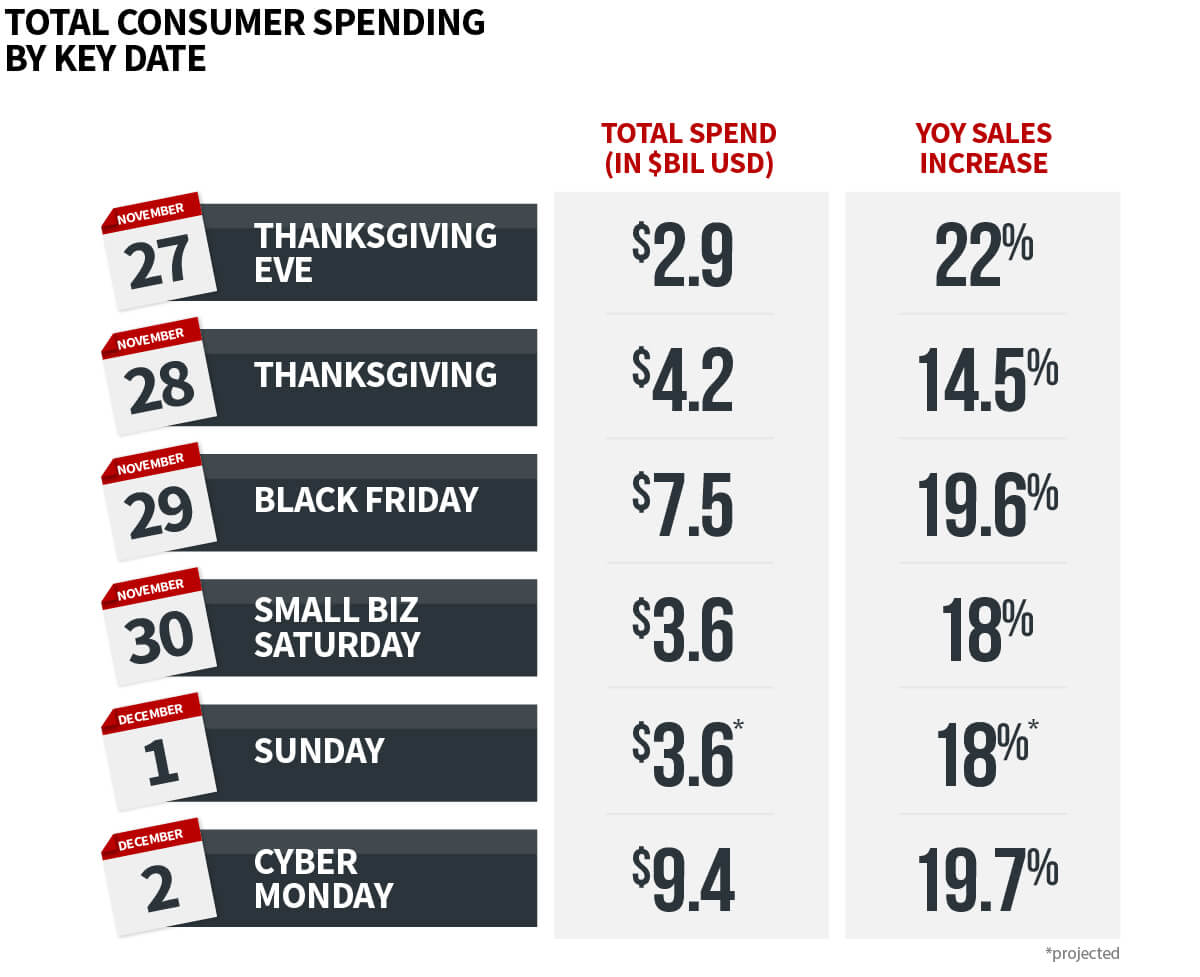 The data from Adobe shows that, while smartphones account for the majority of traffic, they represent just a little more than one-third of purchases. Overall, desktops maintain dominance in terms of conversion by device. This suggests consumers tend to use their phones to browse and research products, possibly while conducting other activities. However, they still transfer to a desktop to complete purchases.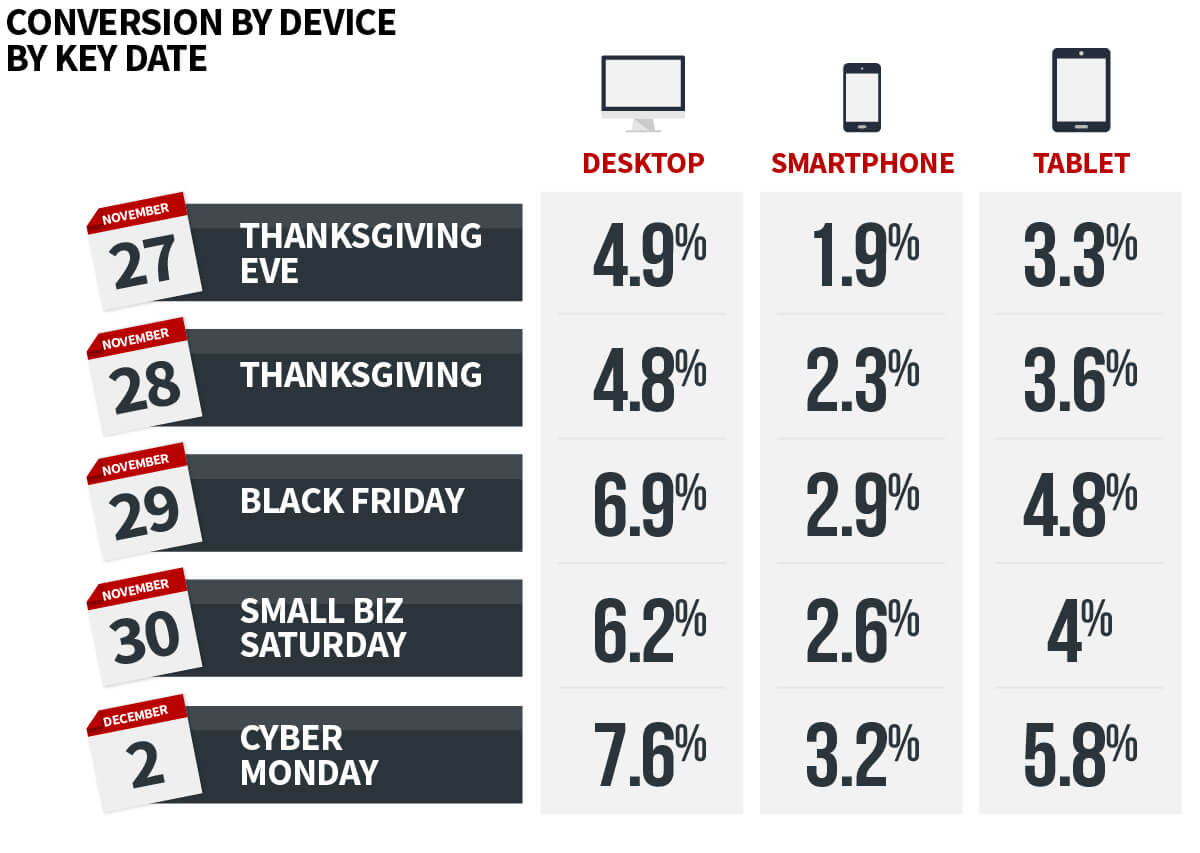 Unsurprisingly, additional data suggests that older consumers plan to spend significantly more during the holiday season when compared to younger age cohorts. In fact, consumers identified as Baby Boomers planned to spend nearly 2.5 times as much, per person, as Millennial shoppers.
The age groups also diverged in terms of where they planned to allocate spending. Gen-X and Millennials planned to spend the most on electronics during the holidays. In contrast, Boomers intended to spend more on travel than on any other goods or services.

Of course, it's not all good news. The same source mentioned above also points out that approximately 52% of people have purchased something on sale, then later regretted the move. Not only that, but cases of buyer's remorse tend to be high-ticket value transactions; the average amount spent per item in cases of buyer's remorse was $965.
As we've observed, buyer's remorse tends to be one of the most common—and persistent—causes of friendly fraud. Not only that, but thanks to the resulting fees and penalties, lost merchandise, and increased overhead, retailers in the US ultimately lose $3.13 for every dollar of fraud. Thus, the cost of an average buyer's remorse incident could be more than $3,000.
Don't Get Grinched by Fraudsters This Year.
Whether it's genuine criminal fraud or just buyer's remorse, a chargeback will still cost you. Click below and learn how you can protect your bottom line, well-after New Years' rolls around.
Holiday Kickoff: Day-by-Day
While sales where up across the board, they were not evenly-distributed. Some moments generated more than three times as many sales as others during the six-day event. With that in mind, let's break it down by day:
Thanksgiving Eve
While not quite as impressive as last year's 32% YoY increase, the day before Thanksgiving, once again, proved to be the fastest-growing day of the shopping holiday. This firmly cements Thanksgiving Eve as another important part of the shopping season, likely owing to the fact that most workers are free the next day, and so are able to stay up late to do some shopping shop.
Thanksgiving
Consumer spend was fairly evenly-distributed throughout the day ($2.1 billion as of 2pm PST, $4.2 billion by end-of-day). This suggests consumers didn't rush to the computer in the early morning to hunt for deals. At the same time, they didn't stop shopping once dinner rolled around, either.
Black Friday
Unlike the previous day, consumers did tend to spend more as the day progressed. Shoppers dished out 1/3 of their total spend after 5pm PST (8pm EST). This suggests that shoppers who had to return to work Friday got online and did their browsing in the hours after work. Growth remained fairly consistent through the day, with no check-in point really outpacing the others.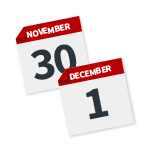 Saturday & Sunday
While spending on Thanksgiving and Black Friday fell just slightly short of projections, consumer spending over the weekend perfectly reflected the $3.6 billion per-day forecast. There is not as much detailed data available about this time period, but both days appeared to show healthy growth overall, averaging 12.5% compared to last year.
Cyber Monday
Once again, Black Friday appears to take the cake. Consumers purchased $9.4 billion, meeting experts' predictions and topping every other shopping day by a wide margin. The fact that everyone was back at work clearly didn't dampen sales, but given that nearly half of all purchases occurred after 5pm PST, it seems that many buyers went shopping after heading home.
Key Takeaways
So, what lessons should we glean from this information? Here are a few key takeaways that will help contextualize the data:
1. Still More Growth Potential for Next Year
Overall, the six-day shopping holiday between Thanksgiving Eve and Cyber Monday put up impressive, record-breaking numbers. This could lead some retailers to wonder if there might be a point of diminishing returns, at which rapid YoY growth tapers off. However, other markets show that there is still plenty of room for growth.
Take Singles' Day in China, for instance; consumers in China spent a remarkable $38 billion in just one day, at one retailer. Payments processor Ingenico Group reported processing more than four times as many online transactions as on the same day last year, and set records for their highest-ever number of transactions per second. Clearly, there is still plenty of room left for expansion.
2. Consumers are LOVING Gift Cards
Consumers shopping for gift cards are nothing new. More than ever, though, consumers view gift cards as an ideal holiday option. The NRF reports that 59% of all consumers plan to buy at least one during this holiday season.
If you're not already investing in gift card offerings, you're losing out on a valuable and lucrative revenue stream. That said, you should also counterbalance this with risk management. As gift cards—especially digital gift cards—grow in popularity, we will surely see more cases of gift card fraud.
3. Home Electronics are Hot Tickets, as are Gaming & Streaming
When we look at top sellers by individual products, we see LOL Surprise dolls and merchandise tied to Disney's newly-released Frozen 2 were the big winners this year. Looking further down the list, though, we see another interesting pattern emerge.
Most of the top five best-selling items on each day fell into one of two categories: video games, or media devices. Samsung TVs, Fire TV, and the Nintendo Switch made recurring appearances each day. The holidays have always been big for these kinds of products. That said, the dominance of these devices speaks to the central role that gaming and streaming content now play in consumers' lives.
eCommerce, Fraud & Chargebacks in the Age of COVID-19
What short- and long-term risks do you face as a result of this crisis? How can you protect your business and prevent loss? Download our free report today.
Free Download
More Sales Mean More Risks
Of course, it's not all good news. The holidays are historically a high-time for fraud, as criminals rely on merchants being overrun with sales and unable to dedicate as much due diligence to fraud management as under normal circumstances. Two particular factors could present big problems for retailers, even now that the sales peak is passed: criminal fraud and buyer's remorse.
The number of online identity fraud attempts perpetrated during the Thanksgiving event increased 109% between 2014 and 2018. The resulting deliberate cybercrime can take many forms; clean fraud, account takeover, and fast fraud are just a few examples. Regardless of the tactic, though, online criminal fraud proves to be a costly source of revenue loss.
The 2018 shopping holiday saw a 17% YoY increase in fraud losses. That trend is likely to continue into 2019 and beyond. To make matters worse, you'll be hard-pressed to recover that lost revenue because consumers who experience fraud are unlikely to come back. 91% of buyers say they likely won't use a company's services again after experiencing a fraud incident. 86% say they will tell others about their experience, causing further reputational damage.
While criminal fraud is a serious threat, not all risks are perpetrated by deliberate bad actors. This brings us to the other big risk: buyer's remorse. As we discussed above, roughly 52% of shoppers purchased an item because it was on sale, only to experience regret over the purchase later.
The figures show the risk of buyer's remorse increases with the age of the consumer, hitting 64% among Baby Boomers. There's also a gender divide, as men are more likely to regret a purchase than women (58% compared to 48%). That said, men tend to spend much more on a purchase they say they regret: the average ticket for women sits at just $287, compared to a whopping $1,589 among male buyers.
Looking at the discounted purchases that induced buyer's remorse throughout 2018, the average amount spent per item was $1,006.94. In total, that means $132.7 billion in remorseful discounted purchases in just one year.
The Result: Chargebacks
If your customers experience criminal fraud or buyer's remorse, that puts you at serious risk of a chargeback.
On one hand, customers are entitled to a chargeback in the event of criminal fraud. Chargebacks were first introduced as a mechanism to protect consumers against fraud, and they still fill that role. More often, though, chargebacks fall into the "friendly fraud" category. These are chargebacks resulting from an illegitimate trigger...like buyer's remorse. Even worse, some shoppers abuse loopholes in the system, using chargebacks to get something for free by intentionally engaging in "cyber shoplifting".
The result: the potential for up to $150 billion in chargebacks losses every year.
That's nothing new. Here at Chargebacks911®, we note a regular, annual surge in chargebacks following the holidays. Disputes are most common based on a 45- to 60-day cycle, meaning that great holiday sales in November and December can easily lead to post-holiday chargebacks come February.
Don't let the biggest shopping day of the year turn into a drain on your business. Click below and take home the gift of lower costs and more revenue this holiday season.