The Reasoning Behind Product Returns and Returned Merchandise
The difference between a good merchant and a great entrepreneurial success story is an intricate understanding of consumer behavior. One concept merchants must meticulously analyze is the thought process behind product returns.
The Importance of Understanding Consumer Behavior
Why should merchants worry about the thought process behind consumers' actions? Why bother understanding the reasons consumers return merchandise?
By better understanding how and why consumers behave, merchants can detect patterns and anticipate future actions. This helps the merchant create essential detection and prevention strategies for consumer behaviors that can negatively impact the business's bottom line.
Returned merchandise is usually a thorn in any merchant's side—but chargebacks are far worse.
Product returns force the merchant to…
Refund the customer's money
Repackage and restock the item
Occasionally mark down prices to facilitate a resale.
Savvy merchants understand a return is preferable to a chargeback. Returned merchandise is an opportunity to recoup revenue and keep costs in check, while chargebacks bring a whole slew of unfortunate side effects.
Each chargeback is accompanied by a chargeback fee.
Extra fines must be paid if chargeback rates become excessive.
Chargeback-to-transaction ratios that exceed 1% threaten the business's credit card processing abilities.
Chargebacks are considered an indicator of risk, and high risk merchants experience credit card processing restrictions.
---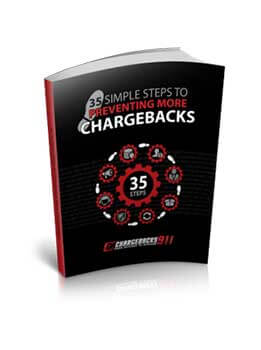 35 Simple Steps to Preventing More Chargebacks
Download our FREE guide that outlines 35 step-by-step effective chargeback prevention techniques. Learn insider secrets that will reduce your risk of chargebacks, increase your profits and ensure your business's longevity.
---
Legitimate Returns vs. Friendly Fraud
Returns are bothersome, but they do come with certain advantages. Published reports have found that a product return "sweet spot" exists, a certain ratio of sales to returns that can actually increase profitability, customer loyalty, and customer referrals.
But the merchant only reaps those rewards if the consumer actually makes a return. These days, friendly fraud is a preferable choice to traditional refunds.
Chargebacks911's Intelligent Source Detection™ is the easiest, most effective way to identify friendly fraud.
Cardholders often exploit loopholes in the chargeback process. They contact the issuing bank for a chargeback instead of obtaining a refund from the merchant.
Studies show friendly fraud flourishes because of convenience; 81% of chargebacks are filed because they are an easier alternative to a traditional refund.
While some cases of friendly fraud are intentional, other chargebacks without notification are caused by merchant error. The merchant's policies or actions made a chargeback seem more appealing.
The merchant's contact information isn't easily accessible.
Customer's queries go unanswered.
Customer service hours are too restrictive.
Interactive voice response phone systems that minimize human-to-human interactions are off-putting.
Cancellation and return policies are too restrictive.
Understanding the common reasons cardholders return merchandise enables merchants to create policies that keep return ratios in check and reduce the risk of friendly fraud chargebacks.
Most Common Reasons For Product Returns
Why do consumers return merchandise? Here are nine of the most common reasons.
1. The customer bought the wrong item.
Purchasing the wrong item is an especially popular reason for returns in ecommerce because the consumer can't physically handle the product. The shopper might buy a pair of shoes and later realized they are the wrong size. Or, maybe the curtains are too short for the window.
Online shoppers rely on accurate and detailed product descriptions. These descriptions are crucial to successful business transactions, and are a key to preventing returned merchandise.
All product and service descriptions need to be as detailed and accurate as possible. Descriptions should provide customers with as much information as needed to fully understand the purchase and try to answer any potential questions.
2. The product is no longer needed.
It's possible for consumers to receive merchandise after its usefulness has expired.
Phone cases, chargers and other accessories are common items that are returned because they are no longer needed. Technology updates or broken devices may play a part in this type of return.
Other situations could make the product useless too: moving, downsizing, or changing jobs.
It is challenging for merchants to prevent returned items that are no longer needed. Merchants can demonstrate additional or unknown benefits of the item, perhaps enticing the consumer to keep the merchandise.
3. The product did not match its description.
Products that don't measure up to the consumers preconceived expectations are typically returned.
Merchants must avoid overselling or overstating the product's capabilities and functions. Marketing can be used to highlight the product in a flattering, yet accurate, light.
4. The customer wasn't familiar with the product.
If customers take a stab in the dark, not really knowing what they are buying, merchants can expect returns.
Customers often purchase items they may not be familiar with, usually when they try something new. In these situations, it is easy for the merchandise to be different than what the customer anticipated.
Merchants can make product and service recommendations based on what the customer purchased in the past. Publishing customer reviews will also help shoppers evaluate a prospective purchase.
5. A gift purchase was incorrect.
Gift giving is another situation where the shopper might not be familiar with the merchandise or services. This unfamiliarity with the purchase or the recipient's wishes can easily lead to returned merchandise.
Again, it's always a good idea to offer alternate or complementary product suggestions to help educate inexperienced shoppers.
6. The customer didn't want the item.
Between the moment the order is placed and the moment the merchandise arrives on the consumer's doorstep, opinions, situations, and needs can change.
Maybe the consumer decided on a yellow kitchen instead of a red one. Maybe the cardholder was laid off and can no longer afford the monthly subscription fees. Maybe the shopper bought multiple items with the intention of only keeping one (the best fit, color, size, etc.)
Merchants with no-strings-attached policies can help these indecisive customers make returns instead of filing chargebacks.
7. The product was damaged upon arrival.
Customers will understandably be upset if an item they paid for arrives damaged or is defective.
Merchants need to double check the quality of an item before shipping it out. Merchandise needs to be carefully packaged. Partnering with reputable shipping companies and using insurance can help keep losses to a minimum.
8. The merchant shipped the wrong item.
Again, consumers have every right to be frustrated when the merchant committed an error during the order fulfilment process.
While it is understandable that mistakes happen, preventing returns due to incorrect product shipment is an easy way for merchants to improve their return ratio.
Merchants need to double check order fulfilment practices to ensure the correct item is being shipped
9. The customer engages in wardrobing.
Wardrobing is an unethical practice that happens all too often in the retail environment. The consumer buys an item for a particular purpose, uses it, and no long needs it. The consumer will then try to return the item for a full refund, proving false the idiomatic proverb, "you can't have your cake and eat it too."
Examples include a football fanatic who bought a big TV and then return it the day after the game. A job hunter might wear a suit to an interview and then return it to save money.
It is nearly impossible for merchants to completely eradicate wardrobing attempts.
However, an explicitly detailed policy that outlines acceptable returns can help prevent and adequately dispute chargebacks filed as friendly fraud.
Encouraging Returns Instead of Chargebacks
A well written return policy can save time and money for the merchant and prevent hassle for customers. Combined with business best-practices and excellent customer service, the return policy is another tool in running a successful business.
If you'd like help crafting the ultimate chargeback-proof return policy, contact Chargebacks911® today!