Two Companies Demonstrate How Customer Service Impacts Profitability
It's not uncommon for stories about customer experiences to go viral. Usually, bad experiences spread like wildfire. However, one recent story highlighted a good customer service experience, proving that going above and beyond can really impact the bottom line. It offered insight for a valuable customer service case study.
Two of these case studies serve as examples for those who hope to optimize the customer experience—and show how tactics can impact chargeback management.
Customer Service Case Study #1: When Customer Service Goes Wrong
In 2009, Dave Carroll was flying across the U.S. During a layover, he watched out the plane window as airline personnel allegedly manhandled his luggage, which contained a very valuable guitar. Upon arrival at his final destination, Carroll confirmed what he knew to be true: his guitar had been damaged beyond repair.
Carroll contacted the airline's customer service department to request reimbursement. A year-long saga ensued, as one representative after another told him there was nothing that could be done.
Unfortunately for the airline company, Dave Carroll just happens to be a songwriter and he used his disappointing experience to craft a song.
To date, Carroll's music video has been viewed more than 15 million times. His experience has lead to a book deal and a professional speaking tour.
Some analysts speculate that the negative publicity generated by the video might have ultimately cost the company millions of dollars. While the truth behind that claim may be dubious at best, the rumor helps demonstrate the real power of customer service to make, or potentially break, a brand.
As Carroll so eloquently put it:
"You broke it, you should fix it. You're liable, just admit it…I've heard your excuses and chased your wild gooses and this attitude of yours, I say, must go."
Carroll's situation didn't result in a chargeback, but any customer given a similar run-around after making a purchase surely would respond with a chargeback. After all, a chargeback is easier than writing a vengeful song!

Customer Service Case Study #2: When Customer Service Goes Right
Another customer's story made waves around the internet earlier this year, but for a very different reason.
After ordering a coat from online retailer Zulily, Kelly Blue Kinkel realized that the material was all wrong for a doting pet owner like herself. She tried to return the coat and received a pleasant surprise.
The Zulily customer service representative provided the woman with a full refund, but said she didn't need to return the coat. Instead, he suggested she donate it to charity or give it to someone in need.
In response, Kinkel posted the story online, commenting, "I thought Zulily was pretty incredible before, but after today, I'm a customer for LIFE. The world needs more LOVE like that. Honest business. Honest ethics. How refreshing!"
Zulily's response earned the company widespread praise, not to mention the kind of PR which builds long-term brand sustainability by turning casual shoppers into loyal customers.
So, what can be learned from these two customer service case studies?
The Best Customer Service is Clear, But Flexible
Zulily actually has a fairly stringent return policy, with most items marked as final sale. For other items which can be returned, it is possible to do so only within 14 days after shipment. Unless the item is damaged or defective, returns can only be exchanged for store credit.
However, the company is willing to make exceptions in specific cases in order to ensure customer satisfaction. Chargebacks911® reached out to Maureen Shea, Zulily's VP of service operations. She feels each situation should ultimately be handled on a case-by-case basis.
"Like the breadth and depth of our product, each customer service experience is unique."
She continued on to say that unpleasant situations do arise on occasion and the company does their best to resolve any issues the customer may have.
"Our ultimate goal at Zulily is to deliver an exceptional customer experience. In an instance, such as this, when a customer reaches out to my team, we want to make sure that we do our best to have the customer leave with a positive interaction and experience with our brand."
Zulily's willingness to bend company rules secured the absolute loyalty of at least one customer, and gained a lot of positive exposure as well.
This is an example of a customer service approach that has long been endorsed by Chargebacks911: clearly stated policies, business best practices, and caring customer service can go a long way toward minimizing the risk of chargebacks.
How Zulily Adheres to Business Best Practices
The Zulily customer experience starts long before the shopper reaches the checkout screen. At each phase, the company exhibits business best practices and optimal chargeback prevention maneuvers:
High-Quality Photos: Accurately portray the product and allow shoppers to zoom in on specifics
Product Description: Gives details about the specifics of the item, including the item's size and the materials used
Return Policy: Notes whether the item is returnable or not
Link to Return Policy Details: Explains why Zulily does not typically accept returns, but instructs shoppers to contact customer service in the event of any issues
Estimated Shipping Date: Individual estimates for how long each item will take to leave the supplier
Shipping Details: Explanation of shipping process, broken down by day of week, supplier and number of items ordered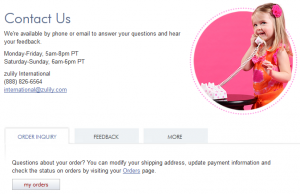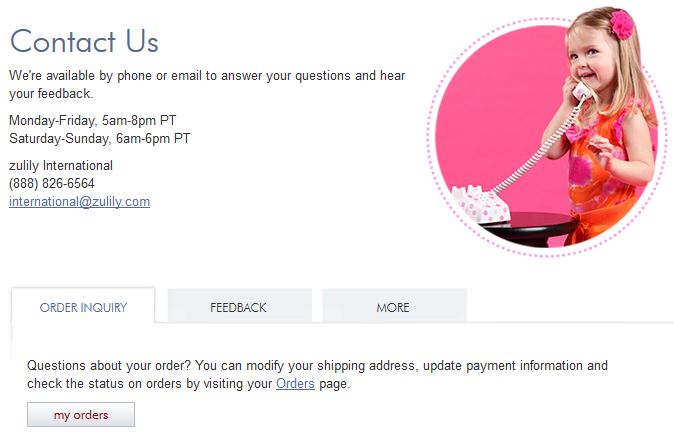 In addition to the info offered on the product pages, the site makes it easy for shoppers with additional questions to find the proper channel.
At the bottom of each page, shoppers can find a link to the contact page, featuring:
Customer service phone number & email address
Days and hours during which service is available
Facebook Messenger link for real-time assistance
"Order Inquiry" link that allows customers to update or check the status of their order
"Feedback" link that gives customers the chance to offer comments and critiques on their experience
So, what do business best practices have to do with chargeback mitigation?
How Customer Service Impacts Chargebacks
There are three sources of chargebacks: criminal fraud, friendly fraud, and merchant error. The vast majority of chargebacks result from merchant error and friendly fraud—and excellent customer service skills plays a very important part in preventing both of these.
Oftentimes, customers do not understand the damage they do to merchants when they request a chargeback. Consumers simply think that dealing with the bank is easier than requesting a refund from the business.
As a merchant, you need to make it very clear that dealing with you will be easier and more productive than requesting a friendly fraud chargeback.
Other chargebacks result from merchant error. For example:
Having unnecessarily restrictive return policies
Disregarding customer grievances or queries
Failing to follow through with promised returns or cancellations
Enhancing Customer Service to Prevent Chargebacks
Ensuring an exemplary customer experience isn't an easy task. Merchants must ensure the highest quality at every point of brand interaction.
To start with, Chargebacks911® recommends adopting these 26 business practices. Little improvements to the customer service department will make a big impact.
However, quick fixes and small adjustments made in-house won't be enough to successfully mitigate chargebacks. Improvements and adjustments must go deeper, and professional help is needed in order to prevent chargeback mistakes.
Chargebacks911's Merchant Compliance Review was specially designed to uncover all internal errors, mistakes, and oversights that could potentially cause chargebacks. We check 106 business elements that often add friction to the customer experience.
Because it is difficult for merchants to objectively critique their own businesses, we offer our expert assistance. Our unbiased opinions, combined with years of first-hand experience, enable us to identify issues most merchants wouldn't even think to look for.
As these customer service case studies show, individual perception is reality. Chargebacks are an indicator of faulty customer service principles. Chargebacks911 can help your business manage these transaction disputes to improve, not damage, customer relationships.
Contact Chargebacks911 today to learn more.