Why Alipay Payments Will Be Key to the Future of Global eCommerce
Alipay—it's China's leading mobile payments service, with 450 million global users now registered. The company has clear interest in expanding into new markets in Europe and the US, but what's in it for merchants and consumers in those countries? Is there a benefit to accepting Alipay payments?
What is Alipay?
First, let's examine what exactly Alipay is and how it works.
Alipay was established in 2004 by Alibaba Group, China's largest eCommerce brand, and the platform remains an affiliate of the company. Created to help facilitate digital payments in the country's then cash-centered economy, the service is often compared to the recognizable Western brand PayPal, though the two are quite different. Most importantly, Alipay payments are an escrow service:
When a customer checks out via the service, the payment is transferred to Alipay. The merchant receives a receipt, but Alipay holds the actual funds while the goods purchased are in transit. The customer has seven days after delivery to rate the purchase as satisfactory or unsatisfactory; if the buyer takes no action, the sale will automatically be cleared and the funds released to the seller.
Why Alipay is Such a Big Deal
You can't really overstate the significance of Alipay at this point.
Total global retail sales in 2016 are estimated at around $25.4 trillion. Alipay payments accounted for close to $3 trillion of that total. That means nearly one out of every eight dollars spent by global consumers in 2016 was spent via Alipay!
If you want to find Chinese consumers, you will find them using this service. And as the following stats suggest, there is a definite incentive to reach out to Chinese consumers:

Accepting Alipay payments can help bridge the gap between your business and the lucrative Chinese consumer base. But, are there are any other incentives to adopt the service?
Benefits for Merchants & Consumers
Alipay offers some definite incentives to encourage widespread customer adoption outside the platform's native China:

Quick Transfer: Funds typically transfer from one user's Alipay account to another within two hours.
P2P Payments: Like Venmo, Alipay allows you to transfer funds to other users. There is no fee except for high-value transfers (anything over $3,000).
Solid Personal Protections: Alipay employs all the essential security technologies employed by other FinTech services, and benefits from 2-factor authentication.
Reversible Payments: If unsatisfied with a purchase, a customer can simply overturn a transaction up to seven days after the sale.
Alipay is just one of many options.
Curious about how new FinTech services might impact your bottom line? Click below to get started.
That's great for consumers, but what about your business? Why should you explore the idea of working with Alipay? Well, the foremost benefit is market access.
To illustrate, imagine being an online merchant who is not willing—or able—to accept credit cards. Your business would be closed off to a large segment of the online shopping market.
Even the most skeptical of online merchants can't deny the massive size of the Chinese eCommerce market and how lucrative it can be. Getting a piece of that eCommerce pie means going where the consumers are. With more than 500 million Chinese consumers using Alipay, embracing the service opens your business to a much broader global market.
Many cross-border eCommerce merchants find it's an investment worth making, as the service remains on the cutting edge of developing trends. For example, Alipay introduced "Smile to Pay" technology—their own equivalent of Mastercard's "Selfie Pay"—at a popular fast food restaurant near the company's headquarters in early 2017. This willingness to adopt and try new ideas is part of what keeps Alipay at the forefront with Chinese consumers.
No Solution is Perfect
There are definite benefits to accepting Alipay payments. However, as with all new technologies and FinTech trends, Alipay is still not a perfect eCommerce solution.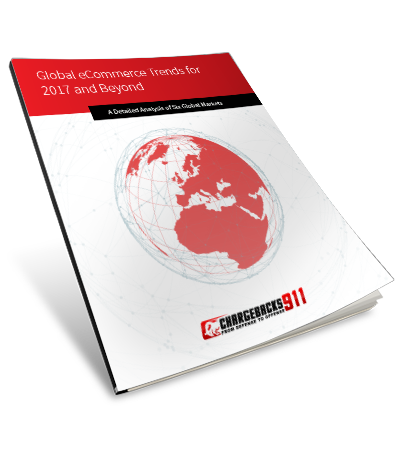 The Essential Guide to Global eCommerce
Our new whitepaper takes a close look at eCommerce practices around the world. We carefully examined data on markets from Africa to Asia and beyond, all to assemble a thorough, predictive picture of where eCommerce is headed over the next several years.
FREE DOWNLOAD
For example, it was rumored for a time that Alipay payments are immune to chargebacks. This was supposedly due to Alipay's Member Protection Rules, which guarantee users are protected against fraudulent transactions. But, as explained in Alipay's Member Protection Rules for consumers:
You can request for member protection compensation from Alipay. You can also contact your credit card company to exercise your chargeback right. You cannot simultaneously submit these two applications or claim for double compensation. If you apply for exercising your chargeback right from your credit card company while your application for compensation submitted to Alipay is pending, Alipay will close your application for Unauthorized Transaction compensation. Therefore, you will only be able to rely on exercising your chargeback right to resolve the issue.
Users can still seek a credit or debit card chargeback through their issuing bank—the rules merely stipulate that they can't claim Member Protection and file a chargeback simultaneously. Thus, Alipay payments are still susceptible to one of the greatest vulnerabilities plaguing credit and debit cards: friendly fraud.
Dive Deeper into Alipay
Alipay can be a positive step forward for the eCommerce market. By adopting this technology, you can reach a broader share of international consumers and improve fraud protections, but remember: there is no such thing as a perfect solution.
As promising as they may be, Alipay payments still allow for vulnerabilities. Click below to learn more about the very real prospect of fraud and chargebacks on the Alipay platform.