Study Shows CNP Merchants are Suffering Significant Losses Due to Increased Fraud
UPDATE: The 2016 True Cost of Fraud report is now available. Follow the link for our analysis.
The annual LexisNexis® Risk Solutions True Cost of Fraud℠ Study was released earlier this month. While the skyrocketing statics may seem unexpected to some, the devastating news comes as no surprise to card-not-present merchants who have been struggling against this reality for the last year.
Study Overview: The True Cost of Fraud is Staggering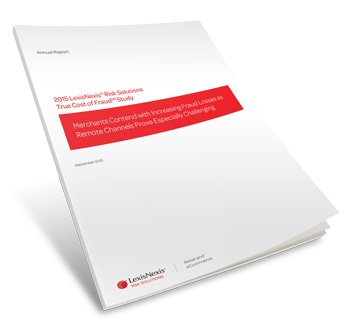 The sixth annual LexisNexis® Risk Solutions True Cost of Fraud℠ Study was commissioned in March, 2015 and released in September, 2015. U.S. merchants who accept payment card transactions from a variety of channels (mCommerce, eCommerce, MO/TO, and card-present) were included in The True Cost of Fraud study.
Revenue Lost to Fraud
All merchant segments lost more revenue to fraud this year. When all merchant types were evaluated together, the average merchant lost 1.32% of revenue to fraud. This is the first year that card-not-present merchants have seen losses over 1%. Even more alarming is the fact that this was a 94% increase from the previous 12 months.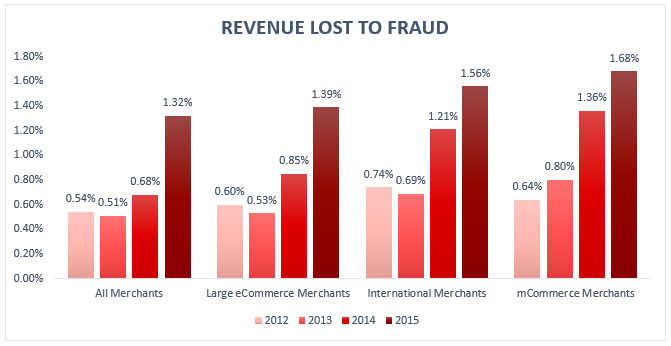 Automation vs. Human Involvement
Detecting fraud has always been a challenge for merchants. Criminals have been able to develop fraud techniques faster than the industry has been able to establish fraud detection technologies. As the popularity of card-not-present transactions continues to increase, there are even more opportunities for fraudsters to steal from merchants.
Many merchants assume automated technologies are the solution to fighting fraud. Unfortunately, automation isn't as successful as merchants had hoped.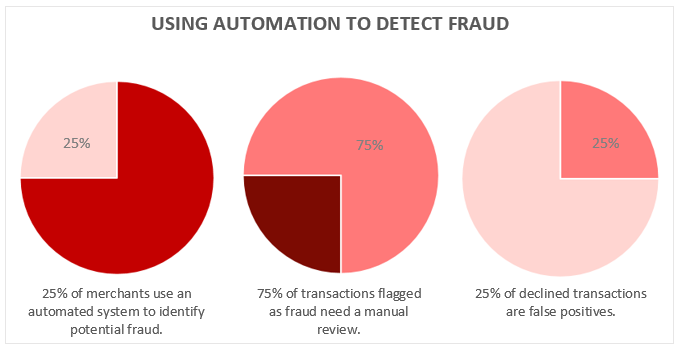 When it comes to detecting potential fraud and mitigating risk, merchants have three options.
Option #1
Merchants can manually review all transactions, looking for potential indicators of fraud. Manual reviews demand a lot of resources, usually ones merchants aren't willing to sacrifice. Nearly 30% of merchants believe it costs too much to control fraud.
Moreover, merchants soon discover they don't have the expertise needed to successfully review these cases. Technologically advanced criminals are capable of disguising fraud from even the most attentive merchant. And few merchants are able to acquire the skills needed to rival these determined fraudsters; merchants are too busy running their businesses.
Option #2
Merchants can use an automated system to identify transactions that are a high probability of fraud.
Merchants might choose to decline all transactions labeled as potential fraud. This would reduce the risk of chargebacks, but also cause the merchant to lose a significant portion of revenue to false positives.
Merchants can also manually review transactions the fraud filter has labeled high risk. This allows merchants to balance risk versus reward. However, manual reviews combined with automated systems means merchants have doubled their expenses.
Regardless of the number of automated systems in place to filter fraudulent transactions, merchants still allocate at least 14% of their fraud protection budget to manual reviews--large eCommerce merchants reserve 21% of the budget for this labor-intensive task.
Again, merchants lack the knowledge needed to distinguish legitimate fraud from false positives. Merchants are focused on the day-to-day operations of running a business, not becoming fraud detection specialists.
Option #3
Merchants can fully outsource the task of fraud management.
A professional risk mitigation specialist, like Chargebacks911®, will combine automated technologies with manual reviews. This option provides the most ROI and least revenue losses.
The expert will handle the fraud detection process from start to finish. Merchants won't be expected to complete tasks outside their skillset. The business experiences more growth because the merchant is able to reallocate resources previously spent on fraud mitigation, while the expert successfully blocks more fraud, retains more revenue, and decreases declines.
If you'd like to learn more about how Chargebacks911® manages fraud, let us know.
Fraud and Chargebacks
With the increase of fraud comes an increase in chargeback rates. Chargeback rates have always been higher for card-not-present transactions because of the merchant's increased susceptibility to fraud.
For multichannel merchants, the proportion of fraud losses suffered from the online channel has gone up by 31% (from 42% in 2014 to 55% in 2015). Moreover, it is seven times more challenging to prevent card-not-present fraud than card-present fraud.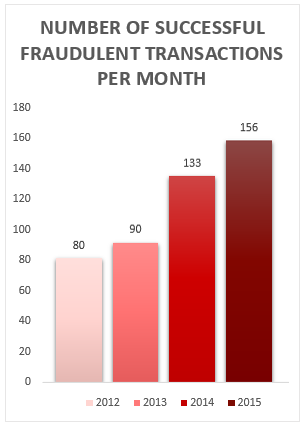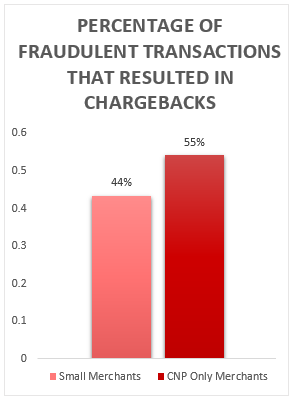 Foreshadowing the Merchant's Plight
Chargebacks911 was created out of absolute necessity when the co-founders experienced excessive chargebacks and heavy losses as eCommerce merchants. Chargebacks911 emerged as the industry's first risk mitigation and chargeback management service provider capable of delivering viable solutions.
Today, five years later, the company remains one of the few service providers able to help card-not-present merchants address the issue of chargebacks. Our rapid growth, unprecedented win rate, and long-term client retention bear the evidence of our effectiveness.
As the True Cost of Fraud study shows, large eCommerce merchants pay more than $115,000 per year for fraud protection and still lose 1.39% of revenue to fraud (not including the loss of merchandise and acquisition costs). This proves the wrong fraud and chargeback mitigation solution can actually do more harm than good, increasing costs, forfeiting revenue, and damaging the merchant's reputation. Chargebacks911 clients help reverse this statistic, reducing this loss by an average of 73% and seeing a 9.34% decrease in chargebacks within the first 90 days of service.
Considering other providers' inability to successfully address the issue of fraud, it is no surprise 44% of large eCommerce merchants now believe it costs too much to control fraud, compared to only 25% of merchants who felt that way in 2014. In reality, the only expensive solution is the one that doesn't work.
Our goal always has been and always will be to serve the needs of card-not-present merchants. We understand the challenges merchants deal with on a day-to-day basis. We understand merchants need a cost-effective solution that actually produces results. That's why we provide the industry's only ROI guarantee. If we can't help improve your bottom line, we won't ask for your business.
The Future Looks Grim
The LexisNexis® Risk Solutions study was released before the U.S.'s transition to EMV was complete. Since experts have already predicted an increase in card-not-present fraud once card-present options are eliminated, merchants can only expect things to get worse. Card-not-present fraud is expected to grow from $10 billion to $19 billion in the next few years.
The average merchant suffered 94% more fraud-induced revenue loss this year. If that trend continues, the future looks grim for card-not-present merchants.
If you'd like help preparing for these upcoming threats or are already suffering heavy losses to fraud, let us know. Contact us today for a free ROI analysis; we'll tell you exactly how much you can expect to save with Chargebacks911.