Study Reveals True Cost of Fraud, Finds Merchants Need Multilayer Fraud Prevention
Risk assessment firm LexisNexis® Risk Solutions has released their highly-anticipated 2018 True Cost of Fraud℠ Study for the Retail Sector.  
As expected, the annual report once again shows fraud challenges and cost pressures continue to plague retailers across the US. The study pointed out the sharp year-over-year rise in card-not-present (CNP) fraud, as well as the growth of both mobile sales and mCommerce fraud.
According to LexisNexis, the report features a "comprehensive survey of 703 risk and fraud executives in retail organizations." The annual study is considered one of the best indicators of where the payments and eCommerce industries stand regarding fraud and chargebacks. (Download the full report here).
Upward Growth in Key Indicators of Fraud
The LexisNexis Fraud Multiplier℠ is considered a central feature of each annual report. This year's calculations show an ongoing surge in the overall amount retailers lost to fraud.
Overall fraud losses are up 6% from last year. For each dollar lost to fraud, online merchants can ultimately expect to lose $2.94 in revenue due to the associated fees, chargeback costs, merchandise, lost revenue, and more.
The news is even worse for mCommerce retailers, who will lose $3.29 per dollar: a 24% increase!
While the numbers in the LexisNexis Fraud Multiplier hit a five-year low in 2015, this can largely be explained by extenuating circumstances. Most notably, the start of EMV liability shifts that pushed retailers to migrate to "chip" card acceptance. All other indicators suggest less up-and-down movement and more of a consistent upward trend for payments fraud.
This can also be seen in the average cost lost to fraud, which saw a nearly 14% increase over last year. According to the report, funds lost to fraud represented 1.8% of total revenue in 2018, up from 1.58% in 2017.
mCommerce: Impressive Growth, but More Opportunities for Fraud
This year's report also highlights the double-digit increase in the number of mid/large merchants selling digital goods though mobile channels. This increase comes at a price, however, as growing risks associated with mobile sales transactions.
Digital goods are a troubling sector here, too. While physical goods merchants showed an actual loss of $2.78 per dollar lost to fraud, mid- to large- merchants selling digital goods through mobile channels are losing and average of $3.29 per dollar.
That might cause non-mCommerce merchants to question the wisdom of moving into mobile sales, but the explosive growth and the increased ability to retain customers can balance or even outweigh the risk. Retailers who deal primarily in physical goods are adopting mobile as a way of maintaining relevance. As would be expected, however, these merchants are not seeing the same type of growth as those dealing primarily in digital goods.
Portrait of an mCommerce Digital Goods Merchant
Interestingly, 98% of merchants who say they struggle with digital identity verification sell both physical and digital goods. There are specific categories of digital goods, however, that seem to create the most issues:
Digital Goods Sellers by Type
When merchants add digital goods to their offerings, they're also creating the opportunity for "fast fraud," or fraudsters who take advantage of consumers' demand for immediate delivery of digital goods. Because delivery is faster than processing of the transaction, digital goods can be fraudulently purchased and resold before the truth is discovered.
This, combined with an overall rise in eGift card sales, could likely explain the significant rise in overall fraud attempts for merchants selling digital goods, according the study.
Merchants Employ Some Fraud Protection Tools
Since 2012, the average number of fraud attempts per month has climbed from 170 to 619. That's an increase of nearly 400%.
Roughly half of these attempts will be successful. So, it makes sense that a growing majority of international, eCommerce, and mCommerce merchants have implemented some type of fraud solution, automated alert system, or combination of the two.
The increased usage of a combination of fraud-fighting tools, particularly among mCommerce merchants, demonstrates that more retailers are realizing the importance of both ID authentication and verification. Having more than one solution, however, does not automatically produce a drop in fraud.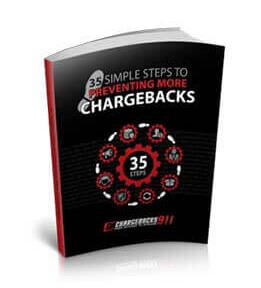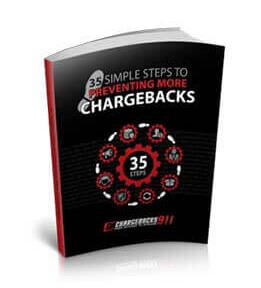 35 Simple Steps to Preventing More Chargebacks
Download our FREE guide that outlines 35 step-by-step effective chargeback prevention techniques. Learn insider secrets that will reduce your risk of chargebacks, increase your profits and ensure your business's longevity.
It should be obvious that the cost of fraud is higher among those remote channel merchants using fewer fraud prevention tools. However, even some of those with extensive solutions in place can still see significant fraud volume, based on type of items sold.
Merchants Need Multi-Layered Fraud Management
The solution combinations merchants are now using are effective to some degree, and better than using a single tool. The research is clear, though: these solutions are not optimal.
At the same time, adding more solutions to the mix does not necessarily provide better results. Merchants need to adopt a layered approach. This means complimentary solutions that address and cover one another's shortcomings, and which can be tailored to a specific industry or situation.
Digital goods merchants were again highlighted as an example here: the report showed how these merchants could achieve lower fraud costs by layering ID authentication and fraud-risk assessment tools. The effect was even more pronounced on merchants who adopt solutions specifically designed to address the unique challenges of mobile channel sales and/or sales of digital goods:
The data suggests effective fraud-fighting is not "one-size-fits-all." Merchants need a comprehensive fraud risk management strategy that works for their business specifically, and which works on multiple layers. That's why Chargebacks911® suggests that the best solution for eCommerce fraud is an end-to-end approach targeting all fraud...not just one form.
Research Findings and Considerations
The True Cost of Fraud℠ Study for the Retail Sector is one of the best indicators of current industry trends and threats available on the market. That said, there are additional factors to consider.
For this study, LexisNexis Risk Solutions defines "fraud" as any of the following:
Unauthorized transactions (commonly associated with criminal tactics like account takeover fraud)
Fraudulent requests for a refund (known as return fraud)
Lost or stolen merchandise
Friendly fraud, which is the primary cause of chargebacks, wasn't factored into the calculations. This means losses are substantially more severe than reported. Additionally, statistics are self-reported. Merchants are polled on various issues and their answers are compiled into the report and, unfortunately, merchants are often unaware of true fraud threats and their implications.
Targeted, in-depth research conducted by Chargebacks911 revealed the following distribution of chargeback sources: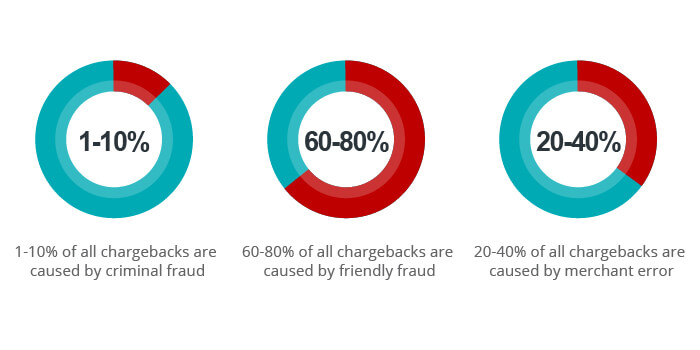 When eCommerce merchants self-reported, however, they identified the distribution of fraud in a much different way: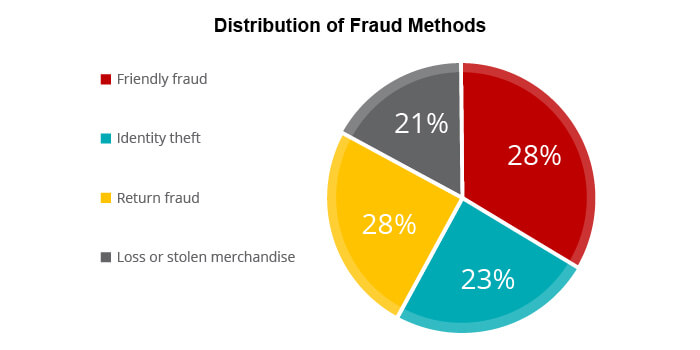 Clearly, there's a disconnect between what merchants perceive, and what the data reveals. This inability to correctly identify vulnerabilities motivated us to rollout a unique, targeted suite of fraud solutions:
Merchant Compliance Review is a 106-point inspection of merchant policies and procedures. Our experts help merchants identify internal operational issues that are unnecessarily increasing their risks of fraud and chargebacks. By eliminating these seemingly minor errors and optimizing the efficiency of current fraud management efforts, merchants will see a significant ROI.
Intelligent Source Detection™ is the only product on the market today capable of identifying the true source of chargebacks. LexisNexis points out how combining manual reviews with automated fraud filters can reduce false positives and increase revenue retention. However, that doesn't help us understand why fraud occurs. Intelligent Source Detection was designed to pinpoint the source of each chargeback, enabling more efficient prevention strategies.
We at Chargebacks911 whole-heartedly agrees with one of the company's main recommendations:
"It is critical for merchants to address both identity and transaction-related fraud. These are two different perspectives. A layered approach can reduce costs associated with manual reviews, successful fraud attempts and fewer false positives."
Multiple Solutions for Comprehensive Coverage
Effective management means finding and implementing solutions that address all fraud threats from all channels. It is about building multiple layers of protection, layers that utilize dynamic data sets and are tailored to a merchant's specific vulnerabilities. Using multi-layer protection, merchants decrease the risk of fraud and chargebacks without compromising loyal and valuable customers.
Chargebacks911 is an integral element in a multi-layer approach to fraud management. We don't replace a merchant's current fraud detection tools; rather, Chargebacks911 helps those tools work more efficiently and effectively.
If you'd like to learn more about what Chargebacks911 can do to help merchants prevent fraud, ensure sustainability, and recover more revenue, contact us today.
Click here to download the 2018 True Cost of Fraud℠ Study for the Retail Sector.