Can In-House Fraud Management Be as Effective as Outsourcing?
Fraud management—the process of identifying, fighting, and preventing fraudulent transactions—is an unfortunate necessity. When instances of fraud start increasing, you may be tempted to panic. You recognize something needs to be done…but you're unsure of what options are even available.
The typical first response is to attempt fraud management using in-house resources. Of course, there are situations where a DIY approach can help. In-house fraud management is usually capable of addressing easy-to-manage issues, for instance; the "low-hanging fruit," as it were.
As your business scales and your threats evolve, however, risk often becomes an unmanageable liability. At some point, you'll probably face a difficult decision: should you outsource fraud management, or should the business continue to limp along with an in-house operation? Or should we even bother trying to manage fraud at all?
One thing is certain: ignoring fraud and chargebacks will only make the situation worse. As far as whether stay in-house or outsource, though…that's a little more complicated.
Fraud Management: The Build vs. Buy Debate
Opinions vary widely on the best method of fraud management. Merchants tend to be pretty split on whether it's best to keep efforts in-house ("build" a solution) or outsource to experts ("buy" a solution). Everyone naturally favors the methodology they believe works best for them.
The benefits of outsourcing should be obvious: professional handling, less stress for you, and a clear and measurable ROI. Proponents of in-house management make similar claims, though, arguing that their method is more cost-effective. They also argue that in-house fraud management allows them to react faster to situational changes, and puts the process in the hands of people most familiar with the business.
There is some truth to each argument, but managing fraudulent transactions is a multi-faceted process. Your needs can vary dramatically according to industry, risk, and other factors. Thus, a strategy that works for one merchant might be a complete bust for you.
Even two similar merchants in the same industry will likely have different needs. If your primary threat is criminal fraud, for example, you need a very different approach from another merchant who's experiencing trouble with fraudulent customers (friendly fraud or cyber shoplifting). Then, if you're experiencing fraud from your affiliate advertising network, that's something else altogether.
The Full Picture of Fraud Management
In truth, you're unlikely to suffer from only one type of attack. While one source may be the origin for the bulk of fraudulent activity, it's rarely the source of all. For that reason, any truly-effective fraud management strategy must be both multi-tiered and customized to your unique needs.
That can be problematic for an in-house team, since many merchants don't actually know where their fraud comes from. Even merchants who pay attention to such details often misinterpret data or rely too heavily on reason codes. With that in mind, it's easier to understand why outsourcing fraud management is better for most merchants: the job is too big, and requires expertise in too many different areas for a casual, "part-time" approach to be effective.
Even if everything else were equal, however, an in-house management department has several strikes against it right from the start: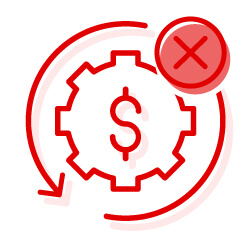 Lack of Cost-efficiency" style="width:96px"/>
Lack of Cost-efficiency
Fraud management DIYers claim to be saving money by using existing resources and eliminating any cost-per-transaction fee. In most cases, though, internal resources—people—would be more productive and effective in other areas. And since that lack of effectiveness could cost more than the cost of hiring a professional, you must ask whether you're really getting the best return on your investment.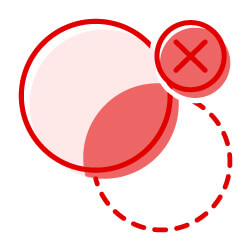 Lack of Transparency" style="width:96px"/>
Lack of Transparency
In-house profit and loss assessment typically lacks the kind of cost transparency that fraud management tools bring to the mix. Without transparent reporting, it's hard to know how much you're really spending—or getting in return—though in-house management.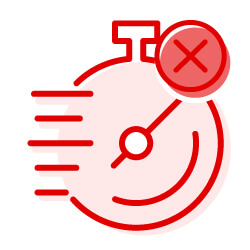 Lack of Agility" style="width:96px"/>
Lack of Agility
In-house teams come to recognize fraud and chargeback patterns and can adjust accordingly. Fraud doesn't remain static, though; it can be highly unpredictable. Techniques are constantly evolving and require a proactive solution that in-house teams are not usually equipped to deliver. A professional service with dedicated resources is much more likely to spot new threats as they are introduced, and quickly move to put preventative measures in place.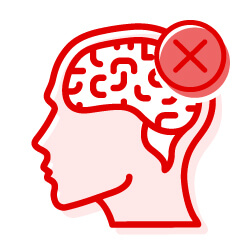 Lack of Insight" style="width:96px"/>
Lack of Insight
No one knows the business better than the people who work it every day, which is why in-house teams have the edge when it comes to business operations and product knowledge. However, that's actually a good argument against using your people for fraud management. Just as an in-house team understands the business's ins-and-outs, a fraud expert provides a unique understanding of chargebacks, fraud, and emerging threats. In other words, unless your people are professional fraud fighters, they're going to miss things.
In the end, creating and sustaining profitable fraud management in-house is expensive. It's also largely ineffective, but merchants can't see that without in-depth reporting tools. The right third-party solution delivers not only direct profitability, but also in improved merchant-issuer relationships, more customer satisfaction, fewer manual reviews, and decreased false positives.
Build AND Buy: Leveraging a Multi-Layer Solution
The fact that outsourced chargeback management is almost always more effective does not negate the benefits of in-house management. As modern fraud prevention becomes increasingly complex, you shouldn't limit yourself to a "one-or-the-other" decision.
Few businesses can handle all fraud and chargeback management tasks exclusively in-house. Rather than limiting your options to "build" or "buy," you may be better served by asking: what outsourced products or services would complement your in-house skillset?
Effective fraud management is about finding tools that complement one another. No single strategy will be the definitive risk mitigation solution. Rather, you need a multilayer approach that covers all aspects of fraud prevention and management.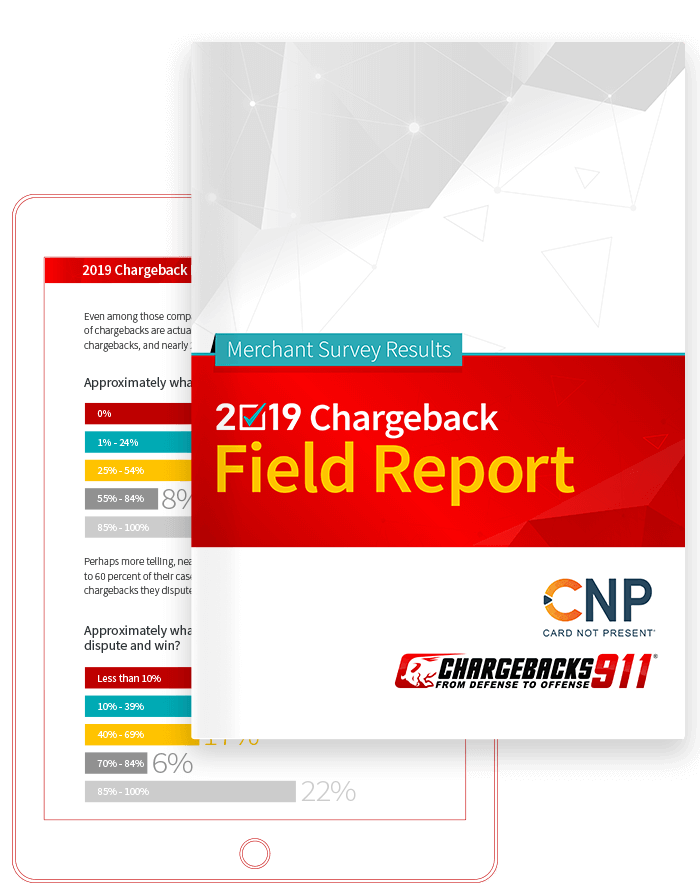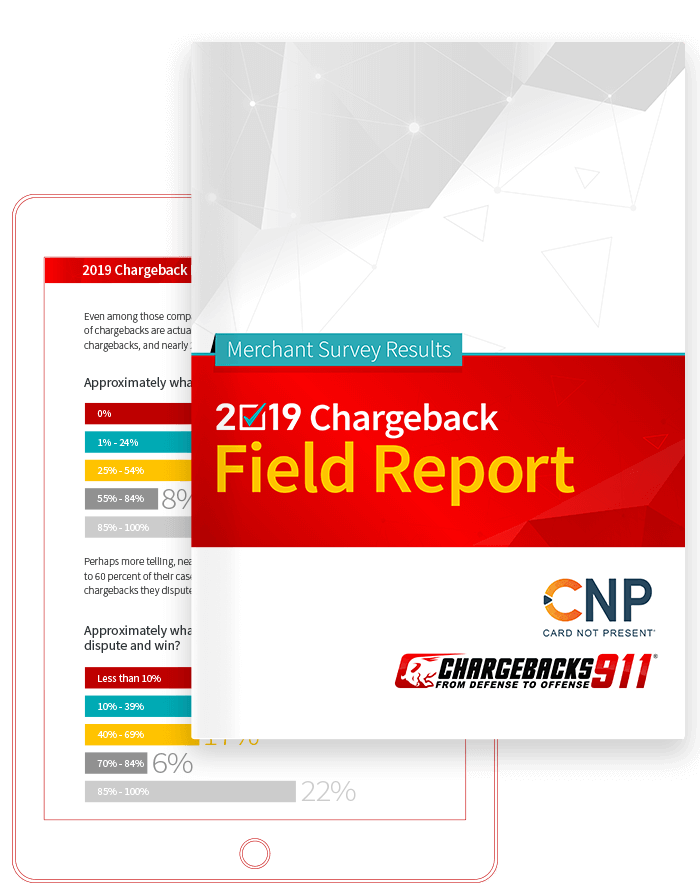 The 2021 Chargeback Field Report
The 2021 Chargeback Field Report is now available. Based on a survey of over 400 US and UK merchants, the report presents a comprehensive, cross-vertical look at the current state of chargebacks and chargeback management.
Free Download
Outsourcing responsibility doesn't mean losing control. In fact, even prior intelligence and data acquisition efforts will be put to good use, making products and services more efficient.
So, when it comes time to outsource to a professional or add various products, what should you look for? Here are a few things to consider:
Off-the-rack, "cookie-cutter" solutions are not ideal. No two businesses have the same risk, so a one-size-fits-all, automated solution will ultimately be ineffective.
What are the guarantees? And what are those guarantees based on?
If price is based on transaction volume, can you analyze future growth potential well enough to budget accordingly?
Are there client testimonials? Are you able to speak with current customers?
Is the vendor adaptable and agile enough to support future technology and fraud developments?
Having real-world eCommerce experience offers exponential value. Partnering with someone who has prior experience as a merchant will help minimize risk without compromising growth.
Also keep in mind that sometimes products and services can also function as temporary assistance. Find a vendor who can help with overflow to help take up the slack when in-house resources are limited.
Where to Look for Third-Party Help
Who you should turn to for outsourced solutions depends on the specific areas where you need help. This list is in no way exhaustive, but it showcases a few of the most reputable vendors and their specialties:
| | |
| --- | --- |
| | |
| | Kount's patented digital fraud prevention solution means fewer chargebacks and declines, plus lower operational costs. It's used by some of the world's largest payment service providers, gateways, processors, and acquirers. |
| | Bolt is a one-click Checkout platform using a multilayered approach of machine learning, rules, and manual review for in-house risk management, backed by a 100% fraud chargeback guarantee. |
| | Riskified uses machine-learning to instantly differentiate between good and bad actors, allowing merchants to approve more orders (with a 100% chargeback guarantee) while providing a frictionless customer experience. |
| | Fraud.net is the only cloud-based "glass-box" system, and the leading fraud prevention platform for the financial services and digital commerce sectors. Their algorithmic analytics detect fraud in real-time, at scale. |
| | Signifyd offers fraud protection for eCommerce backed by a 100% financial guarantee. Their technology identifies both good and bad consumer behaviors—reducing losses, lowering rejections, and increasing revenue. |
| | Over 34,000 sites and apps—from digital disruptors to Fortune 500 companies—trust Sift to deliver prime customer experiences while preventing fraud and abuse. Their scalable solution uniquely updates risk scores in real time. |
| | Lime Light believes that if merchants can better identify fraudulent transactions, they can eliminate buyers who aren't bringing value...and focus on real, long-term customers, in addition to reducing the burden of chargebacks. |
| | Simility combines the best of human analysis and machine learning in their approach to fraud protection. This adaptive fraud detection learns and evolves, preventing fraud in real-time and helping merchants grow. |
| | Ravelin provides technology and support to help merchants prevent evolving fraud threats and allow them to accept payments with confidence. They offer machine learning, access to a global fraud network, and more. |
| | Iovation reduces cyber fraud through strict device identification and risk reporting. The company helps merchants keep apps and websites secure by identifying suspicious devices the moment they try to connect. |
Chargebacks911® is Ready and Willing to Help
No matter where you need help, Chargebacks911 should be an integral part of any multilayer fraud management system. Our solutions increase revenue retention, make fraud detection and chargeback mitigation tasks more efficient, and allow our clients to reallocate resources to revenue-generating departments.
We work closely with your in-house management team to create a customized integration, and offer the most comprehensive, transparent, end-to-end outsourcing option available, all backed by the industry's only performance-based ROI guarantee.
Contact us today to learn more about our solutions and how Chargebacks911 can help optimize your current mitigation efforts.
---