The Vulnerabilities of Phone-Based Card Readers and DIY Representment
Over the last five years, Square and PayPal became major players in the realm of card-present transactions. Both services boast several million merchants taking advantage of their portable card readers, the PayPal Here and the Square Reader.
The appeal of these two types of devices is not hard to see – simply order the low-cost card reader, plug it into your smartphone or tablet and start accepting credit cards. However, it's not quite as rosy as it might seem.
Both provide some degree of chargeback protection, but what is offered may not be enough. Relying on either Square or PayPal chargeback representment services is likely to cause an unmanageable revenue drain that jeopardizes the business's longevity.
Square Reader
Of the two, the Square Reader seems to offer better chargeback protection. The company does not charge any chargeback fees, and also provides up to $250 of monthly Square Chargeback Protection. According to this policy, merchants will not be held responsible for the first $250 in chargebacks they encounter each month, so long as those transactions follow Square's Best Practices policies.
This protection does not apply to high-risk goods. Examples of such include:
Electronics
Collectibles
Pre-Ordered Goods
Art
Counterfeit/Replica Goods
Merchants selling any of these items will not be protected by this policy. If the purchase does not qualify, or if a merchant has already passed the $250 threshold, the money will be held by Square until the process is resolved.
The whole process could take up to 90 days for the issuer to make a decision on the case, plus another 60 days' funds hold while Square waits to see if the customer will appeal. In other words, potentially up to five months could pass before you finally see your money returned.
It's also worth noting that these are relatively new steps on the company's part. Previously, Square had started to develop a reputation among merchants for offering little, if any, support against chargebacks.
---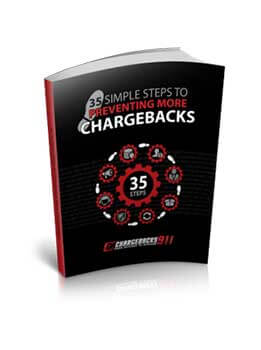 35 Simple Steps to Preventing More Chargebacks
Download our FREE guide that outlines 35 step-by-step effective chargeback prevention techniques. Learn insider secrets that will reduce your risk of chargebacks, increase your profits and ensure your business's longevity.
---
PayPal
PayPal's policies are similar to those of Square in many ways – both companies offer representment, so long as the merchant responds within the predetermined timeframe (seven days for Square, ten days for PayPal).
However, PayPal does not offer any analogue to Square Chargeback Protection. At the same time, PayPal also charges a $20 chargeback fee per transaction, which can quickly become dangerous if you're just a small merchant experiencing multiple chargebacks.
The Dangers of DIY Representment
Merchants who experience chargebacks do have some recourse via the Square or PayPal chargeback representment processes; however, the odds are still in favor of the consumer.
Regardless of these companies' willingness to help mediate disputes, they aren't chargeback experts. Both the merchant and cardholder are technically customers; it's impossible to appease both parties. It's understandable that PayPal, Square and any other payment processor would take the path of least resistance and exert limited effort to resolve these issues. Again, they are payment processors, not chargeback remediation firms.
In the end, companies like Square and PayPal simply act as the liaison between the business and the cardholder's issuing bank, passing along the information that's provide. Therefore, the merchant is left with all the responsibility of creating an air-tight dispute.
Regardless of the payment processing method the merchant uses (PayPal, POS, eCommerce store, etc.), DIY representments are a slippery slope. Most in-house management efforts are only capable of preventing and disputing the 'low hanging fruit,' the obvious and simple cases.
We go into this issue in greater detail in a couple different blog articles. Be sure to check those out.
There are two important things to note:
DIY Representment Danger #1
Merchants who choose to fight chargebacks on their own won't win very often. This is just a sad reality of the business world.
Unless merchants abandoned their business and put 110% of their efforts into the case, it is nearly impossible to win a Square or PayPal chargeback representment. Even with an intensive devotion of time and money, it still isn't a guarantee that the merchant will win.
Again, check our previously published articles to see why that's the case.
DIY Representment Danger #2
If merchants are experiencing a significant volume of chargebacks, they're only allowing the problem to get worse. When merchants elect not to even bother with fighting chargebacks, issuers interpret that as a passive admission of guilt. As a result, issuers are inclined to perform less due diligence with the next chargeback.
Fighting chargebacks is the only way to recover revenue, but it will also improve the merchant's reputation with issuers. This way, issuers are likely to perform more due diligence, and will not be so quick to issue chargebacks at the cardholders' requests.
Ready for Real Help?
Chargebacks needlessly drain profits and jeopardize a business's sustainability. If you'd like real help managing cardholder's transaction disputes, not just the minimal assistance offered through PayPal and Square chargeback representment services, contact Chargebacks911®.
We provide a free chargeback analysis and guarantee ROI. If we can't improve your bottom line, we won't ask for your business—it's as simple as that!