Insulate Your Business Against Billions in Annual Return Fraud Losses
For many retailers, the weeks between Thanksgiving and the end of the year are viewed as a prime sales opportunities. The average American consumer is expected to spend $929 this holiday season, and experts anticipate overall holiday spending will exceed $1 trillion.
However, with increased sales, retailers must also be prepared for the accompanying influx of returns. And with returns comes fraud—illegitimate attempts to recover funds that aren't in accordance with the merchant's policies.
Returns Spike During the Holidays—as Does Return Fraud
Returns are an unavoidable, yet predictable part of the holiday sales increase. However, that does little to soften the effect that returns have on merchants' overall profitability.
Roughly 25% of annual returns will take place during the holiday season. While those returns are a challenge for brick-and-mortar retailers, the effect is exceptionally pronounced online, where retailers may see as many as one out of every three purchases returned during the 2016 season.

As if to add insult to injury, many of these returns are, in fact, cases of return fraud.
Return fraud presents a major challenge for businesses across all channels. U.S. retailers are known to have lost at least $2 billion from return fraud during the 2015 holiday season alone, though the actual tally is certainly higher due to the many attacks that managed to slip by unidentified.
How are customers able to get away with committing return fraud so flagrantly? The truth is that return fraud is rather difficult to identify, because the customer will falsely claim one of the acceptable justifications for a return, such as: the product was damaged upon arrival. When that happens, the merchant must either accept the customer's claim, or risk alienating his customer base.
---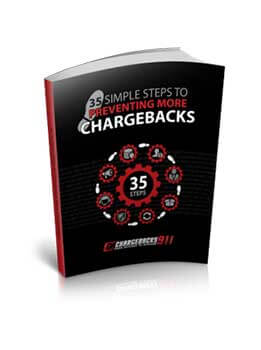 35 Simple Steps to Preventing More Chargebacks
Download our FREE guide that outlines 35 step-by-step effective chargeback prevention techniques. Learn insider secrets that will reduce your risk of chargebacks, increase your profits and ensure your business's longevity.
---
Is There Anything Merchants Can Do?
Fortunately, there are steps merchants can and should take to minimize the risk they face from return fraud.
1. Craft Reasonable, Realistic Policies
No two customers are ever the same, and as such, no two returns are exactly alike. Therefore, merchants will need to have established policies in place to address a wide range of potential scenarios. Different factors to consider when defining these policies include:
Time Limit: A 90-day window for online returns is standard these days, but that may vary depending on the product category, location, currency, or other conditions.
Applicable Accounts: It's advisable to never issue returns to a card different from the one on which the purchase was made.
Expectations: Clearly define the condition in which merchandise should be repackaged—unopened, tags attached, invoice included—whatever is necessary to process the return.
Exceptions: If certain items are subject to alternate policies, be sure to thoroughly explain this policy difference and make the information easy to see.
2. Clearly Present All Return Policies
Consumer surveys show that 67% of online shoppers will read a merchant's return policy before they decide to complete a purchase. However, if shoppers either can't find or are unable to understand a merchant's policies, in the customer's mind, it's as if those policies don't even exist.
Once merchants develop a set of policies, the next step is to ensure those policies are easily accessible. This means listing return policies in a clear and concise manner on each individual sales page, accompanied by links to the full seller's policy page. Without these steps, customers might feel as though they've been entrapped by "fine print," which could lead them to other methods of recovering their money—such as friendly fraud.
3. Be Flexible
Even if a merchant has defined policies in place, it's important to remember that, in many cases, bending the rules for customers is necessary.
A merchant's willingness to be flexible with customers, such as accepting a return even after the grace period is expired, will build customer loyalty and positive feelings toward the brand. Ultimately, this will pay-off in the long run, ensuring that legitimate customers keep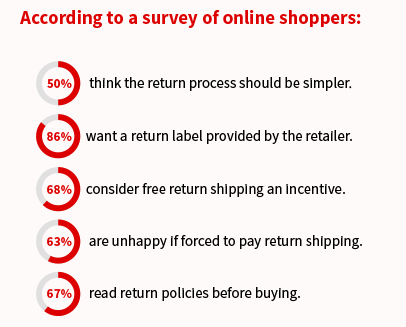 coming back.
Merchants should also remember that one of the primary reasons customers turn to fraudulent means to recover the funds from a transaction is that they believe it to be the easiest solution. In this way, a merchant's willingness to work with customers can help deter fraudulent behavior.
When merchants are flexible regarding return policies, shoppers come to understand that by going through the merchant first, they will achieve a better outcome in less time than it takes to file a chargeback.
4. Transform Returns into New Opportunities
Rather than seeing returns as something to avoid, some retailers manage to transform these situations into a positive way to drive new sales.
Merchants will see a lot of gift returns in the weeks following the holidays. If leveraged properly, these can be opportunities to create new sales. For example, the merchant can offer a dollar-for-dollar return or the option to trade the item for 10% more than its value in store credit. If the customer opts for the store credit, they will be likely to end up spending more than the total of their credit; this way, the customer goes away satisfied, and the merchant generates even better sales figures.
5. Contact an Expert
If merchants are still skeptical of their ability to mitigate the impact of returns during the peak post-holiday season, it may be time to call in outside assistance.
There are numerous services available to help merchants make the most of their efforts, from managing fraud to streamlining their order fulfillment and customer service. Many of these services are available on an on-demand basis, or as a totally-outsourced solution. At Chargebacks911®, we provide a multitude of service levels to provide every merchant with the tools and expert guidance perfectly suited for their unique needs.
Contact Chargebacks911 today for more information on how to insulate your business against return fraud, friendly fraud, and many other threats this holiday season.