Customers Research Travel Via Mobile, but Will They Feel the Urge to Buy?
Contemporary airline travelers enjoy the privilege of booking their travel through several different channels, including on their desktop computer, over the phone, through mobile sites, and via apps. However, this variety of consumer channels puts additional responsibilities on airlines and agents to leverage the technology effectively.
According to extensive analytic data published by Google, mobile devices and the 'micro-moment' mentality play an integral role in travel bookings. Understanding consumer preferences when it comes to researching and booking travel can help OTAs and airlines increase conversions while avoiding buyer's remorse and friendly fraud.
Mobile is Fast-Growing, but Lacks Consumer Confidence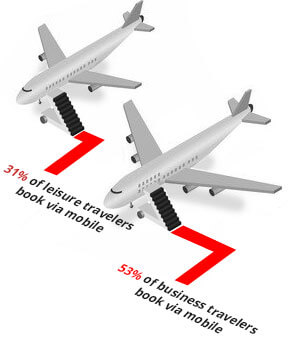 Conversion rates among mobile users grew close to 10% between Q1 2015 and Q1 2016. Now, 31% of leisure travelers claim to have used a smartphone to make travel arrangements, while for business travelers, that figure grows to 53%. However, most travelers do not limit themselves to just one device.
The data shows that 94% of all leisure travelers switch between multiple devices before finalizing their travel plans. Much of the research and decision-making regarding travel plans is conducted on a smartphone, but nearly half of all travelers will switch to another device, such as a desktop, to finalize their bookings.
Why is it that consumers seemingly don't want to book travel on any device other than a desktop? There are two reasons that seem to primarily dominate the motivation for this transition.
Insecurity Regarding Price
Roughly 77% of leisure travelers are less-than-confident that they will be able to find the same deals on both mobile and desktop. Thus, many feel the need to check both channels in the suspicion that one will offer a better deal than the other.
Limited Usability
Concern regarding the usability of a company's mobile site is another common reason why customers decide to book with another method besides mobile. Nearly 55% of leisure travelers report that this is their main reason for switching devices, while for business travelers, that figure jumps up to 69%.
Consumers Research Extensively, but Buy in the Moment
What are Micro-Moments?
A micro-moment is an instant in which a customer experiences an immediate need to know, find, or buy something. A product of ubiquitous mobile technology, micro-moments changed the way in which consumers and merchants interact. Now, merchants must be ready to address consumers' concerns the moment they arise in order to achieve a sale.
Consumers will often spend hours researching different travel options, from the airline with whom they will fly to the date, location, and time of their departure. When conducting this research, travelers generally keep these different variables in mind as relative to the price they will pay.
When it comes to making their purchase though, consumers do so with a micro-moment mentality. When travelers finally find a price they are willing to pay and an airline who best meets their preferences, they feel compelled to make an instantaneous decision and reward whoever satisfies their needs in that moment.
To illustrate this point, consider that 88% of all travelers with smartphones say they would switch to another service provider or airline if the one they first consulted fails to satisfy their needs.
Brand & Destination are Both Up in the Air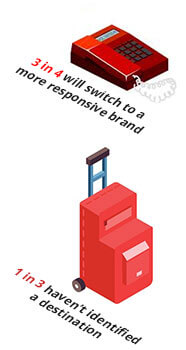 In an era of instant gratification, brand loyalty is dwindling. Nearly three out of four customers will turn to whichever airline is more responsive to their needs. Rather than expecting repeat customers based on an initial positive experience, merchants must earn each successive sale with a successfully-fulfilled micro-moment.
Additionally, customers may not decide on their destination until the moment they're ready to book. Data suggests that when travelers first begin planning their travel, one in three do not have a specific destination in mind.
Micro-Moments, Impulse Buys, and Friendly Fraud
The growing reliance on mobile technology and the increasing psychological trend to buy in the moment presents a dangerous dichotomy for the travel industry.
The micro-moment mentality mimics the characteristics of traditional impulse buying, meaning airlines and OTAs are well positioned to increase sales exponentially. However, impulse buying can also lead to friendly fraud.
Chargebacks currently cost the airline industry more than $1.5 billion each year, but experts suspect at least 63% of all travel fraud chargebacks are friendly fraud.
In many parts of the world, including France, Germany, Canada, and the U.K., friendly fraud is growing at a rate of 50% annually. If the current micro-moment trend continues, in conjunction with society's overarching demand for instant gratification, the travel industry can expect to see a drastic increase in illegitimate chargebacks in the coming years.
Brands who take a proactive approach to mitigating the impending onslaught of illegitimate chargebacks will see a significant return on their investment. A proactive, rather than reactive, strategy is the only way to stay one step ahead of the risk—and Chargebacks911® can help.
Chargebacks911 provides customized solutions for 26 industries—including travel. Our non-technical integration means a quick and easy deployment in less than 30 days. On-demand option allows OTAs and airlines to instantly scale in-house teams. And, travel industry members can leverage the relationships and expertise we've established in 87 different countries.
The Age of the Consumer is upon us. Are you prepared to balance emerging consumer demands and increased earning potential against greater risk exposure?