Mastercard is Overhauling the Chargeback Process With Mastercard Dispute Resolution. Are You Ready?
Big changes are coming to the Mastercard payments ecosystem. Mastercard started the rollout one of the biggest changes, the Mastercard Dispute Resolution initiative (or MDR), back in October 2018.
This policy completely overhauls the Mastercard chargeback process. Much like Visa did with their Visa Claims Resolution (VCR) in April 2018, Mastercard hopes changing to a rules-based system will make the chargeback process more fair, pointed, and responsive to the demands of contemporary payments.
In this post, we look at what the MDR entails, what Mastercard hopes to accomplish, and how it may impact your bottom line.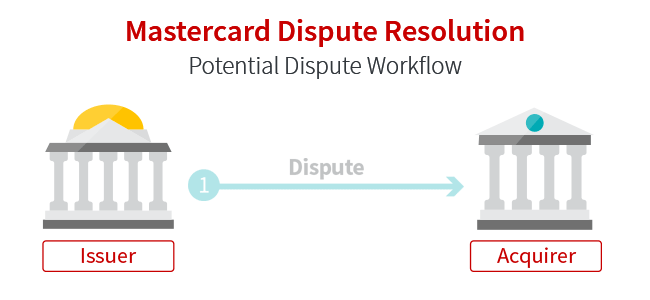 Why Change the Chargeback Process?
The consumer's right to file a chargeback was introduced back in the mid-1970s. At the time, revolving payment cards were still a new and novel idea, and many consumers remained skeptical. Chargebacks were developed to build consumer confidence in credit cards: even if a customer fell victim to fraud, that person had a way to recover the money.
Of course, times have changed in the last 45 years. In the time since chargebacks hit the scene, the rise of the internet, eCommerce, mobile devices, and much more have fundamentally changed the marketplace. Chargebacks failed to keep pace, though, creating gaps in policy and new vulnerabilities.
Mastercard claims their Mastercard Dispute Resolution Initiative is an attempt to modernize the process. As with VCR, the idea is to clean up outdated, redundant processes that were never designed for a digital marketplace. This should provide multiple benefits:
Optimized practices offer faster and more accurate dispute outcomes.
Regular changes are responsive to developments in technology and fraud trends.
Gradual rollouts encourage compliance and stability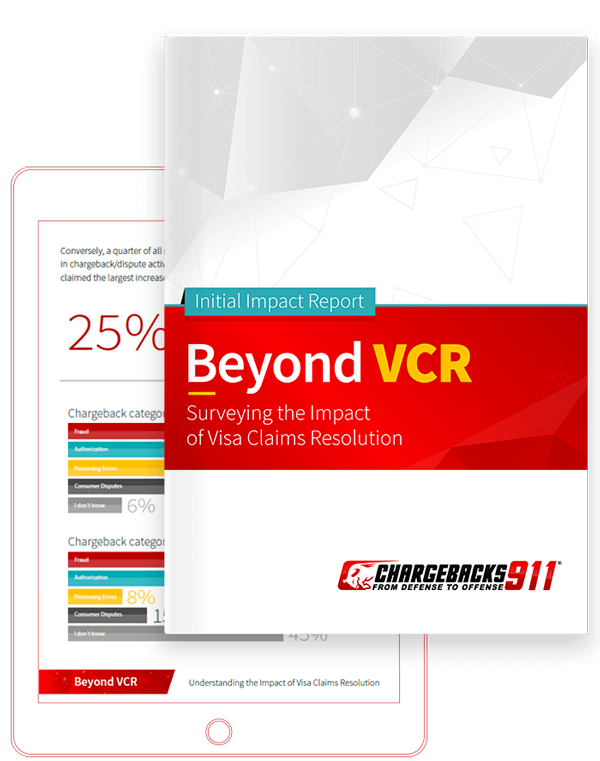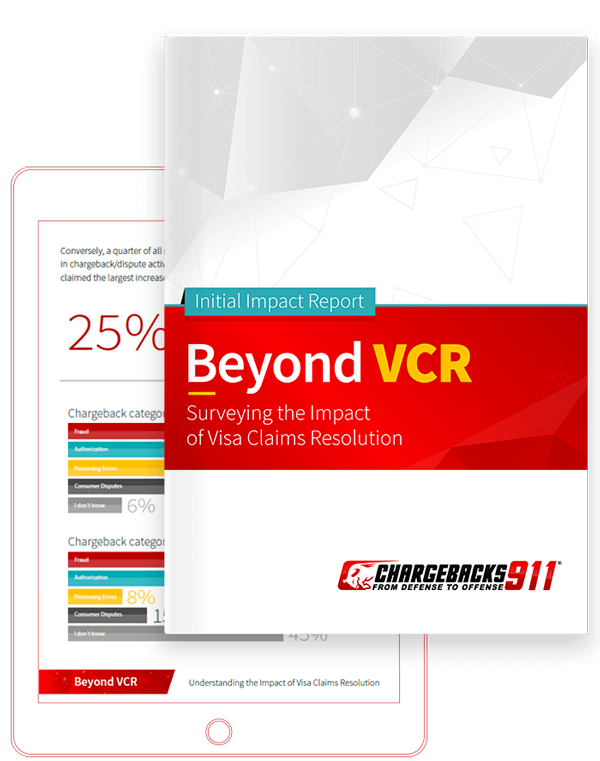 Beyond VCR: Surveying the Impact of Visa Claims Resolution
We asked a wide range of merchants about the effects they are seeing from Visa's VCR initiative. Download your copy of our report to see what our research uncovered.
Free Download
When does the change take effect, though? As a matter of fact, the MDR rollout is already underway.
Phase 1: October 12, 2018
With the first phase of the MDR rollout, Mastercard demands issuers collect more information from cardholders before a chargeback. This applies to any dispute listed under the following reason codes:
4831 – Incorrect Transaction Amount
4834 – Point of Interaction Error
4853 – Cardholder Disputer
4863 – Cardholder Does Not Recognize
Requesting additional information from the cardholder helps filter out invalid disputes, meaning the changes from this phase should help prevent friendly fraud and cyber shoplifting.
Phase 2: April 12, 2019
Phase Two of the Mastercard Dispute Resolution Initiative concerns unjust enrichment. This describes a situation in which the issuer performs a chargeback, while a merchant also issues a credit to the cardholder. This problem is currently resolved by compliance or pre-compliance
case. Under Mastercard Dispute Resolution, this will no longer be allowed via a compliance or pre-compliance case.
Mastercard instructs issuers to check for refunds/reversals prior to chargebacks, and to accept a second presentment if submitted as "Credit Processed." To avoid a double refund, you should find out if the customer's bank has been involved before filing a refund. If you offer a refund after the bank files a chargeback, you will need to accept the dispute. However, merchants have 45 days to contest a dispute in the event they submit a refund before the chargeback.
This phase also sees the chargeback filing timeframe for issuers reduced from 120 to 90 days in cases involving Mastercard chargeback reason code 4834 (Point of Interaction Error). Finally, Mastercard Dispute Resolution's second phase removes reason code from 4840 – Fraudulent Processing of Transactions from Mastercard's list:
This phase was originally meant to remove reason code 4863 – Cardholder Does Not Recognize. This change was tentatively postponed until July 12, 2019. It has since been moved to phase 4.
Phase 3: October 18, 2019
Mastercard has yet to announce the details of Phase Three. Keep checking back regularly for more information.
Phase 4: April 17, 2020
With Phase 4, Mastercard streamlines their existing chargeback process. The arbitration chargeback cycle (also known as the second chargeback cycle) will be removed. Instead, issuers can continue a dispute with pre-arbitrationprior to escalating to arbitration for fraud . This more closely resembles the Visa process used under Visa Claims Resolution.
This excludes the following reason codes:
4870 – Chip Liability Shift
4871 – Chip/Pin Liability Shift
4808 – Authorization-Related Chargeback
In addition, reason code 4863 – Cardholder Does Not Recognize is longer valid after this date.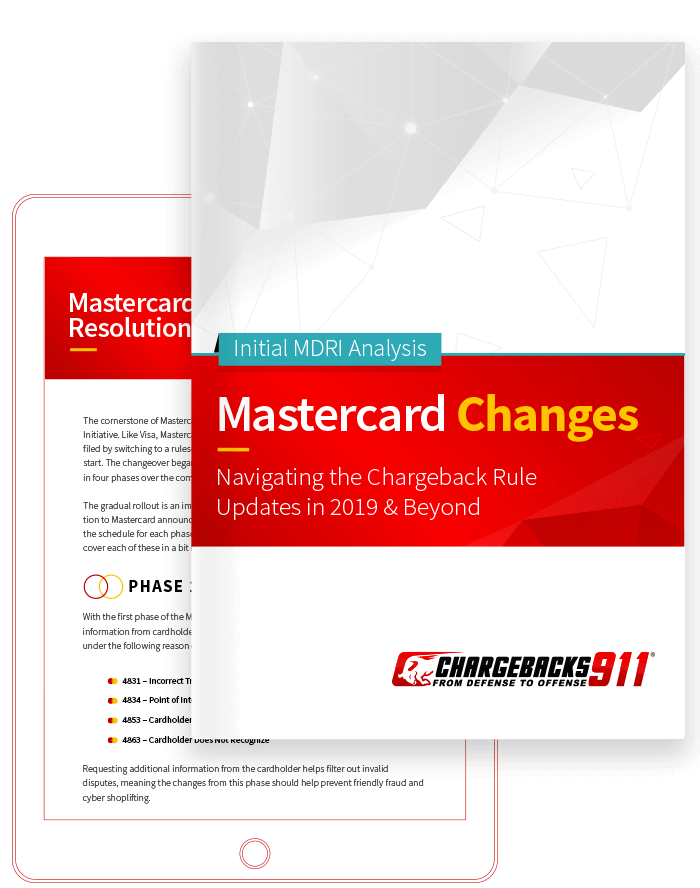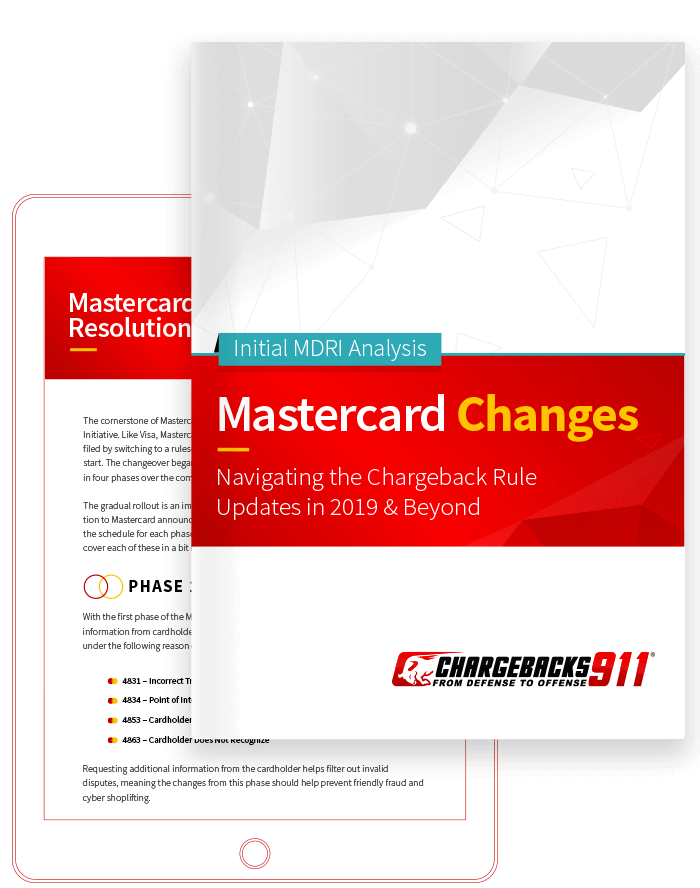 Mastercard Changes: Navigating the Chargeback Rule Changes in 2019 and Beyond
Like Visa with 2018's VCR, Mastercard is implementing sweeping changes to its chargeback and dispute systems. Download our whitepaper to learn what changes are coming, and how to prepare.
Free Download
What About the Chargeback Guide?
Mastercard issued the most recent version of their Chargeback Guide on December 13, 2018. This includes several changes adopted October 12, 2018, overlapping with the Mastercard Dispute Resolution Initiative.
First, the mandate handed down from Mastercard disallows any new information--such as name, location, or date--that merchants might submit to resolve a chargeback with reason code 4837 (No Cardholder Authorization). This applies if the information presents a mismatch between authorization and clearing.
While there were details concerning late presentments set to change, this update has since been withdrawn.
The update requires you to provide supporting documentation, such as a transcript of emails with your customer, for chargeback reason code 4863 (Cardholder Does Not Recognize).
This covers just some of the detailed and complex changes. Click here to review the complete Mastercard Chargeback Guide.
Get the Facts.
Get a detailed rundown on how the Mastercard Dispute Resolution Initiative will affect your business. Click here and get started.
Will it Work?
As we mentioned before, the Mastercard Dispute Resolution Initiative and Visa Claims Resolution have the same core goal: update, streamline, and speed-up the chargeback process. Will it work, though? That's harder to say.
If we look at our Beyond VCR: Surveying the Impact of Visa Claims Resolution study released last year, we see merchants were less-than-enthusiastic about the changes. Most said VCR either made no difference, or actually made things harder for merchants. The policy simplified certain processes, but reduced timeframes and new workflows complicated others.
The Mastercard Dispute Resolution Initiative does introduce steps that can help you with friendly fraud. But ultimately, neither that or Visa Claims Resolution address a core problem with chargebacks: that most are illegitimate.
The percentage of chargebacks that are due to friendly fraud, cyber shoplifting, or other abuse.
Unless card scheme policies can reflect that and take illegitimate chargebacks seriously, we're not going to see significant progress.
The average merchant is crunched for resources, time, and expertise. You probably fit that bill, too.
Keeping up with constant policy changes--and adopting the new tools and practices required--is hard. You could spend that time doing something productive, like growing your user base or revenue stream.
Have Additional Questions?
This is the first in a series of posts about changes coming to the Mastercard environment. Be sure to check back soon. We'll be investigating more Mastercard Dispute Resolution details, new and restrictive rules for negative options billing, and much, much more.
Have a question about the Mastercard Dispute Resolution Initiative and your business? Click below to speak with one of our experts today.
---