All the Necessary Resources to Become the Master of MasterCard Payments
Note: This is the third article in a four-part series that was designed to give merchants a basic understanding of the major card networks. The Chargebacks911 knowledge base contains articles about Discover, American Express, and Visa. The blog also contains an article about China's UnionPay.
MasterCard is one of the biggest names in the payment card industry, as they have been since the early days of the technology. Today, more than one-quarter of all global transactions involving a payment card are made using a MasterCard-branded card.
The History of MasterCard
After witnessing the success of various charge cards, like Diner's Club, the Interbank Card Association (ICA) was formed out of a strategic partnership between five leading financial institutions: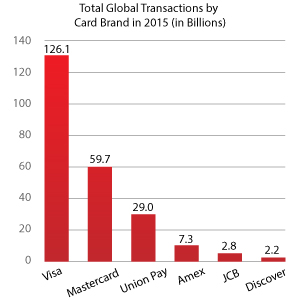 United California Bank
Wells Fargo
Crocker National
Bank of California
Marine Midland Bank (now HSBC Bank USA)
Shortly after these banks joined forces in 1966, the organization issued the first "Master Charge" card.
In 1968, Master Charge formed a strategic partnership with Belgium's Eurocard. Later, the UK-based Access card was also added to this deal. Both partnerships greatly expanded Master Charge's international presence, making it the world's second-largest card brand.
By 1979, the brand shortened their full name, "Master Charge: The Interbank Card," to simply MasterCard.
Legacy
MasterCard was the first company to introduce laser holograms as a fraud deterrent for payment cards. The card network was also one of the founding partners of EMVCo, the company created to bring EMV technology to market.
Minor missteps could be costing you major revenue. Learn how our Merchant Compliance Review can lower your chargeback risk.
Today, the company continues to experiment with new technologies for safer, more secure payments through their MasterCard Labs initiative. Some of the latest ideas to come out of this venture include the MasterPass branded mobile wallet, Selfie Pay biometric security technologies and Simplify Commerce.
MasterCard has remained Visa's primary global competitor in terms of number of branded cards on the market and purchase volume. However, the rapid rise of Union Pay as a disruptor in the card market will continue shifting the balance of power within the payments industry.
Similarities & Differences with Other Brands
Like all other major global card brands, MasterCard participated in the EMV liability shift in October 2015 in the US.
However, one quality the card shares with Visa, but not with other brands like American Express and Discover, is that MasterCard does not issue payment cards. Amex and Discover are both issuing banks who own their own proprietary card networks for processing the cards they issue. MasterCard, on the other hand, is just a card network, meaning that they facilitate transactions made using MasterCard-branded cards, but those cards are issued by banks independent of MasterCard.
This goes back to MasterCard's early years, when multiple banks set up the association as independent, third-party organization to enable interbank card transactions.
MasterCard Security Measures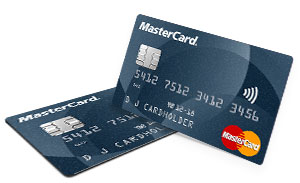 MasterCard uses a 16-digit card number, imprinted on the front of every MasterCard-branded payment card. Cards branded under MasterCard's European name, Maestro, feature card numbers that can vary in length anywhere from 12-19 digits.
MasterCard traditionally used the six-digit Issuer Identification Number range between 51-55, while Maestro used an IIN between 55-69. Looking at the first digit, called the Major Industry Identifier, we can see that all of these cards are classified as either "Banking and Financial" cards or "Merchandising and Finance" cards. However, as of October 2016, new MasterCard-branded cards may be issued with IINs in the 222100-272099 range.
Card Security Code
All MasterCard payment cards feature a three-digit card security code (CVC2). This number appears on the back of the card, to the right of the signature on the card's back, and is analogous to CID number found on Discover and Amex cards, or the CVV2 code on Visa cards.
Banks began issuing MasterCards featuring CVC-coded cards as early as 1997, making MasterCard the first major card network to manufacture cards with a three-digit security code.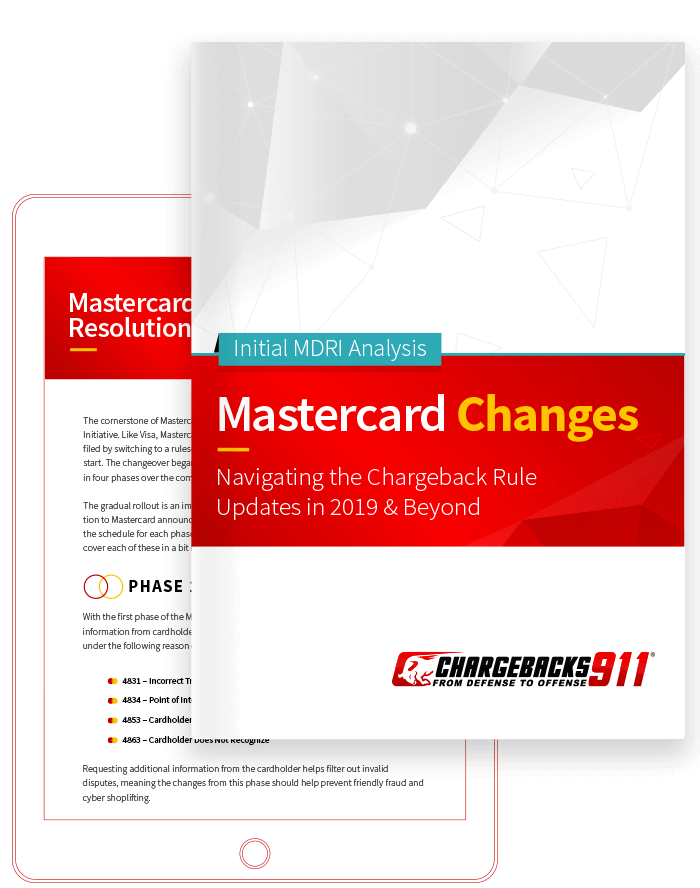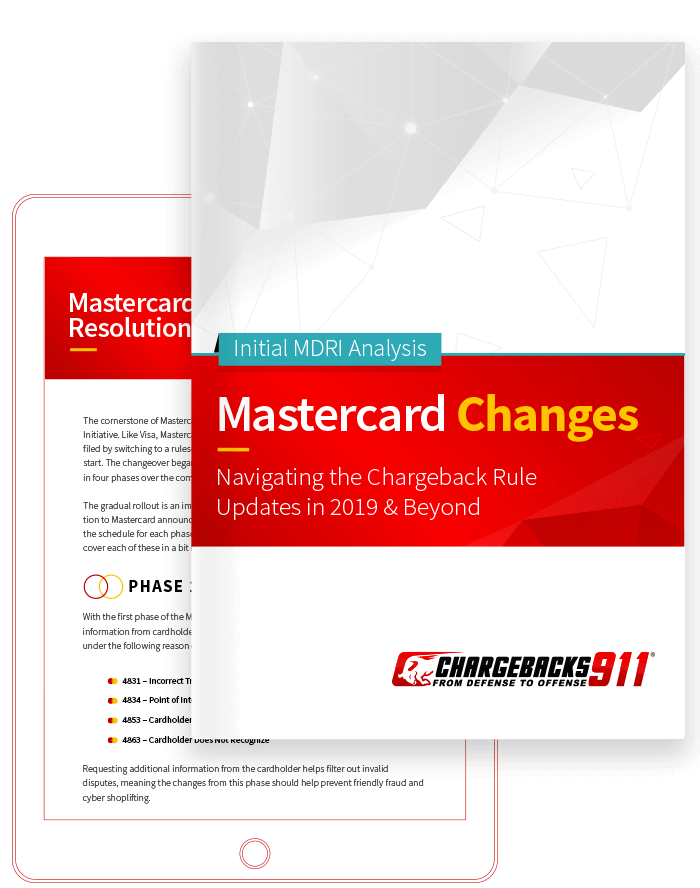 Mastercard Changes: Navigating the Chargeback Rule Changes in 2019 and Beyond
Like Visa with 2018's VCR, Mastercard is implementing sweeping changes to its chargeback and dispute systems. Download our whitepaper to learn what changes are coming, and how to prepare.
Free Download
Biometric Authorization
MasterCard is a pioneer in the field of biometric security measures.
In late 2015, MasterCard began testing their proprietary Identity Check program in the European market. More commonly referred to as "Selfie Pay" by bloggers and tech commentators, the program allows cardholders to use their phone camera to verify transactions made both online and in-store using a mobile wallet.
Initial tests of the service have been positive, and the program is expected to launch in the US sometime in 2016, and throughout the rest of the world the following year.
3-D Secure
Like other major card networks, MasterCard supports the 3-D Secure security platform, provided under the name MasterCard SecureCode. Cardholders who utilize 3-D Secure programs create the online equivalent of a PIN which must be entered in order for any transactions to receive authorization codes.
Support for 3-D Secure further reduces the possibility of a merchant becoming the victim of online criminal fraud. Unfortunately, the effectiveness of 3-D Secure and other security technologies is limited, at best, when it comes to other eCommerce fraud sources, such as friendly fraud.
MasterCard Disputes & Chargebacks
As with all other card networks, consumers are guaranteed the right to dispute a transaction under the Truth in Lending Act of 1968.
In some cases, an issuer may request certain information about a transaction from a merchant on behalf of the cardholder. Called a retrieval request, merchants typically have anywhere between 10 and 20 days to provide the requested information. However, in other cases, an issuer may simply skip this step and file a chargeback against the merchant.
New Reason Codes Introduced May 2016
When a chargeback occurs, the issuer will attach a reason code, explaining the supposed reason for the dispute. On May 10, 2016, MasterCard published an updated Chargeback Guide, issuing a new list of reason codes that condensed more than a dozen different reason codes into just three:
4808—Authorization-Related Chargeback
4834—Point-of-Interaction Error
4853—Cardholder Dispute
MasterCard also retained six "Fraud-Related Chargeback" reason codes, including:
4837—No Cardholder Authorization
4840—Fraudulent Processing of Transactions
4849—Questionable Merchant Activity
4863—Cardholder Does Not Recognize—Potential Fraud
4870—Chip Liability Shift
4871—Chip/PIN Liability Shift
Continue the Discussion
Chargebacks911® is happy to provide merchants with a generalized education about payment processing essentials. We strive to discover and share all the latest industry news and regulations.
However, this article does not serve as an official guide, nor does it encompass all the information our chargeback experts possess on the subject of MasterCard payment processing.
We encourage merchants to contact Chargebacks911® directly if they would like personalized suggestions for optimizing their chargeback management efforts for MasterCard disputes.