Visa's New Chargeback Regulations Are In Effect. What's In Store For eCommerce?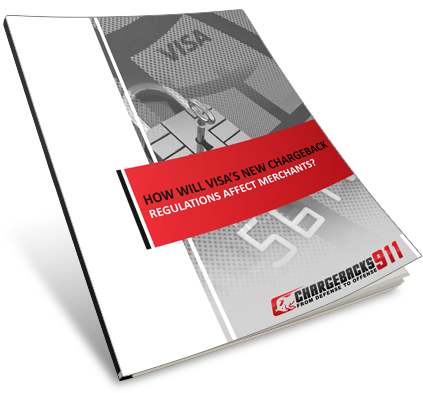 On January 1, 2016, Visa's new chargeback thresholds took effect. Unfortunately, these changes aren't expected to benefit merchants. In fact, they'll likely threaten a business's longevity and sustainability.
If you don't fully comprehend how Visa's new chargeback monitoring program will impact your business, your processing agreement could be in jeopardy within just a couple of months…
Exposing the Facts. Offering Expert Analysis.
Many merchants are finding the new Visa regulations difficult to understand. Moreover, the implications of such major changes aren't fully appreciated.
Chargebacks911® wrote a detailed whitepaper, outlining the new Visa chargeback thresholds and the implications these updates will have for merchants.
Calculate new chargeback thresholds.
Understand updated industry expectations and regulations.
Discover potential threats to business sustainability.
Analyze long-term implications.
Create an improved prevention and management plan.
There is no time to waste—every day could be bringing you closer to a canceled merchant agreement.
Download our whitepaper now. Too much is at stake for you to simply wait and see how these new Visa regulations will play out.
PREMIUM CONTENT
This premium content is available to customers of Chargebacks911.
You can gain access to our complete library by clicking the button below.