Processor Reconciliation Services
---
Don't Let Your Money Slip Through the Cracks!
Maintaining credit card payment processing accounts is a complicated tasks that comes with many responsibilities. One aspect that is often overlooked is account reconciliation. If you aren't efficiently balancing your accounts every month, you are leaving money on the table.
Chargeacks911™ is prepared to help your business recover funds you didn't know had gone missing.
It All Adds Up to Big Losses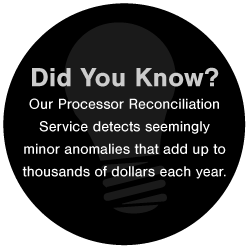 Maintaining more than one merchant account is a common practice among online merchants. Depending on the limitations of each account, numerous MIDs may be necessary in order to adequately handle the business's sales volume.
However, when merchants are required to maintain multiple MIDs, there can be issues in balancing funds between all of these different accounts.
Improperly rounded figures, incorrectly adjusted rates–these seemingly minor oversights can equate to significant losses across numerous different accounts.
Chargebacks911 Offers a Solution
Our Processor Reconciliation Services are designed to help merchants balance their various merchant accounts in order to optimize profitability.
Chargebacks911's solution will:
Investigate balance discrepancies
Review rates and fees paid against industry standards
Liberate valuable resources that can be spent growing your business
Increase revenue retention and positively impact the bottom line
With our proven expertise in the fields of eCommerce and risk mitigation, we can provide a custom-tailored process to reconcile your various accounts and recover funds which would otherwise have been lost.
"As a high volume online merchant, I am happy to have Chargebacks911 on our side."

-A. Husain, US business co-founder and owner
Don't Lose Any More Money!
Let Chargebacks911® focus on managing your merchant accounts, so you can focus on managing your business. Thanks to our guaranteed return on investment, you can rest assured that we will find and recover the money you didn't even realize you were losing.
Tell me more about Processor Reconciliation Services