What is Apple Pay Later? Key Info for Consumers & Merchants
Back in March 2023, Apple unveiled its novel buy now pay later feature, called Apple Pay Later.
The name tells you what you need to know. It takes the brand's existing mobile payment service, Apple Pay, and integrates a new option to allow for BNPL payments. At its core, engaging with Apple Pay Later is akin to requesting a short-term consumer loan, as is typical with most BNPL services.
So, what makes it tick? How does it compare to other BNPL options? Let's dive into Apple Pay Later to find out how beneficial it really is for consumers and businesses.
What is Apple Pay Later?
Apple Pay Later

[noun]/a • pəl • pā • lā • tər/

Apple Pay Later is a buy now pay later (BNPL) product available to Apple users. It allows online shoppers to break purchases up into four even installments, making it easier to manage large purchases.
Rather than paying for the full cost of a purchase up front, Apple Pay Later users can spread an online purchase over multiple installments. The first of these payments are collected immediately. Subsequent payments are collected every two weeks over a six week period.
The service is integrated with Apple Pay. Any eligible user can incorporate it directly into their Wallet app on their iPhone or other Apple device. However, it is only available to Apple users.
Apple Pay Later is similar to other BNPL options like Klarna, Afterpay, and Zip, as well as the Pay in 4 option available through PayPal. Like other BNPL services, users do not incur any interest or added charges; all fees are paid by the merchant instead. This is one of the main selling points.
Common Question
Where is Apple Pay Later Available?
Currently, Apple Pay Later is exclusive to the United States, with exceptions in Hawaii, Nevada, New Mexico, Wisconsin, and other U.S. territories.
This means if you live outside the specified available regions, Apple's latest financial feature is not available to you just yet. However, the company intends to expand this service to a broader audience in the subsequent months.
Are People Using Apple Pay Later?
It's a little early to have any strong data on Apple Pay Later usership. However, initial indicators say "yes."
Apple has a huge base of dedicated customers. So unsurprisingly, Apple quickly attracted customers from existing market competitors upon entering the BNPL sector.
Many competitors in the BNPL space faced a long journey of building user bases and establishing merchant partnerships from the ground up. In contrast, Apple is able to leverage the existing Apple Pay user community. Apple customers have thus far been intrigued by this option at checkout, given their preexisting trust in the brand.
They also had a well-established global network of merchants in their corner, as over 85% of U.S. retailers accept Apple Pay. Both these factors combined gave Apple a strategic advantage.
Did you know?
Apple is the second most valuable brand on Earth, as of this writing. Even after facing certain challenges in 2022, the company's value stands impressively at $297.5 billion.
Emerging research suggests that Apple's entry may introduce the BNPL option to a demographic that hadn't previously considered it as a primary payment method. 20% of BNPL users now claim to have used Apple Pay Later at some point, while ignoring competing services.
How to Set Up Apple Pay Later
Let's say a user wants to use Apple Pay Later for the first time. They need to start by integrating it into the Wallet app, then proceeding through their application. Note that subsequent BNPL purchases can be made both via the Wallet app and during checkout, even before the initial purchase is paid in full.
Follow these steps to add Apple Pay Later to your Apple Wallet:
1.

Open the Wallet app on the iPhone or iPad.

2.

Navigate to "Settings."

3.

Select "Wallet & Apple Pay."

4.

Tap on "Add."

5.

Opt for "Set up Apple Pay Later," then press "Continue."

6.

Follow the displayed directions to request an Apple Pay Later loan.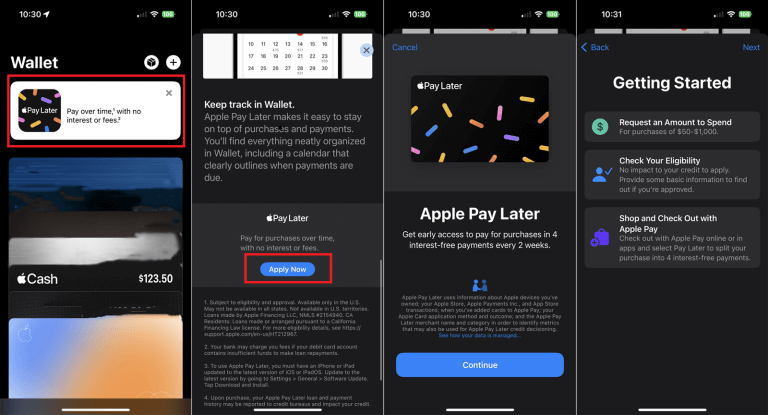 7.

Input the total purchase cost, including shipping and taxes, when prompted to provide the desired loan amount.

8.

Click "Next."

9.

Validate details such as name, birth date, and residence.

10.

Select "Agree & Apply."

11.

Lastly, press "Add to Wallet."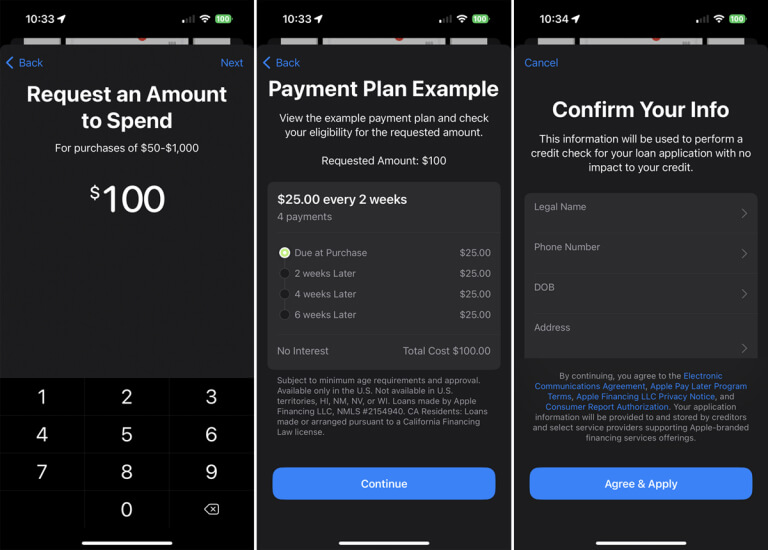 Currently, Apple Pay Later is available only to a select group of users. One must be 18 years of age or older, and either be a US citizen or a legal resident with an authentic US address to use this feature. Additionally, only debit cards are supported by Apple Pay Later.
Important!
The device, whether it's an iPhone or iPad, should be running the most recent version of iOS or iPadOS. This will ensure that Apple Pay Later works properly, and that there are no security issues present.
How Do You Use Apple Pay Later?
Shoppers can use Apple Pay Later on websites that accept Apple Pay by selecting that option at checkout. However, it's worth noting that even if a merchant offers Apple Pay, they might not necessarily offer the "Pay Later" option.
That said, when and where available, here's how to make a purchase using Apple Pay Later: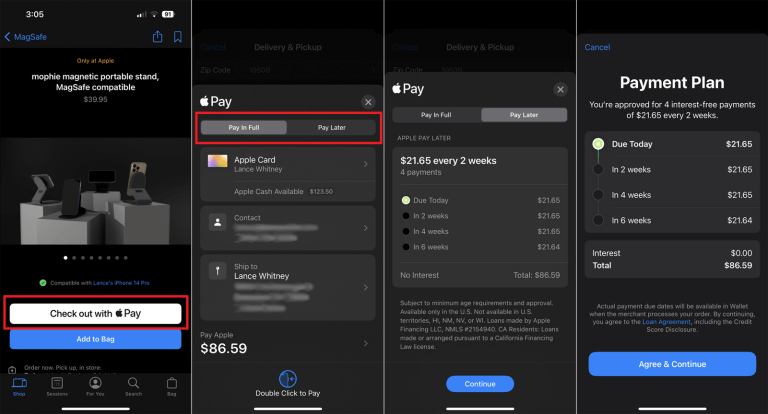 1.

Choose Apple Pay as the desired payment mode.

2.

Click on the "Pay Later" option and then press "Continue."

3.

Review the proposed payment plan and the loan agreement specifics. Once done, click "Agree & Continue."

4.

Select the debit card intended for the initial payment or add a new one and follow the displayed instructions.

5.

To finalize the payment, double-click the device's side button.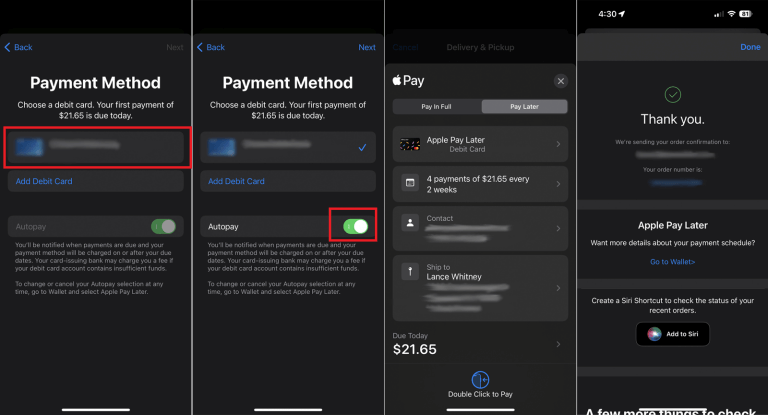 Keep in mind traditional banks don't support lending through Apple Pay Later. Instead, Apple's own offshoot, Apple Financing LLC, is the financier. This means users would essentially be repaying Apple directly for their spending.
Advantages of Apple Pay Later
Like any service, Apple Pay Later comes with its unique benefits and limitations. We'll closely examine these to help determine whether Apple Pay Later is truly a game-changer for consumers.
Some benefits include:
Zero-Interest Payments
Without the specter of added interest, consumers can enjoy more predictable expenses, contrasting sharply with typical credit avenues.
Swift Approval
The immediacy of Apple's loan approval process values the consumer's time, ensuring shopping momentum isn't broken by financial formalities.
Credit Score Safety
This feature reassures those consumers who are protective of their financial standing, fostering trust in Apple's financial offerings.
Fee-Free Framework
With no hidden or overt fees, Apple offers the transparency that many consumers crave, especially those wary of unexpected charges.
Seamless Integration
The amalgamation of BNPL into the established Apple Pay interface promises an uninterrupted financial journey for loyal Apple users.
Mindful Spending Encouraged
Apple's emphasis on debit promotes a healthier financial attitude, nudging consumers away from potential debt.
Challenges with Apple Pay Later
While the service offers some great benefits, there are also some negative aspects to consider, too:
Purchase Parameters
This range might not suit everyone. Some may find it limiting, especially if they want more substantial purchases or minimal spending.
Device Dependence
Apple's ecosystem, while comprehensive, isn't universally accessible. This could alienate potential users without the newest devices.
Regional Restrictions
Geographic limitations can be a significant roadblock for those residing outside the service zones, leading to potential disappointment.
Debit-Only Design
This choice might deter a segment of consumers who primarily rely on credit cards, especially those keen on reaping card rewards.
Fierce Competition
Other BNPL giants offer varied perks, and their established presence might sway consumers based on brand familiarity or specific advantages.
Good Credit a Must
As per the company's information, Apple Financing uses Experian and other credit bureaus to evaluate Apple Pay Later applications. If one's credit score is low — for example, a FICO score of less than 620 /— Apple Financing might not approve the application.
At the end of the day, Apple Pay Later can be a worthy addition for devoted Apple users and those seeking a transparent, fee-free BNPL option. The key for consumers is to consider their unique financial expectations and requirements when signing up for any BNPL service.
5 Consumer Tips for Using Apple Pay Later
Now that we have a better understanding of the pros and cons associated with Apple Pay Later, let's talk about how to use it wisely:
Of course, consumers aren't the only ones benefiting from Apple Pay Later. Merchants, too, have skin in the BNPL game. Let's talk about how Pay Later can boost or hamper a business.
5 Apple Pay Later Benefits for Merchants
Apple Pay Later could also be a huge boon for retailers.
As BNPL has so often proven, people love alternative payment options. This is particularly true for those that allow them to break up large ticket items into smaller payments with zero or lower interest rates. If your business already supports Apple Pay, here are a few reasons to consider adding Apple Pay Later to your checkout options:
As the retail landscape continues to shift, integrating the myriad advantages of Apple Pay Later empowers businesses to deliver unparalleled customer service and secure their place at the forefront of commerce.
Is Apple Pay Later a Good Fit for Your Business?
At the end of the day, it's up to individual merchants to decide what works best for their business. Whether a merchant wants to offer alternative payments like Apple Pay Later or they'd rather maintain a traditional payment system, both are valid choices that deserve serious thought.
Consider the following:
What is my available revenue?
Do the majority of my sales occur online or face-to-face?
What's my customers' average age and preferred shopping methods?
How vulnerable is my business to payment fraud?
What is my typical chargeback rate?
After reflecting on these questions, retailers can make a more informed decision about adopting Apple Pay Later or other BNPL systems.
Still, it's essential to note the rising concern of BNPL fraud. Before broadening payment options, merchants should establish a robust fraud prevention mechanism. Embracing a layered approach to risk management is the most effective strategy to mitigate potential hazards.
Do you want to offer alternate payments like ApplePay Later but feel overwhelmed by managing all the externalities and uncertainty? Chargebacks911® can help. Contact us today for your free ROI analysis.
FAQs
Is Apple Pay Later available now?
Yes. However, Apple Pay Later is currently exclusive to the United States, with exceptions in Hawaii, Nevada, New Mexico, Wisconsin, and other US territories. This means if you live outside the specified available regions, Apple's latest financial feature is not available to you just yet.
How can I do Apple Pay Later?
To sign up for Apple Pay Later, users need to open the Wallet app on their iPhone or iPad and select the Apple Pay Later option. They then follow the on-screen instructions to apply. Once approved, it becomes available as a payment method within Apple Pay.
Do you need good credit to use Apple Pay Later?
According to Apple, Apple Financing uses Experian and other credit bureaus to evaluate your Apple Pay Later application. If your credit score is low — for example, if your FICO score is less than 620 — Apple Financing might not approve your application.
Does Apple Pay Later charge interest?
No, Apple Pay Later does not charge interest for "pay-in-4" installments.