From beginning to end, chargebacks are one giant headache—the process is time consuming, difficult to understand, skewed in favor of the cardholder, and expensive.
If you thought the loss of profits, fines, and decreased credibility with your merchant processor was bad, it gets worse. Accounting for chargebacks is a nightmare.
Chargeback Accounting Problem
Each time you are hit with one, a credit chargeback must be manually entered into your accounting system. This can lead to several problems:
Each accounting program is different. As time passes the options for these programs expands and you're left trying to decide which one is the best option for your business.
Processing chargebacks involves many steps. Ensuring accounting entries are properly made while streamlining transactions to avoid compounding costs is a necessity.
DIY chargeback accounting is confusing. Depending on the software you use, you may need to do a journal entry and reduce the proper credit amount to write it off as bad debt. Or, void the credit entry to keep the books inline, but then you'll miss the ability to track and match the chargebacks.
Chargeback accounting is unlike checks or deposits. You won't be dealing with chargebacks on a daily basis. When you do encounter one, you might have to re-teach yourself the chargeback accounting process you instigated the last time. Which puts you back to wondering whether to add a journal entry or void a credit card transaction. This means you could easily document them incorrectly (or at least differently) every time. This will lead to a migraine at the end of the year when you try to settle the books.
The chargeback dispute process is quite lengthy. It can be drawn out even more if you decide to submit a chargeback rebuttal letter or take the case all the way through arbitration. That means the process could easily be extended several months. If the chargeback process took funds out of your account in May but the claim isn't resolved until July, your books will be out of whack for quite a while.
Handling chargebacks is costly. Each chargeback comes with a fee. That means you'll have to document not one, but two transactions in your accounting software. And, don't forget the other expenses like replacement of lost products/merchandise, shipping costs, legal and administrative fees, and dispute resolution.
You might have heard about chargebacks before you ventured into the business world. But even if you were aware of them, you probably had no idea the extent of drama associated with accounting for chargebacks!
---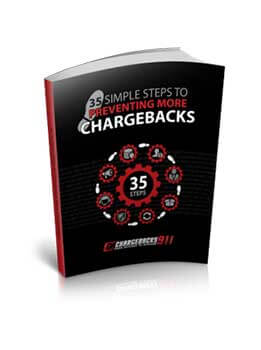 35 Simple Steps to Preventing More Chargebacks
Download our FREE guide that outlines 35 step-by-step effective chargeback prevention techniques. Learn insider secrets that will reduce your risk of chargebacks, increase your profits and ensure your business's longevity.
---
Prevention is the Key
In many situations, especially those dealing with friendly fraud, it is wise to fight a chargeback. If you feel you have a strong case with compelling evidence, it makes sense to try recouping your losses. However, once the chargeback has been filed, the damage to your accounting has already been done.
That's why prevention is so important. If you want to reduce the stress associated with accounting for chargebacks, you must be diligent about preventing them.
Unfortunately, there is no definitive combination of strategies that will work for comprehensive prevention. Individual merchants must formulate a customized plan that effectively addresses their business's exposure risk.
Chargebacks911® is a leading chargeback remediation and risk mitigation service provider. Our unparallelled understanding of emerging threats, coupled with real-world experience as a merchant, enables us to create the most dynamic, effective risk mitigation solutions on today's market.
Chargebacks911 doesn't replace current fraud detection tools; we simply make your current efforts more efficient. Plus, we add a commonly overlooked layer of protection—revenue recovery and chargeback remediation.
Contact Chargebacks911 today for a free ROI analysis. We'll show you how much you will gain by optimizing this last essential layer of fraud management.