How You Can Uphold Your Merchant Chargeback Rights
Chargeback rights help ensure consumers never get stuck paying for credit card purchases they didn't make. All cardholders have the right to file a chargeback against corrupt merchants and/or in instances of fraud or identity theft.
However, the vast majority of merchants are honest. They're not out to swindle their customers. So, what happens when the roles are reversed, and devious customers try to play the system? Do merchants have any say in the matter?
The card networks' policies and guidelines state that merchants have built-in merchant chargeback rights, too. They differ from cardholders' rights, of course; for one thing, there are various stipulations that can change based on the reason code of the disputed transaction. This can cause confusion, though. As merchant chargeback rights aren't as clear-cut and universally applicable, many aren't sure what rights they actually have.
Merchants Have Rights, Too
Because each card scheme has its own set of regulations, a merchant's specific chargeback rights often vary. This is further complicated by the fact that rights for each individual incident are based on the case's reason code.
We can still make some overall statements about the merchant chargeback rights and liabilities generally afforded merchants. In the case of a chargeback:
The chargeback (or all the partial amount chargebacks added together) cannot exceed the original transaction amount. The issuer can only file a chargeback for:
The full transaction amount;
A portion of the transaction amount; or
Several partial-amount chargebacks.
The chargeback can include any shipping or handling fees for an item not received, and any surcharges applied in connection with the disputed transaction.
A chargeback cannot be filed for the cash-back portion of a cash-back transaction.
If a purchased item arrives after the agreed-upon delivery date, the customer must try to return the merchandise prior to seeking a chargeback. It is the issuer's responsibility to make sure this takes place before the chargeback is processed.
Many reason codes require the cardholder to contact the merchant and attempt to resolve the issue before filing a chargeback. Again, the issuer is obligated to verify this action.
If a customer returns an item, the issuer must wait 15 calendar days from the time the return was made to process a chargeback (except in cases where waiting 15 days will exceed the chargeback filing deadline). This ensures merchants have a window of time to respond (small though it may be).
Most card schemes require the consumer to file a chargeback within a set number of days. This period could start the day the transaction was posted, the day the credit card statement was issued, the date the problem was discovered, or some other applicable date.
In almost all cases, every step of the chargeback process must be completed before proceeding to arbitration. This includes pre-arbitration.
As you can see, merchant chargeback rights tend to more reactive. They only come into play if a chargeback is filed, and they mostly serve to limit the amount of damage the customer can do. Even then, the merchant protection is easily circumvented, as we shall see.
When Merchant Chargeback Rights Get Violated
Protections are only viable if they are enforced. Unfortunately, there are several instances where merchant chargeback rights get steamrolled by the system.
The Most Important Chargeback Right
Representment is the most important of all the guaranteed merchant chargeback rights. In fact, fighting illegitimate chargebacks is more than a right; it could actually be considered a responsibility.
For starters, it discourages cardholders from being so eager to file a chargeback: if it's faster, easier, and more effective to ask for a refund, fewer customers will default to a chargeback as the most convenient solution.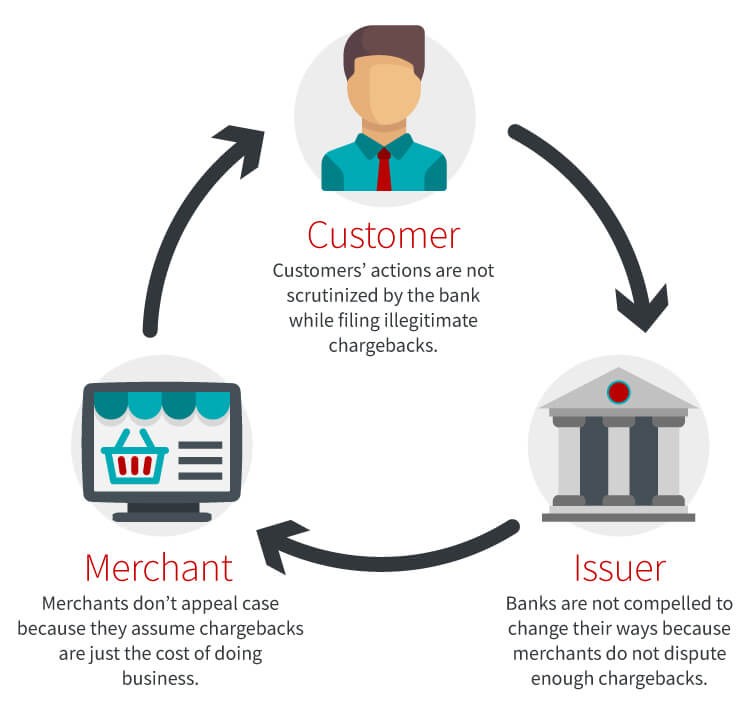 Disputing chargebacks also sends a powerful message to banks. On average, issuers are less likely to rubber-stamp chargebacks filed against merchants who consistently dispute them. They'll be incentivized to engage in more due diligence, making the system fairer for everyone. This would bring long-term change for card-not-present merchants and benefit other parties, too. For example, if banks accepted fewer chargebacks:
Processors would need to manage less risk
Merchants would have fewer costs
Consumers would react differently to buyer's remorse
Less overall chargeback fraud would be committed
Unless merchants come together and fight the unjust system, things will continue on their current path...and merchants will continue to be victims.
Fight for Your Rights!
If you're one of the merchants who assumes chargebacks are just a part of life, it is time to stand up for your merchant chargeback rights. Fight back!
Chargebacks911® fights chargebacks on your behalf, offering the industry's only performance-based ROI guarantee. Contact us today to see how you could recoup more profits and send a valuable message to the credit card industry at the same time.
---