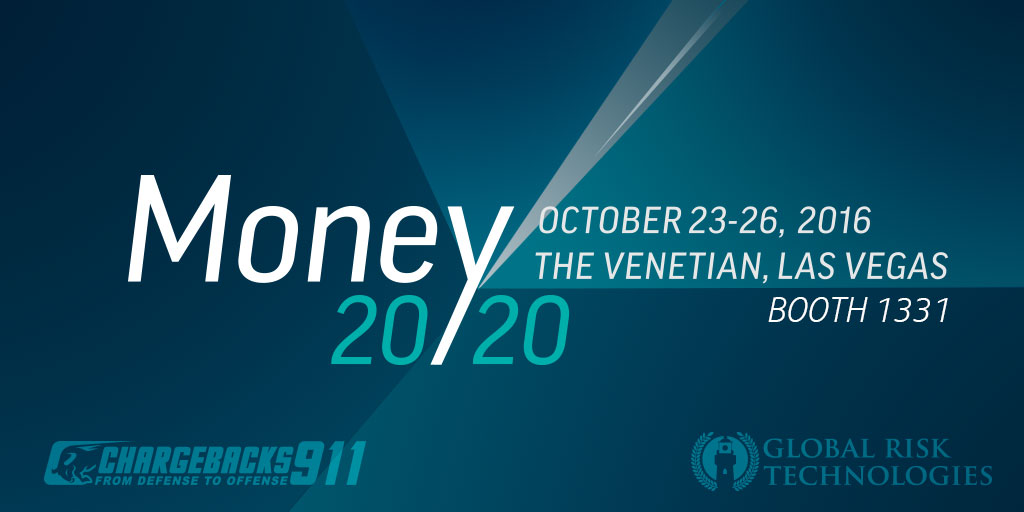 Chargebacks911® and its parent company, Global Risk Technologies™™, return to The Venetian Hotel & Casino this fall for the Money 20/20 Las Vegas event.
Billed as "the world's largest payments and financial services innovation event," Money 20/20 Las Vegas is expected to attract more than 11,000 attendees. Representing more than 3,000 different companies from 75 different countries, Money 20/20 Las Vegas draws many of the payments and ecommerce environments' biggest names over the four-day event.
In addition to networking opportunities, seminars, exhibitions and demonstrations, the event is set to feature more than 500 speakers, covering every aspect of the industry.
Chargebacks911® will be exhibiting at booth #1331, showcasing our range of different chargeback and fraud prevention solutions. If you're interested in meeting with one of our representatives, or have more general questions, contact meetus@chargebacks911.com to speak with us today.
As a major event, Money 20/20 Las Vegas helps define the shape of the payments and ecommerce industries for the next year. We hope to see you there!
Learn more here.
Money 20/20 Las Vegas
October 23-26, 2016
The Venetian Hotel & Casino
Las Vegas, Nevada
Booth #1331
Event Recap
The organizers of this event series never fail to deliver a quality product. As anticipated, Money 20/20 Las Vegas was a fantastic experience.
Our chargeback experts had the chance to meet and connect with hundreds of individuals representing some of the world's top names in payments and finance. Each Money 20/20 event is a terrific opportunity to not only expand our brand, but also share insights and information directly from the front line in the battle against chargebacks and fraud.
If we didn't get the chance to speak with you at Money 20/20, be sure to catch us at one of our other upcoming events, including next summer at Money 20/20 Europe.