Chargebacks911® COO Named Executive of the Year and Innovator of the Year
Chargebacks911 is pleased to announce our COO and co-founder, Monica Eaton, as the winner of the 2016 Innovator of the Year Stevie® Award for Women in Business. She was also recognized with the silver award in the Female Executive of the Year category.
These honors further underscore Monica's outstanding business acumen and commitment to cutting-edge product development.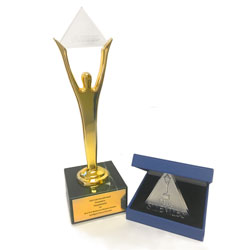 About the Stevie Awards for Women in Business
The Stevie Awards for Women in Business are an internationally-renowned business award for female executives and the organizations they run. Now in its 13th year, this recognition helps distinguish the best of the best all around the world.
Recognizing Excellence and Innovation
The judges praised Monica's commitment, passion and drive to improve the eCommerce environment for businesses of all industries:
Of course, Monica was just one of several talented, innovative women business leaders honored this year. Tania Hummel, a judge for the 2015 Women in Business Awards, reflected on the awe-inspiring level of quality from each of the nominations, commenting that "...Some submissions were about women who had scaled the heights of corporate giants, landing in senior roles where the competition and pressure to succeed could scarcely be imagined." Hummel noted that other women "rose from complete obscurity, with no advantages at all," yet found success through sheer grit and determination.
When analyzing the nominations, Hummel pointed out that "the pressure to succeed, the perfectionist standards, and the constant striving made clear that success was, without a doubt, hard won." Entries also illustrated "the long hours, moments of doubt and despair, and sheer commitment and sacrifice needed to build a business from scratch."
As such, it is an absolute honor for Monica Eaton to be considered alongside these great achievers, thought leaders, and industry innovators. Some of Monica's fellow award winners include representatives of young and passion-driven startups, as well as widely-recognizable brands such as AT&T, T-Mobile, Philips, Wells Fargo and Thomson Reuters.
Accolades for Eaton
Judges had nothing but flattering and complimentary remarks.

Terrific blend of driving growth, strategy, and giving back."
An advocate for professionalism & what's right. A proactive, innovative leader, making a difference & delivering results."
Monica Eaton is a proven innovator, not only for her profitable, award-winning company, but also for her philanthropic endeavors. Her guarantee of ROI provides a trust factor which alone would win her more customers. Being an innovator who provides trust in the business sector and trust in the community sector is a win-win individual."
A dynamic, innovative approach to a significant financial issue. I love that this product can help smaller businesses protect themselves also."
Monica exemplifies the modern, successful businesswoman."
We would like to thank the judges for their time and consideration, and congratulate Monica Eaton on a job well-done.