Chargeback Reason Code 41: Cancelled Recurring Transaction
Each of the major credit card companies have their own set of chargeback reason codes. These reason codes — like Visa chargeback reason code 41 — are used to explain the cardholder's grievance and help the merchant understand what led to the chargeback.
To effectively manage chargebacks, you must be aware of what causes each of these disputes.
In this post we will focus exclusively on Visa chargeback reason code 41.
What is Reason Code 41?
In shorthand, Visa chargeback reason code 41 is simply identified as "canceled recurring transaction," though there can be other causes for the code to be used.
Visa uses reason code 41 when a cardholder files a chargeback against unauthorized recurring transactions, citing that the merchant:
Charged the cardholder more than the cardholder initially authorized.
Did not follow an agreement to alert the cardholder before processing a recurring transaction.
Continues to bill the cardholder for a recurring transaction even after the cardholder requested to discontinue services with the merchant.
Typically, reason code 41 arises out of miscommunication between the merchant and the customer regarding a recurring transaction. Other causes for this type of chargeback include friendly fraud.
---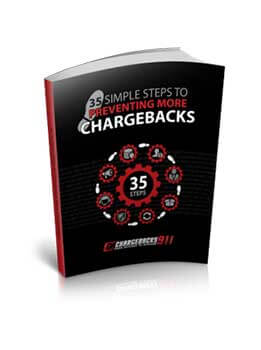 35 Simple Steps to Preventing More Chargebacks
Download our FREE guide that outlines 35 step-by-step effective chargeback prevention techniques. Learn insider secrets that will reduce your risk of chargebacks, increase your profits and ensure your business's longevity.
---
Dos and Don'ts of Disputing Reason Code 41
As in other cases, there are situations in which merchants have no recourse but to accept the chargeback.
It is best to keep a paper trail and maintain an open line of communication between the merchant, customer, and merchant's acquiring bank so as to prevent Visa chargeback reason code 41 from being filed in the first place.
If you do experience a canceled recurring transaction chargeback, there are certain things to consider before filing a dispute.
Merchants should accept chargebacks without dispute in the following situations:
If a customer canceled a transaction but was still charged for it (and a refund was not issued in a timely fashion), the cardholder has the right to file a chargeback. Merchants should accept this chargeback but refrain from issuing a credit because the chargeback has already performed this function.
Unfortunately, some unscrupulous cardholders will game the system and file a chargeback against a recurring transaction that was never canceled in the first place (an example of friendly fraud). The burden of proof of cancellation falls entirely on the merchant. If the merchant doesn't have sufficient evidence to refute the chargeback, it's best just to accept it.
A chargeback can be issued if the recurring transaction charge was more than the pre-authorized amount and the merchant did not inform the customer at least ten days in advance of processing the payment. If the merchant did inform the customer of the change, then that notification may be used as evidence to dispute a chargeback. However, if no notification was given, then the merchant should accept the chargeback.
Creating a paper trail is one of the best ways to dispute a chargeback should the need arise. This means that in certain situations, merchants should contact their acquiring bank to inform the bank about changes regarding a customer's account. Merchants should send a notice to their acquirers when:
The merchant issues a credit for a canceled recurring transaction that was charged.
The cardholder renews a recurring transaction agreement.
The cardholder cancels a transaction but still uses the services. In this case, merchants should notify their acquiring bank that the customer used the services in dispute between the date of the last billing statement and the date that the cancellation request was processed.
Preventing Reason Code 41
In addition to maintaining open communication and creating a paper trail that pertains to all recurring transactions, there are other steps which merchants can take to prevent a reason code 41 chargeback from being filed against them.
Consider using built-in card security features such as card security codes for each recurring transaction. By requiring that customers provide the card security code prior to processing their transaction, merchants ensure that they have the cardholder's consent.
Enroll in account updater services. When customers get a new card, they typically forget to update account information for recurring transactions. However, if the merchant uses an account updater service, this information is automatically entered into the merchant's system so that transactions can continue to be processed uninterrupted.
Automatically flag transactions that are greater amounts than previous recurring transactions. Merchants should alert customers to the change at least ten days before the transaction is billed. If the transaction is disputed after the charge is processed, merchants can use the notification as evidence to dispute a chargeback.
Process credits in a timely manner. If a customer legitimately cancels a transaction but the request is received too late to prevent processing the charge, merchants should issue a credit back to the cardholder's account as soon as possible. As soon as the error is noted, the merchant should inform the cardholder of the impending credit so that the cardholder does not prematurely file a chargeback.
It may seem tedious to attend to each and every chargeback reason code available, but managing individual disputes can make the difference between your business's success and failure.
These tips will help manage Visa chargeback reason code 41. Stay tuned for articles outlining management suggestions for other common reason codes.
If you'd like help preventing and disputing reason code 41 chargebacks, let us know. Chargebacks911® provides a free, no-obligation chargeback and ROI analysis.