Travel is Poised to Bounce Back From COVID Crisis, but Other Challenges Lie Ahead
No one reading this should be shocked to hear that COVID-19 had a significant negative impact on the travel market.
Travel bookings are down across the board. Flights are still being canceled as the situation develops around the globe on a day-to-day basis, while hotels sit empty and popular tourist destinations like theme parks remain closed. Even as the phased re-opening gets underway, capacity limitations and other concerns mean reduced demand for travel, at least in the short-term.
The drop-off in travel doesn't only affect airlines and lodging, though. Many of the retail product categories that have lost significant traction as a direct result of COVID-19 are directly connected to the travel industry as well.
Top 10 fastest-declining product categories in terms of sales between March 2019 and March 2020: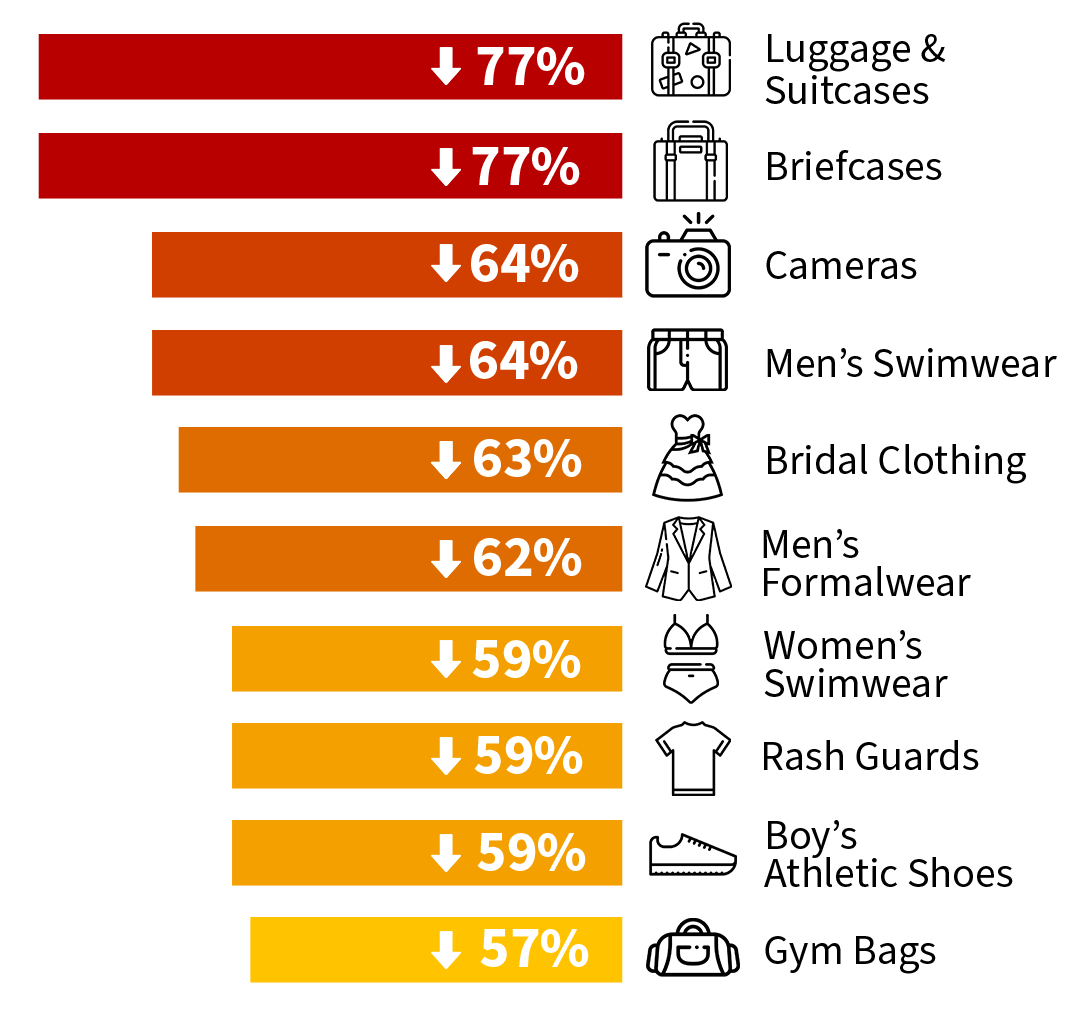 Don't Lose Another Dime to Chargebacks.
The travel industry will recover, but chargebacks are more of a problem than ever. Find out what's at stake, and how much you can save today.
Are Travel & Entertainment on the Rebound?
Products and services that are central to the travel and entertainment market obviously took a big hit from COVID-19. It makes sense: after all, if most popular vacation destinations are shut down, then there's little incentive to spend money on new luggage. Similarly, there's little need for swimwear or other watersports equipment if the beaches and pools are closed.
There's also the fact that many consumers were (and still are) subject to quarantine orders. And, even for those who weren't quarantined, there was little appetite among consumers to subject themselves to the crowds or unfamiliar conditions that go hand-in-hand with travel. But, even despite these challenges, the prognosis for recovery is better than you might have expected.
Fewer than 3 percent of respondents to a recent survey conducted by independent travel publisher Matador Network had entirely ruled out flying in 2020. And, nearly three-quarters of respondents said they would "definitely" or "likely" get on a plane again this year.
89% of respondents say they plan to travel within 6 months or less (once it is deemed safe to do so), with nearly one-fifth of consumers say they will travel "immediately." Furthermore, 71% of survey respondents plan to travel just as much—or more—than they did pre-pandemic.
Granted, the body of consumers surveyed was a travel-centric audience. However, the feedback bodes well for the recovery of merchants reliant on the travel industry.
As the economy continues to reopen, this is good news for the short- to mid-term prospects of travel companies and other merchants who rely on the travel industry. As many have pointed out, though, we're facing a "new normal." We must keep in mind that—while COVID-19 is temporary—we will see a number of long-term changes in the market.
Travel Merchants Face Ongoing Threats & Uncertainty
We're almost certain to see continuing fallout from COVID-19 for months to come … potentially much longer. This could be even more pronounced if (and when) a second wave of infections arises.
There's no guarantee that we'll go back into quarantine, but consumer demand for travel could crater if infections spike. Plus, if we do need to resort to further quarantine measures and travel restrictions, we could see another wave of businesses closing their doors permanently. This would lead to an almost-certain economic downturn, with wide-ranging consequences.
Even if conditions are not as bad as that worst-case scenario, we're still likely to see softness in the travel market for the rest of the year, and possibly longer. Many consumers with travel plans already booked are in "wait and see" mode; those who are reluctant to fly might decide to cancel travel plans as the date of their itinerary approaches. Even worse, some could opt to file a chargeback, believing it will be easier than trying to arrange for a refund.
eCommerce, Fraud & Chargebacks in the Age of COVID-19
What short- and long-term risks do you face as a result of this crisis? How can you protect your business and prevent loss? Download our free report today.
Free Download
The Airlines Reporting Corporation (ARC) recently announced they will not take action on any debit memos that:
Involve a flight canceled by an airline or government entity as a result of COVID-19
Are related to a passenger compensation dispute resulting from COVID-19
The organization will not hold travel agencies liable, as they would under normal circumstances. That said, airlines may still issue and independently enforce all types of agency debit memos. While ARC has also suspended any regularly-mandated chargeback fees, their decisions can still only impact chargeback filings under their direct control; other travel-related chargebacks will not be impacted.
As we discussed in a recent blog post, card networks like Visa and Mastercard are taking some steps to mitigate the effects of chargebacks on travel and entertainment businesses. The efficacy of those policies depends on how circumstances play out, though. Even these changes won't be enough to defend against a potential surge in chargeback filings.
Communication is Key
We can't predict the future…but we can plan and prepare for it.
Embracing chargeback prevention best practices now will protect you against potential losses. Plus, you also set yourself up for long-term success once the lingering effects of COVID-19 finally pass.
It's important to optimize processes and practices to be responsive to the demands of the post-COVID market. This includes every aspect of the business: customer experience, recordkeeping, and everything in between. Perhaps the most important aspect to consider, though, is customer service and messaging.
You need to communicate any procedural changes to your customers immediately. Update the FAQ page of your site with a clearly-noted "COVID-19" section, outlining short- and long-term adjustments to company policies. Include any regulatory changes that could affect your customers' experiences. You should very clearly outline:
When customers are entitled to refunds and/or itinerary changes.
How to proceed with making changes or requesting refunds.
What to expect once one submits a request.
How long it will take to confirm any changes.
Clear, effective, and responsive communication with customers is the key to prevent COVID-related chargebacks. That said, some customers will still opt to file a dispute, assuming that it will be the easiest and fastest option to recover their funds.
For these cases, seeking third-party support is your best bet to defend against unnecessary disputes. Chargebacks911® is the industry leader in providing innovative, dynamic chargeback solutions for the travel industry. Want to learn more? Click below and speak to one of our industry experts today.