Return Item Chargeback: A Merchant or Consumer Complication?
Just when you think you have a fairly solid understanding of chargeback issues, a term pops up and brings a whole new batch of confusion. For example, what exactly is a return item chargeback?
If you assumed it was yet another way for customers and card issuers to steal your revenue, you're wrong—and that's a good thing!
A Return Item Chargeback Isn't What You Thought it Was
Even though the use of the word "chargeback" in the phrase makes it seem like the transaction disputes you are acquainted with, it is actually a fee assessed to consumers.
---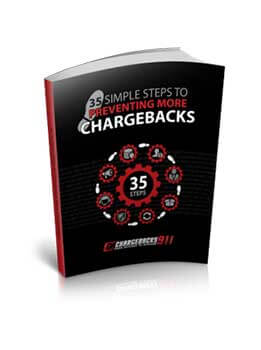 35 Simple Steps to Preventing More Chargebacks
Download our FREE guide that outlines 35 step-by-step effective chargeback prevention techniques. Learn insider secrets that will reduce your risk of chargebacks, increase your profits and ensure your business's longevity.
---
Traditionally, "chargeback" refers to the bank-instigated refund process where a merchant's bank is debited for a credit card transaction being disputed by the cardholder. In this instance, however, return item chargeback is a fee that Bank of America passes on to its checking account holders.
Bank of America's Personal Account Fee Schedule, which went into effect August, 2015, defines it as:
Returned Item Chargeback:  We charge this fee each time a check or other item that we either cashed for you or accepted for deposit to your account is returned to us unpaid.
This fee ($12 for each domestic item, $15 for each foreign item) is also referred to as a deposited item returned or cashed item returned fee.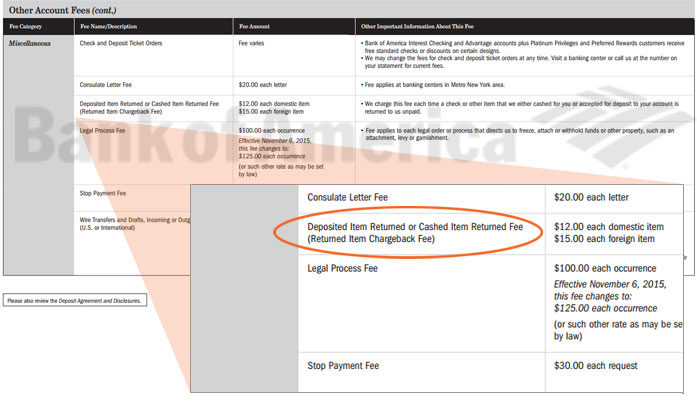 Unfortunately, Bank of America is simply adding confusion to the topic of chargebacks with their ill-advised use of the term.
Clarifying the Confusion
In summary, chargebacks are debits made on the merchant's account and can also include additional fees. Chargebacks can be the result of criminal fraud, friendly fraud, or merchant error.
Return item chargebacks are debits to a consumer's checking account and have no bearing on a merchant's profitability.
Chargebacks911® specializes in helping merchants manage chargebacks that result from credit card transaction disputes. If you're looking for information on how to prevent chargebacks and dispute friendly fraud, contact us today. We offer proprietary prevention strategies, the highest win rate in the industry, and a guaranteed ROI.
Not only does Chargebacks911 want to help merchants create a sustainable chargeback management strategy, we also want to simplify the stress of confusing industry jargon. Return item chargebacks are just one of the difficult-to-understand terms that merchants and consumers must deal with.