Is Accepting PayPal Payments an Option for Your Business?
PayPal is one of the most recognizable names in the payments industry. With more than 200 million active users around the globe and counting, PayPal has a built-in base of shoppers who trust the brand to handle their funds. As a result, more and more merchants are providing the option to checkout with this service.
Is adding PayPal Checkout to your website a viable option for your business?
The Pros of Using PayPal
It's important to remember that PayPal isn't necessarily at odds with traditional payment processors, and there is no need to view other services as "PayPal alternatives." Merchants can allow the option for customers to checkout in a traditional manner, or simply click the PayPal Checkout button—whichever they prefer.
That said, there are several advantages to accepting PayPal:
The Cons of Using PayPal
Of course, adding PayPal as a checkout option is not a perfect solution for eCommerce. The service does have some downsides:
Fees Add Up as Transaction Volume Grows
Just as issuers charge an interchange fee to accept payment cards, PayPal charges merchants a set fee for each transaction. PayPal's standard cost is 2.9% of the transaction total, plus a flat fee of $0.30 per transaction. If your business relies on generating a high volume of transactions, this can be problematic.
PayPal's service does not require a monthly fee, but this is only true of a basic payments account. PayPal's upgraded Pro level requires a $30 monthly fee.
| | Paypal | Traditional Processor |
| --- | --- | --- |
| Average Transaction Fee | 2.9% + $0.30 | 1.9% + $0.10 |
| Monthly Fee? | No* | Yes |
Additional Restrictions
Many of the conditions that apply to traditional banks and processors do not apply to PayPal. For example, PayPal can freeze your account at their own discretion if they suspect involvement in fraudulent activity. They may also impose limits on the amount available to withdraw from your PayPal account each month under certain circumstances.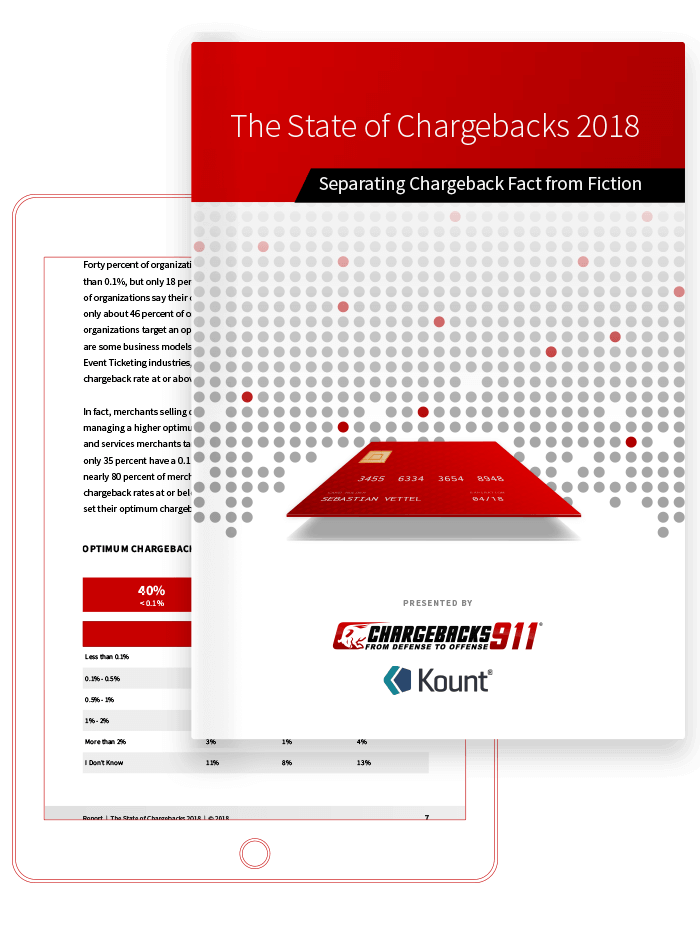 The State of Chargebacks 2018
Launched as a way of collecting and analyzing industry findings, the State of Chargebacks survey reflects the experiences of more than one thousand respondents in the card-not-present space. Download to learn the latest insights on fraud and chargeback management.
Free Download
What about PayPal Chargebacks?
Just as with any other processor, customers can have a PayPal transaction nullified by demanding a chargeback from their bank. However, PayPal chargebacks are distinct from other chargeback cases in several important ways.
Pre-Chargeback Process
Because PayPal is involved on both ends of a transaction, the company will mediate disputes when the customer and merchant cannot come to an agreement on their own. This process can last up to 20 days while PayPal facilitates communication between the two parties. However, if neither side can reach an agreement, the dispute may then be upgraded to a claim.
Learn how to reduce chargebacks and protect your business from fraud.
A claim is essentially PayPal's within-network analog to a chargeback. The process is similar in that once a claim is filed, PayPal will ask the merchant to provide certain evidence that the charge was valid, along with supporting documentation. PayPal will then examine the evidence and come to a final decision.
PayPal Chargebacks
A customer may still file a chargeback after the PayPal claim is resolved, or bypass PayPal altogether and go straight to their issuer for a chargeback. PayPal does offer in-house support for these incidents and can help prepare a case to fight the chargeback, but merchants will be responsible for a $20 fee for each instance.
The greatest advantage PayPal offers regarding chargebacks is their Seller Protection program. Under this arrangement, PayPal will insure their merchants' funds from qualifying sales that meet the following conditions:
The item in question does not violate PayPal's terms of service.
The item in question is a tangible good—not digital merchandise.
The merchant can provide proof of shipment.
The merchant can provide delivery confirmation.
AUGUST 2021 UPDATE: PayPal Chargeback Protection</ span>
As of August 2, 2021, PayPal now offers PayPayl Chargeback Protection on card transactions. This allows merchants to pay a higher interchange fee for card transactions processed through PayPal. In exchange, those transactions will be protected against chargebacks. Check out the main article on our blog for more information.
Doing What Makes Sense for the Business
The option to checkout through PayPal may attract more customers, reduce friction, and even offer some insulation against chargebacks. However, deciding whether this move makes sense for your business will ultimately depend on the unique factors and characteristics of your organization, your products, and your customer base.
Want more information about PayPal, PayPal alternatives, PayPal chargebacks and how they can affect your chargeback strategy? Contact Chargebacks911® to speak with one of our experts.
---