Verified by Visa Only Offers Partial Protection from Chargebacks
As fraudulent activity becomes more commonplace, credit card networks and merchants alike are seeking new ways to reduce the number of unauthorized transactions being processed. One tool that Visa uses to cut down on the volume of chargebacks and the fraudulent transactions that cause them is called Verified by Visa.
What is Verified by Visa?
Created with the intention of preventing fraud, Verified by Visa is an extra layer of protection that is applied to accounts that opt into the service.
Verified by Visa requires cardholders to provide personal information that will help verify their identity during the validation process.  Cardholders then provide a predetermined identification number during the checkout process with participating online merchants.
Automated Fraud Prevention Isn't Enough
Learn how Chargebacks911's exclusive process can deliver comprehensive chargeback mitigation with guaranteed ROI.
If the shopper cannot provide the additional information, the transaction will automatically be declined.
Online merchants can also opt into the Verified by Visa service. Merchants just need to talk to their bank to install the Verified by Visa plug-in and start using the service. Customers who see the Verified by Visa symbol on the site are more likely to have confidence in the security of the site.
---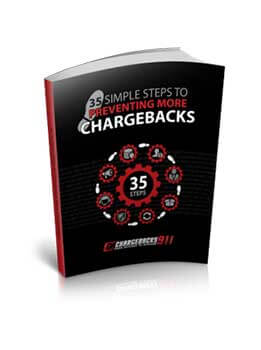 35 Simple Steps to Preventing More Chargebacks
Download our FREE guide that outlines 35 step-by-step effective chargeback prevention techniques. Learn insider secrets that will reduce your risk of chargebacks, increase your profits and ensure your business's longevity.
---
Verified by Visa Focuses on Fraud Prevention, Not Chargebacks
The goal of Verified by Visa is to prevent fraud, not combat chargebacks. While processing fewer fraudulent transactions is likely to reduce the number of chargebacks a merchant may face, the technology is by no means perfect. Some shortcomings of Verified by Visa in preventing chargebacks include:
Verified by Visa can only be used for online transactions. Brick-and-mortar merchants will have to find other ways to prevent fraud.
Cardholders have to opt into the service, meaning that many Visa cardholders will not participate in this service. Therefore, merchants could have limited protection.
Verified by Visa will, obviously, only help prevent chargebacks associated with Visa transactions. Merchants are still vulnerable to chargebacks from other credit card companies.
There are still some unauthorized transactions that could slip through the cracks. For example, Bob might know his mom's Verified by Visa password and use her card while shopping. But that doesn't mean that Mom gave Bob permission to use the card.
Verified by Visa can only help deter unauthorized transactions. Merchants are still susceptible to chargebacks associated with things like undelivered purchases.
Other Chargeback Prevention Options
While enrolling in Verified by Visa is a great start for any fraud prevention plan, online merchants are likely to feel a false sense of security while using the tool.
Verified by Visa is just one small part of fraud prevention. A complementary tool would be chargeback alerts. These alerts let merchants refund customers who have instigated a transaction dispute based on the claim of an unauthorized transaction. A chargeback alert would help in situations where Verified by Visa dropped the ball. Chargebacks911® offers the industry's best alter system; let us know if you'd like more information about this service.
Not only is Verified by Visa one small part of fraud prevention, fraud prevention is one small part of chargeback management! Efficient chargeback prevention programs require a multi-tiered approach to combating the most common causes of chargebacks.
It is wise for merchants to use all the chargeback prevention tools available to them, but don't expect technology to fix problems created by humans.