Using Delivery Confirmation to Prevent and Dispute Chargebacks
There are various tools and services merchants can use to manage chargebacks. Delivery confirmation is a commonly debated prevention and representment strategy. Is it a good idea or not?
Various Merchandise Delivery Services
When it comes to ensuring the delivery of goods, merchants have a couple options. These options vary in price and the effect they have on chargeback management.
   Delivery Confirmation
Delivery confirmation is a basic protection. This value-added service simply ensures the merchandise was delivered successfully. It doesn't prohibit the package from being re-routed or explicitly guarantee that the package was handed off to the actual cardholder.
Advertising that merchandise is shipped with delivery confirmation might help deter acts of friendly fraud. It can, in some situations, provide compelling evidence for representment.
 Delivery Tracking
Delivery tracking is a more comprehensive service. Not only do merchants receive assurance that packages were delivered successfully, they can also track the progress of the delivery. This helps the merchant identify potential problems before they become major liabilities.
Learn why only Chargebacks911's exclusive Intelligent Source Detection™ can identify the real source of every chargeback.
Delivery tracking also helps with chargeback representment. It could help the merchant dispute the cardholder's claim.
If customers are likewise able to track the package, they'll know exactly where the item is and when it will arrive. Many chargebacks are filed because the consumer simply didn't have enough patience and assumed they'd been victimized by a fraudulent merchant.
If consumers can track their package, they'll know it is in transit.
  Signature Confirmation
There are also different signature confirmation options available to merchants. For example, UPS offers Signature Confirmation and Adult Signature Confirmation (recipients must be over the age of 21).
If the cardholder signs for the package, friendly fraud cases filed as "unauthorized transaction" can easily be disputed. Friendly fraudsters might also think twice before filing the initial claim because they realize the merchant has evidence against them.
   Direct Delivery Only
With direct delivery only, packages cannot be re-routed, re-directed, or delivered to an alternate address without the sender's permission. This helps prevent criminals from re-routing packages and helps ensure the merchandise is delivered to the cardholder.
---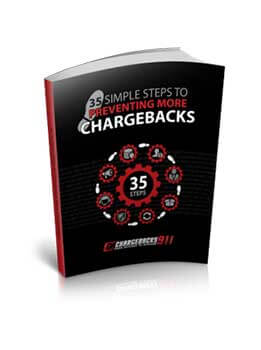 35 Simple Steps to Preventing More Chargebacks
Download our FREE guide that outlines 35 step-by-step effective chargeback prevention techniques. Learn insider secrets that will reduce your risk of chargebacks, increase your profits and ensure your business's longevity.
---
Chargebacks Associated With the Delivery of Merchandise
The transportation of merchandise can create chargeback situations as well.
Cardholders can file a chargeback if the merchandise is damaged during delivery. Cardholders can also dispute a transaction if they returned merchandise but the merchant didn't provide a refund; this could happen if the goods weren't successfully delivered to the merchant.
However, there is only one chargeback that could potentially be impacted by delivery confirmation.
Visa
MasterCard
Title
Causes
30
4855
Merchandise not received

Merchandise was not received or not received by the agreed upon delivery date.

The merchant failed to send the products.

The merchant billed the cardholder before sending the products.

The merchant didn't send the items by the agreed up delivery date.

The merchant didn't make products available for pickup.

The consumer engaged in friendly fraud.
There are other situations where delivery confirmation could potentially help prove a merchant's cases, but they aren't very common. For example, a friendly fraudster could dispute a transaction, claiming it was unauthorized. Delivery confirmation with the cardholder's signature would prove otherwise.
Limitations of Delivery Confirmation as a Chargeback Management Tool
Unfortunately, there aren't any tools available on the market today that are 100% successful at preventing or disputing chargebacks.
In many cases, delivery confirmation can help keep chargeback rates in check and recover lost revenue. However, there are just as many situations where the protection mechanism can break down.
Chargeback representments are handled by humans, not computers. Therefore, the process is subjective. Case Manager X at Issuing Bank Y might consider the delivery confirmation receipt sufficient evident to validate the original transaction, but Case Manager B at Issuing Bank C might not. Opinions can even vary within a single issuing bank's chargeback department.
Carrier personnel are humans too, and therefore, capable of making mistakes. They might not follow the delivery instructions or make certain allowances.
Even if delivery confirmation standards were followed to a T, chargebacks can still happen. Criminals can forge cardholders' signatures or pick up boxes left in public places. Friendly fraudsters can deny the authority of a family member to make a purchase, even if it was successfully delivered to the person who placed the order.
Most significantly, delivery confirmation plays an influential role in preventing and disputing just one reason code. There are still lots of other reason codes to worry about!
Delivery Confirmation for Digital Goods
Merchandise not delivered or services not provided chargebacks are far more common for merchants who sell digital goods.
Since these merchants aren't using a carrier service, proof of delivery is quite different.
Again, the subjectivity of issuers' interpretations of network regulations often leads to frustration. For example, Visa's representment requirements for reason code 30 is:
Documentation to prove that the Cardholder or an authorized person received the merchandise or services at the agreed location or by the agreed date.
This vague requirement is both helpful and hurtful. Merchants have some options when accumulating delivery confirmation proof. Whether or not that proof will be compelling enough is another matter.
The following chargeback management options are available for delivery confirmation of digital goods:
Put an activation key in the cloud. If the consumer accesses the key, delivery was successful.
Inform customers that the product has a built-in kill switch. If a chargeback is filed, the service or access to the product will be terminated.
Use an electronic signature page to indicate the customer has read and agrees to the policies.
Send a code via text message to verify the account information.
Maintain accurate records regarding IP addresses and other personal information.
Creating Friction with Customers
There are many complications of chargeback management. Usually, one of the biggest obstacles is that fraud protection increases friction with customers.
Many customers think delivery confirmation is off-putting and a hassle. They might be expecting to find a package on their doorstep after work and instead, find a receipt stating the cardholder must be home to accept delivery. Or worse, the cardholder has to go somewhere to pick up the package.
Ultimately, the question is: does the merchant want to mitigate loss associated with chargebacks or encourage loyal, happy customers who are eager to shop with the business again and again? Merchants can't always have both.
Thinking About the Big Picture
Delivery confirmation can help prevent and dispute chargebacks. It is especially helpful for big-ticket purchases. However, chargeback management can't be implemented piecemeal. Merchants must analyze their overall goals and objectives.
Chargebacks911® would be happy to help you create a comprehensive chargeback management solution. Contact us today to get the ball rolling with a free chargeback analysis.