Understanding the Mechanics of Internet Processing and eCommerce Transactions
Merchants interested in establishing an online store must understand the mechanics of internet processing for credit card transactions. The unique characteristics and risks must be carefully considered.
Internet Processing Mechanics
Internet processing of credit card payments involves different elements than traditional card-present transactions.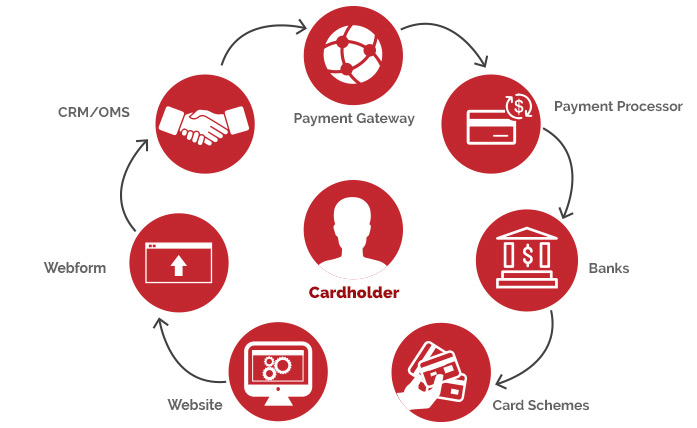 A brief overview:
The cardholder turns to the internet to make a purchase and navigates to the website they wish to shop at.
Once cardholders have made their selection, they fill out a webform with specific information including their name, billing information, shipping details and payment necessities.
The webform is tied into the store's customer relationship management (CRM) or order management system (OMS). These management systems work together to maintain store inventory levels, notify shipping departments of impending orders and allow merchants to collect contact information on customers.
Chargebacks911 can help you navigate the confusing world of chargebacks and guarantee your ROI. Ask us how.
After cardholders input their credit card information into a webform, it is passed off to a payment gateway. The payment gateway is a software that acts as a bridge between the merchant and the banks, communicating essential transaction information.
The payment processor is a company connected to the acquiring bank and merchant account. The payment processor does all the heavy lifting of transaction processing, including authorizing payments, verifying available funds, detecting potential fraud and much more.
There are two banks involved in every credit card payment: the issuing bank and the acquiring bank. The issuing bank is the bank that issued the cardholder's credit card on behalf of Visa or MasterCard. The acquiring bank processes transactions on the merchant's behalf and provides the merchant account.
Each card network has its own set of regulations and policies that dictate the specifics of how payments are processed, how chargebacks are handled, and the rights and responsibilities of merchants and cardholders.
Understanding How Transactions are Processed Online
Once cardholders complete their orders online, the payment process begins. There are four stages of transaction processing.
Authorizing
Through the payment processor, the merchant receives authorization for the sale. This ensures the card hasn't be reported as stolen and that the cardholder has sufficient funds for the transaction. Authorization is completed in seconds. Once the transaction is authorized, the sale can proceed.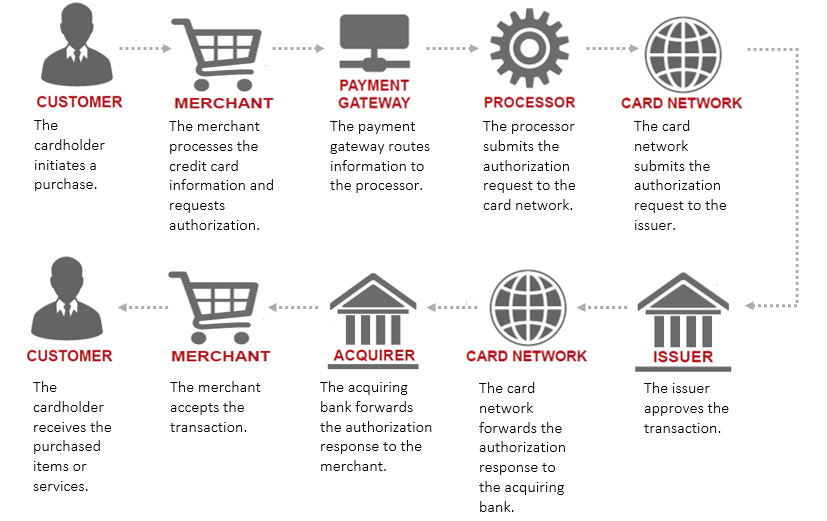 Batching
Merchants store authorized sales, typically processing a batch at the end of the day.

Clearing
When a batch is processed, transactions are sent by the acquiring bank to the card networks for processing. The card networks forward transaction details to the issuing banks, which charge the cardholders' accounts and then transmit payment back to the acquiring bank.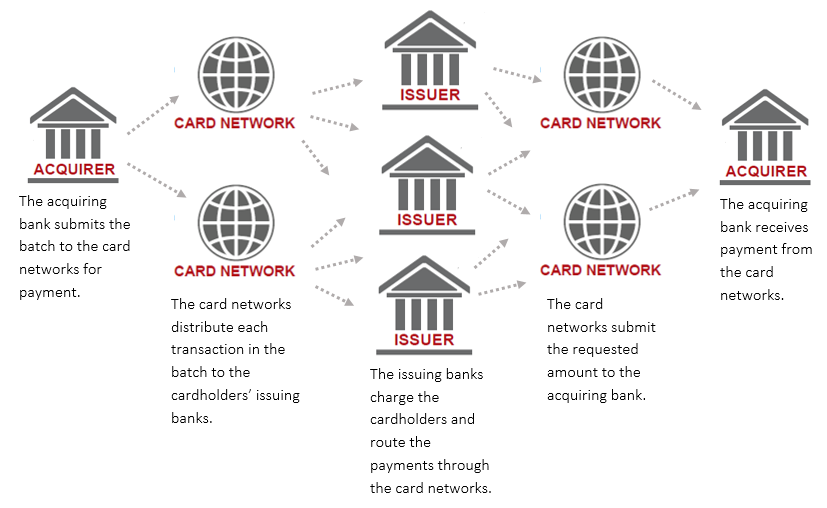 Funding
The acquiring bank deposits funds from the batch into the merchant's account, less any applicable fees. Once the funds are deposited, they are available for the merchant's use.
The Risks of Internet Processing
For merchants, the biggest risk factor of internet processing is fraud.
 Recognizing a Greater Danger
Card-not-present merchants have always been at a greater disadvantage when it comes to fraud detection and prevention.
Without the benefit of personal interactions with consumers, merchants must establish a cardholder's identity and the validity of a sale through less reliable sources. Fraud detection tools are unable to keep pace with criminals' rapidly evolving techniques.
Studies show multi-channel merchants estimate it is seven times more difficult to prevent card-not-present fraud than in-person attempts.
Unfortunately, the risk for CNP merchants is only going to get worse. With the adoption of the new EMV standards, online merchants face an even greater threat of fraud.
The new chip cards make it more difficult for criminals to commit credit card fraud with traditional brick-and-mortar merchants. This has forced fraudsters to seek new opportunities for their criminal behavior. Unfortunately, the path of least resistance leads them to the card-not-present merchant.
Statistics have shown that countries that have already implemented the EMV standards experienced unprecedented growth in CNP fraud. Merchants must brace themselves for the onslaught of fraudsters looking for new sources of revenue.
 Managing Both Types of Fraud
There are two main sources of fraud: criminal fraud and friendly fraud.
Criminal fraud occurs when someone other than the cardholder makes an unauthorized purchase. When the cardholder discovers the unauthorized transaction, a chargeback is commonly requested. Most banks have established a zero liability chargeback policy, providing cardholders with the assurance that they will not suffer financial loss as the result of a criminal's behavior.
Friendly fraud occurs when a cardholder authorized a purchase and then initiates a chargeback with the bank to reverse the transaction. There are multiple reasons why a chargeback may be issued, few of which actually coincide with the reason code assigned to the chargeback. Studies have shown that many cardholders simply use the chargeback system as a method of forcing a return to save themselves the inconvenience of dealing with the merchant.
eCommerce, Fraud & Chargebacks in the Age of COVID-19
What short- and long-term risks do you face as a result of this crisis? How can you protect your business and prevent loss? Download our free report today.
Free Download
The end result of both types of fraud is a chargeback to the merchant account. Chargebacks lead to the loss of revenue for merchants and can result in the forfeiture of merchant account privileges.
Unfortunately for the merchant, it is often difficult to distinguish between chargebacks due to legitimate criminal fraud and the chargebacks caused by friendly fraud. As a result, merchants struggle to implement the correct solution to prevent chargebacks from occurring in the future.
It is tempting to think that one fraud prevention technique will work for all fraud. In reality, fraud management is an intricate task that often requires professional assistance.
At Chargebacks911®, we use a proprietary tool called Intelligent Source Detection™ to help merchants identify the true source of fraud. Merchants are able to distinguish between legitimate fraud claims and friendly fraud attempts.
By identifying the correct chargeback trigger, merchants can create more effective prevention strategies. They are also able to dispute more chargebacks because friendly fraud is exposed, thereby recovering revenue that would otherwise be lost.
 Suffering an Increased Risk of Error
With so many pieces involved in internet processing, it is easy to make mistakes. Merchants must be careful to observe business best practices, while ensuring that they comply with card network requirements.
There are hundreds of potential errors that could be causing unnecessary revenue loss and chargebacks for card-not-present merchants. Identifying oversight could be a full-time job! Also, merchants commonly lack the objectiveness necessary to pinpoint their own faults.
Chargebacks911® created a Merchant Compliance Review to evaluate practices and policies, identifying potential sources of revenue drain. First, we conduct a 106-point inspection. Then, we create an actionable plan to reduce error and virtually eliminate all resulting chargebacks.
Merchants who experience heightened errors because of internet processing should contact Chargebacks911® to learn more about Merchant Compliance Review.
The Challenges of Internet Processing
In addition to monitoring fraudulent activity, there are additional challenges to internet processing that must be dealt with.
 Securing a Merchant Account
Securing a merchant account can be a challenge for any merchant, but it is especially challenging for online merchants. Higher risk levels for CNP merchants make them a liability that most banks aren't willing to accept.
Merchants are considered high risk based on a number of factors including the products sold, the countries sold to, the processing methods used, and the average amount of sales. Additional reasons for being classified as high risk may be a lack of credit (or bad credit), subscription based businesses, or being a new business. Unfortunately, most online merchants are considered high risk.
Merchants labeled high risk face higher processing fees, excessive set-up fees and more expensive chargebacks. Some merchants may also be assessed a reserve account, requiring them to have 'on reserve' a set amount of cash to offset the bank's liability. This reserve amount is often held for an extended amount of time and is unavailable for the merchant's use, causing cash flow issues.
 Maintaining PCI Compliance
To ensure that cardholder information is safe, global card networks joined forces to establish a set of standards dictating how information is to be used and stored. All merchants must comply with these PCI-DSS standards.
The compliance process is complex and time consuming, involving regular assessments and audits. Requirements become more stringent as the volume of transactions increases, forcing merchants to be vigilant regarding the state of their compliance.
As their compliance level increases, the expenses of maintaining that compliance increases as well, making this another expense merchants must deal with.
 Optimizing Conversions While Preventing Fraud
Customers are fickle. While merchants would like to think that they have developed a relationship that is based on loyalty, the reality is that at the slightest inconvenience, customers will go elsewhere to meet their needs.
This is especially true in the card-not-present environment, where shopping somewhere else is as simple as opening a new webpage. Abandoned carts are a common internet processing revenue barrier and are often the result of over-complicated checkout procedures.
Customers wishing to make purchases easily and quickly will often balk at the merchant's fraud prevention techniques, despite the fact that the measures are in place protect both the merchant and the cardholder.
Front-end fraud detection techniques (like 3D Secure and card security codes) have varying levels of success, but all promise one thing: adding more steps to the checkout process increases the potential of an abandoned sale.
Finding the right balance of protection and customer satisfaction is difficult. Merchants can use back-end products such as fraud filters or chargeback alerts to lessen the impact on cardholders, but ultimately, each merchant must create a unique and customized solution.
Merchants who have found front-end fraud detection techniques are interfering with conversions might want to consider less intrusive solutions. For example, Chargebacks911® offers the broadest network of chargeback alerts on the market. Contact us today to learn more about this innovative revenue retention solution.
Need Help Navigating the Challenges?
Credit card processing is a complex part of doing business online. Merchants trying to run a business are already engaged in the daily aspects of business—purchasing products, hiring staff, handling the website, engaging with customers.
Adding the stress of internet processing management can overwhelm a merchant trying to do everything alone. Fortunately, Chargebacks911® can help.
Developed by merchants, for merchants, Chargebacks911® offers resources and services to deal with the murky world of internet processing, including chargebacks and representment.
We offer a guaranteed ROI, along with a comprehensive evaluation to determine just where your company most needs assistance. Ready to get back to the business of running your business? Contact us today to find out how we can help you retain profits and lessen your stress.