Evaluating the Risks and Rewards of Mobile Payments
Emerging technology can have either a dramatic or subtle effect on the business world. Consider alternative payment options, for example: some have caught on quickly while others go largely unaccepted.
Mobile payments—the latest alternative payment trend—is still relatively new. The world waits to see if the technology will thrive or struggle to survive.
The Latest Craze in Mobile Technology
Cardholders have become increasingly mobile. Cell phone technology has made it possible to handle virtually any banking need from almost anywhere in the world at any time of day. Cardholders can check their credit, manage card accounts, and make bank transfers right from their smart phones.
The adoption of mobile payments, however, has been slow to catch on.
Mobile payment processes have been around since 2008. It has only been in recent years, though, that technology has caught up with the process. Even though technology has advanced, consumer viewpoints have not.
According to a 2014 payment industry study, 41% of American consumers knew their phones could be used to make payments at retail establishments. However, at the time, only 16% of consumers took advantage of the convenience.
Things have changed drastically in the last three years with other research indicating that $47.6 billion was spent on tangible items via a mobile device. Leaving 39% of  US consumers admitting they'd use their mobile purchasing freedom more frequently if more retailers adopted the option.
Ultimately, cardholders have many options in mobile payment processors, but they can be sorted into two main categories.
Store-Based Apps
Cardholders enter their credit card information into a store-based app. Payment is made by scanning the cardholder's device at checkout and transferring the funds for payment to the merchant's account. An example of a store-based app is the popular mobile payment option at Starbucks.
Store-based applications are extremely popular as merchants vie for customers. Store apps generate customer loyalty, offer specials and coupons, as well as provide cardholders with convenience during the checkout process.
Near Field Communication
Near field communication (NFC) payment interfaces work when two pieces of hardware are placed near each other so they can communicate. The cardholder's device and the merchant's terminal use a secure framework and contactless interface to process payments. Some examples of NFC payment processes include Apple Pay and Google Wallet.
As a security measure, cardholder information is not stored on the device or in the payment interface. Instead, 'tokens' or transaction codes are used to process the purchase. This prevents hackers from gaining access to sensitive cardholder information.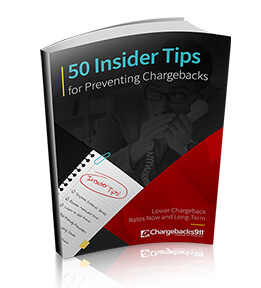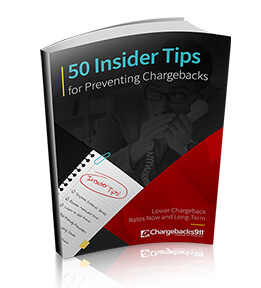 50 Insider Tips to Preventing More Chargebacks
Download our FREE guide that outlines 50 step-by-step effective chargeback prevention techniques. Learn insider secrets that will reduce your risk of chargebacks, increase your profits and ensure your business's longevity.
Free Download
Mobile Payments and Fraud
The challenges with mobile payments are many. Concerns about identity theft and fraudulent transactions are increased with every reported case of store security breaches.
While it is convenient for customers to make mobile payments, it is also convenient for criminals to commit fraud.
Fraud with Apps
For convenience, cardholders can tie the app to their bank account or credit card, so their store account never runs out of funds. Cardholders are rewarded with loyalty points for using the store's mobile payment system. Plus, payment is quick and easy; open the app at the POS, scan the virtual QR code, and the sale is complete.
Criminals have exploited this process for their own gain, however. Log-in security for these apps is weak, allowing hackers to break into cardholder accounts with ease. Customers with linked accounts are even more vulnerable, as the criminal can simply make multiple purchases, often loading new gift cards with funds from the hacked account.
Fraud with NFC
Are the NFC payment structures more secure than their app payment counterparts? Not really.
While the process of making a payment is more secure with NFC, the process relies on premises that can be easily dismantled.
Fraudsters who obtain illegal credit card numbers can simply add the number to their own NFC account and 'securely' pay using someone else's money. Additionally, bugs in the operating software create opportunity for hackers to steal credit card information during the initial account set-up. The hacked account can be linked to a fraudulent account for purchases.
Mobile Payments and Chargebacks
Merchants are struggling to find the balance between security and convenience for their customers. Mobile payments present various security concerns. Without the verification methods commonly used at the POS, mobile payment transactions become more risky.
In addition, as EMV credit card transactions become more secure, the likelihood that fraudsters will turn their attention to mobile payments greatly increases.
Because mobile payments technically facilitate card-not-present transactions, the increased risk is sometimes a new threat for merchants who previously only processed card-present transactions.
The primary threat fraud poses to a business comes in the form of chargebacks. When criminals gain access to stolen account information through mobile payment capabilities and conduct unauthorized transactions, the innocent cardholder is obviously entitled to the protection offered by a chargeback.
If merchants are questioning their liability and the role mobile payments play in chargebacks, the answer is simple.
Any time merchants process unauthorized transactions, they run the risk of receiving chargebacks. If mobile payments increase the odds of fraud and unauthorized purchases, they also increase the risk of chargebacks.
While friendly fraud attempts might not necessarily be helped by this new technology, the opportunities for criminal fraud is significant.
As this alternative payment technology continues to evolve, merchants must weigh the risk versus reward.
Want a Second Opinion?
Are you wondering if accepting mobile payments is a risk your business should take? Contact Chargebacks911® for a second opinion. We'll conduct a free, no-obligation chargeback analysis to help you better evaluate your current risk threshold.