How American Express Defines High Risk Merchants and Enforces Chargeback Programs
Like any other business, American Express is interested in managing risk and optimizing profitability. To that end, the financial institution must carefully monitor threats and make changes when necessary.
After careful evaluation, merchants are often labeled "high risk" and placed in one of the American Express chargeback programs. If the situation is dire, the financial institution reserves the right to terminate the merchant agreement.
Monitoring Merchants
American Express chargebacks are different from those issued by other card networks. There are also distinct American Express chargeback reason codes which are different from other networks' codes. It is necessary for merchants to understand the American Express chargeback process.
It's also important to recognize that American Express monitors all new network merchants. The financial institution may also monitor established merchants' behaviors and actions if issues arise later on.
Among the many characteristics that raise a red flag, disproportionate chargebacks is a cause for concern.
Need Help Complying with American Express Regulations?
As part of the monitoring program, American Express may require merchants to take certain corrective actions. Usually, that process includes a risk mitigation plan.
A risk mitigation plan details the merchant's strategy for reducing risk and managing chargebacks.
If you've reached the point where American Express is demanding corrective action, your business is in grave danger. American Express might allow you to implement your management strategy, or the financial institution could simply revoke your acceptance privileges.
Your mitigation plan could significantly impact the future of your business. As such, it isn't a task to be taken lightly.
Chargebacks911® can prepare a strategic, actionable risk mitigation plan that reduces chargebacks and helps you adhere to American Express guidelines. Our expertise and personal approach to routine procedures makes our efforts more successful than any other strategy. Let us help.
If American Express high risk merchants are unable to minimize the threat they pose to the financial institution, drastic action will be taken.
American Express may skip the inquiry process and proceed directly to immediate chargebacks.
The financial institution may reject charges.
Settlements could be withheld (be sure to check our blog article explaining a revenue hold).
Acceptance privileges can be terminated or suspended until the risk has been minimized.
The merchant account and agreement may be terminated (be sure to check our blog article explaining the repercussions of a terminated processing agreement).
American Express High Risk Merchants
American Express high risk merchants are those that pose the greatest threat to the financial institution.
All networks and acquirers evaluate risk differently. However, there are certain threats that seem to be universal to most financial institutions and networks. Characteristics that determine whether or not the merchant is considered high risk include:
Chargebacks are never good news. Our prevention and management solutions protect your reputation and your revenue.
The merchant's products or services
The advertising and sales methods
The transaction types
The average dollar amount for monthly sales and individual transactions
The customers' geographic location
In general, card networks, including American Express, evaluate the likelihood of chargebacks and fraud. High risk characteristics increase the odds of transaction disputes.
At best, the high risk merchant will be placed in one of the American Express chargeback programs. At worst, the processing agreement could be terminated.
American Express Chargeback Programs
Other card networks, like MasterCard and Visa, use complex formulas and predetermined criteria to identify excessive chargeback levels.
While American Express also outlines qualifying characteristics for the chargeback programs, the criteria is more obscure than the other major networks.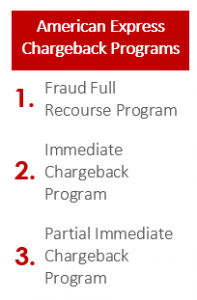 The reasons for which we may place you in one of our chargeback programs are not exhaustive. We may, at our sole discretion, place you in any of our chargeback programs at any time."
There are three American Express chargeback programs, and enrollment has varying ramifications.
Also, because American Express chooses to carefully guard their proprietary information, specific details regarding the financial institution's chargeback programs aren't public knowledge. Reasoning as to why a merchant might be placed in one of the chargeback programs can only be found in the complete version of the Merchant Regulations (only available to authorized merchants).
Take Action Before It's Too Late
American Express chargeback programs and the distinction of high risk serve as warning signs. Use this opportunity to evaluate policies and procedures to reduce the risk of chargebacks. Not only will effective chargeback management retain and recoup revenue, the practice will also ensure the longevity of your American Express processing agreement.
Chargebacks911® offers both end-to-end management and on-demand services. Whether you need us to manage your chargeback issues in their entirety or simply want occasional guidance, we can help. Contact us today.