Tampa Bay Business Journal Names Chargebacks911 One of the Bay Area's 200 Largest Private Companies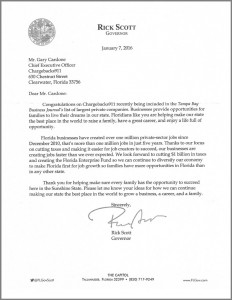 It's official—Florida Governor Rick Scott recognizes Chargebacks911 as one of the region's largest and most impactful privately-held companies.
At the end of each year, the Tampa Bay Business Journal compiles their list of the largest privately-held companies headquartered in the Tampa Bay area. According to the publication, the companies included on this list "are the backbone of the local economy, with a combined 2014 revenue of $59.3 billion."
The Journal's 2015 Chargebacks911 review revealed a company worthy of the Top 200 ranking. Chargebacks911 recorded phenomenal growth over the previous year, and shows no sign of slowing down. All of this suggests an even brighter future ahead for one of the region's most dynamic young ventures.
Other such recognizable names on the list include Amscot Financial, Beall's Inc., Cigar City Brewing and Hooters Management Corp. Inclusion on the Tampa Bay Business Journal's list serves as a ringing endorsement and a positive review of Chargebacks911's services and business model.
Official Honors
The honor was also formally acknowledged by none other than Florida Governor Rick Scott, who wrote a personal letter of congratulations to Chargebacks911 CEO Gary Cardone.
In his letter, Scott lauded the organization's achievement, explaining to Gary that "Floridians like you are helping to make our state the best place in the world to raise a family, have a great career, and enjoy a life full of opportunity."
Making an Impact
Founded just over six years ago, Chargebacks911 has grown to more than 350 global employees, many of whom are located at the company's corporate office in the Tampa Bay area.
The company expects to remain on the Top 200 list for quite some time – in the last three years alone, Chargebacks911 has grown by an impressive 679%. The organization now serves more than 2,500 merchants and 89% of all domestic transaction processors.
Besides impacting the financial landscape, the company also provides assistance to the community's youngest members. COO Monica Eaton-Cardone's philanthropic initiative, Get Paid for Grades, provides scholarship opportunities and valuable employment and life skills education for area high school students.
Read more about the Tampa Bay Business Journal's Chargebacks911 review, as well as the rest of the Top 200 Companies here.