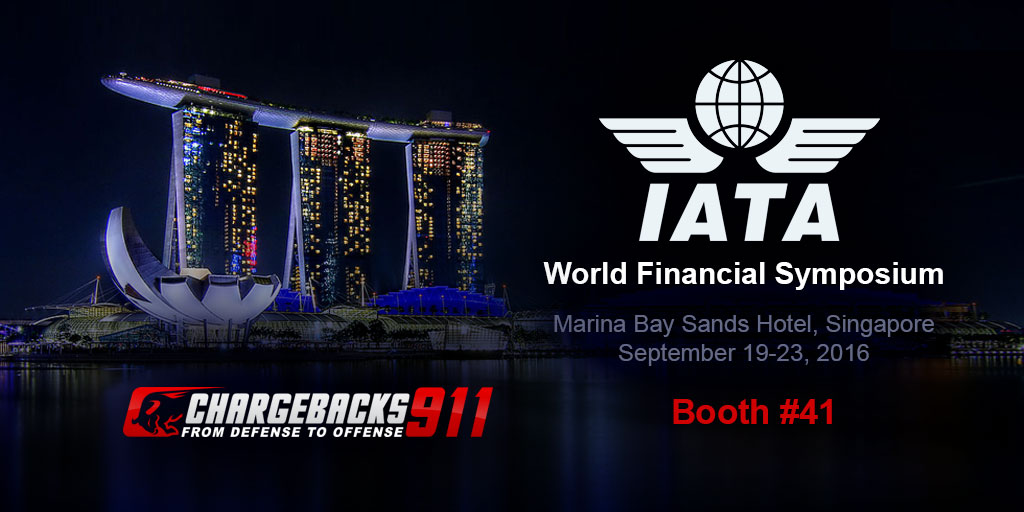 Is your bottom line taking a direct hit because of ineffective chargeback management strategies and friendly fraud? You need a new tactic that is just as dynamic as the threats you face—and we've got exactly what you need.
Executives from Chargebacks911®, a Global Risk Technologies™™ company, are ready to share their expertise at the IATA World Financial Symposium. You can't afford to miss this unique opportunity.
Event Overview
The IATA World Financial Symposium attracts nearly 800 executives and thought leaders from across the travel and airline industry. The event will feature five days of insightful discussion, networking and conferences on airline payments sustainability.
High-profile presenters include Alan Joyce (CEO, Qantas Airways), Richard Olsen (founder, Lykke) and Alexandre de Juniac (CEO, IATA). We're looking forward to hearing from these and other important industry influencers.
An Effective Solution at Last
The airline industry is one of the fastest-growing markets for eCommerce fraud, which threatens to strip companies of billions of dollars in revenue each year. Now, more than ever, it's vital for merchants to take action against fraud.
Chargebacks911® will be heavily involved in this event, helping to make it an influential learning experience in the fraud prevention and travel environments.
'Chargebacks, Debit Memos & Friendly Fraud' Workshop
Chargebacks911® will be hosting a workshop during the event, titled Chargebacks, Debit Memos & Friendly Fraud. The 90-minute event focuses on common misconceptions surrounding chargebacks, as well as revenue-saving strategies, tips and tricks unique to the travel industry.
Identify fraud prevention myths that steal revenue and increase merchants' liability
Learn practical risk mitigation strategies customized exclusively for the travel industry
Receive proven-effective insider tips to address the misaligned incentives and complex layers among industry members
The workshop is a breakfast event, running from 7:15-8:45am on the morning of September 22. In addition to some invaluable information, all attendees will receive a free continental breakfast.
Silver-Level Supporters of Fraud Innovation
Not only are we attending this year's event, but we are also one of the event's primary sponsors. Chargebacks911® is a Silver-Level supporter of the 2016 IATA World Financial Symposium, along with other high-profile brands including Citi, WorldPay and Maureva.
Supporting events such as these are important to us at Chargebacks911®. In order to challenge eCommerce fraud, we have to raise awareness throughout the industry of the true sources of fraud, and the IATA World Financial Symposium is an excellent place to do so.
Networking in the Exhibition Hall
We encourage you to meet with our team of Chargebacks911® experts at booth #41 in the exhibition hall.
If you would like to prearrange a sit-down with one of our team members, simply email us at meetus@chargebacks911.com. We hope to see you there!
Learn more about the event here.
IATA World Financial Symposium 2016
September 19-23, 2016
Marina Bay Sands Hotel
Singapore
Booth #41
Breakfast Workshop: Chargebacks, Debit Memos & Friendly Fraud
Monica Eaton-Cardone
7:15-8:45am
September 22, 2016
Event Recap
Our Chargebacks911® representatives had a wonderful experience at the third-annual IATA World Financial Symposium. We'd like to thank the organizers from IATA for putting together this fantastic event.
The response to Monica's Chargebacks, Debit Memos & Friendly Fraud panel was excellent, and all of the members of our organization were happy to address a number of the unique concerns facing travel industry merchants. This underserved market is in need of a relevant and proactive solution to counter chargebacks now—fortunately, Chargebacks911® is already well-prepared to tackle the problem.