APAC Region is Booming, but Rapid Growth Opens the Door for Fraud
We've seen exponential growth in the card-present and card-not-present markets across the globe in the last decade. However, year-over-year growth has been most dramatic in emerging markets, including many of those in the Asia-Pacific (APAC) region.
Take China, for instance: the Chinese payment card market saw annual growth around 50% between 2013 and 2017. And, as more payment cards find their way into consumers' hands, we see more opportunity for eCommerce merchants to expand into these arenas.
Rapid Expansion in APAC Markets
In our Global eCommerce Trends for 2017 and Beyond guide, we noted that the Asia-Pacific region would represent a projected 41.1% of global online retail by 2019. That projection proved to be fairly accurate. Looking forward, all indicators suggest that it will continue to grow.
We noted the incredible growth of the payment card market in China above. And, as the world's second-largest consumer economy, China occupies a central position in the APAC market. However, it's not the only space to watch: in fact, many of the most dynamic markets are situated to China's south.
Source: World Bank
In the six markets featured above, we see that internet penetration varies widely across this part of the APAC region. We go from 89% in Singapore, which actually outstrips internet penetration in the United States in 2019 (87%), to less than half that figure in The Philippines.
Projecting ahead one year, the internet is now believed to reach roughly 400 million people throughout the entirety of Southeast Asia. This is nearly 70% of the total population of the region.
Dynamic Solutions for a Dynamic Global Market.
Reach new customers without facing new threat sources. Find out how.

According to the Nilson Report, global-branded cards issued in the Asia-Pacific region are projected to generate 288.01 billion purchase transactions in 2025. In all, these consumers will account for 44.86% of the world's total purchase transactions. That's double the US market.
Along with a surge in APAC card payments, we anticipate a substantial increase in the use of alternative payment methods. For instance, many of the transactions carried out via the networks cited above will be conducted using QR code-based payments. This is already a popular payment choice in China, where millions of consumers opt to make payments via mobile devices that are tied to UnionPay accounts.
Finally, we want to point out that the number of cards issued in the APAC market is growing at an annualized rate of 9.4% per year versus 2020. This growth rate just barely edges out that of the Latin American market (9% per year), but is still much slower than the fastest-growing region, the Middle East and Africa (21.8%). This reflects APAC's dual position in the global market as both a stable and massively-powerful economic region, as well as a space that still has plenty of room for further development.
4 Threats Facing Merchants in APAC Space
This rapid change in the Asia-Pacific market is good news…at least at first glance. However, there are downsides associated with rapid growth in the card-not-present space.
As happened in the US and Europe over the last decade, we're seeing accelerated development contend with legacy payments infrastructure and regulations. This has led to the development of some troubling trends in the APAC payments area:
These trends have made fraud a major concern for businesses operating in the region. Many merchants and financial institutions feel forced to choose between adding layers and layers of security—thereby compromising the customer experience—or suffering from increased costs due to fraud losses.
In general, players have to balance restrictive controls against business growth opportunities. Banks can alleviate some pressure by addressing fraud in a more agile, integrated manner. They can invest in intelligent automation, for example, and devote resources to building integrated technology platforms. Financial institutions won't be able to fix everything on their own, though.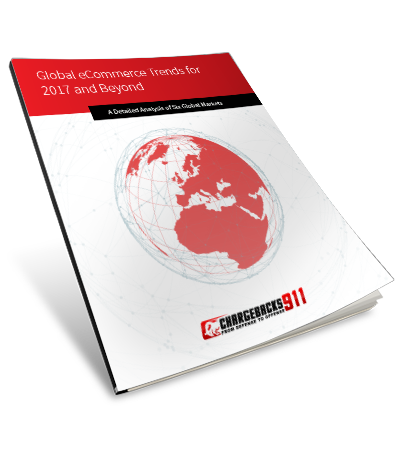 The Essential Guide to Global eCommerce
Our new whitepaper takes a close look at eCommerce practices around the world. We carefully examined data on markets from Africa to Asia and beyond, all to assemble a thorough, predictive picture of where eCommerce is headed over the next several years.
FREE DOWNLOAD
What Merchants Can Do
The Asia-Pacific market offers tremendous opportunities for merchants in the card-not-present space. However, they need to be conscious of new and developing fraud threats in the region.
Financial institutions, regulatory bodies, card networks, and other parties will play a major role in helping reduce fraud risk…eventually. For now, though, the bulk of the burden is falling to merchants, who must take security into their own hands.
Merchants must adopt a strategy capable of striking a delicate balance. They need to flag and intercept fraud, while satisfying customers and providing a smooth, easy experience with minimal friction. Some best practices that will facilitate this include:
Requesting the card security code (CVV, for instance) at checkout.
Offering account creation, but making it optional.
Requiring complex, unique passwords for accounts.
Deploying 3-D Secure 2.0 technology.
Employing passive, back-end fraud tools like geolocation and IP verification.
Allowing for auto-populating fields, but requesting that customers verify the information.
Offering two-factor authentication and biometrics, when available.
Making customer service information clearly visible, and providing round-the-clock assistance.
Offering a bonus for accepting store credit in place of cash during the return process.
Allowing customers to either save their cart and come back later, or assemble a wishlist.
The APAC region will be the most exciting market on Earth over the next decade. Merchants can reach millions of new customers by operating in this arena. However, they must take steps to counter risk and put fraud prevention at the top of their priority list.